Sep 6, 2022
The facilities' history is partly shared with Stora Enso, who owns the Inkeroinen board mill, and the Anjala paper mill located next door. Stora Enso was formed when Hans Gutzeit, a Norwegian company founded the Kotka sawmill, Finland's largest steam sawmill in 1872.
Starting off in paper and board trials, the site has expanded to work with a multitude of products in several fields in addition to the creation of a pilot trial facility over its 150-year history in Finland.
"Tampella established itself almost 60 years ago in the Inkeroinen mill area. In 1992 Tampella was purchased by Valmet with the location evolving into a Fiber Technology Center where over 10,000 pilot trials have been carried out. We're very proud of our past and are very excited to continue working to provide customer-centric R&D solutions for our customers both now and in the future." – Harri Nerg, Senior Manager, Fiber Technology Center.
Advancing fiber technology
Over its history, the pilot facility at Inkeroinen has seen many upgrades and investments to help further its customer-centric R&D capabilities.
Valmet's Inkeroinen facility provides complete pilot processes for pressurized groundwood, recycled fiber, stock preparation, and pulp drying that allows mills to run tests on a set-up that mirrors their current process configuration, or alternatively, a setup that may be utilized in the future. On some occasions, mills have brought their own raw materials to ensure a realistic testing result. 
As important as the comprehensive and state-of-the-art pilot facility is, it is only brought to life through the vast know-how and experience of the dedicated team operating it. Throughout its evolvement, the team at Inkeroinen has grown to include experts working in the process, laboratory, and maintenance fields in the pulp and paper industry.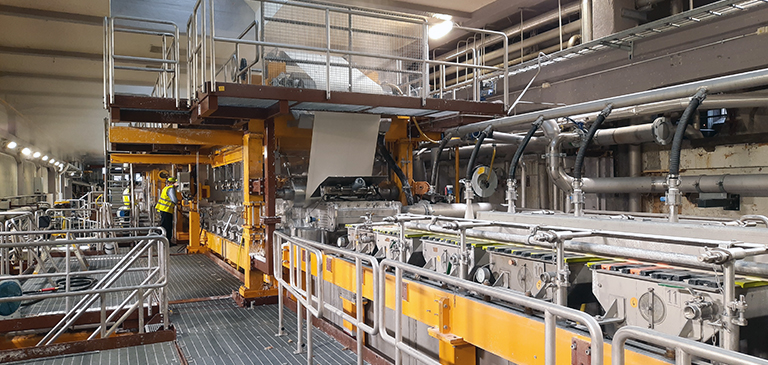 Plant upgrades – The flexible pulp drying pilot machine  
In 2001 Valmet – at that time Metso Paper – invested in a pulp drying pilot machine that was installed at the Inkeroinen Fiber Technology Center. The modernization project gave improved capabilities for higher capacities, new grades, efficiency improvements, energy savings, and operator safety development among other things. It was also updated in 2011 and again in 2018-2019 to further develop the location with the latest wet-end technology. 
Today, full-scale test trials with all known wet end concepts and grades can be performed. There are two types of forming sections (fourdrinier and gap former), two shoe presses, one long nip press, a combi-press, a lump breaker, and basically any press section in the world. 


WATCH: Pulp drying facility in Inkeroinen

Improving stock preparation with pilot trials
Increasing production or improving process efficiency can be a challenging task, one that typically includes a serious capital investment decision. The facilities at Inkeroinen also offer comprehensive testing opportunities for stock preparation equipment and recycled fiber lines that span the entire production process.
 
The Valmet Fiber Technology Center has also provided customers with piloting solutions for Microfibrillated Cellulose (MFC), a natural material made up of cellulose fibrils that have been separated from a source, such as wood pulp. MFC fibers bond together and create strength, that when added to the paper making process, can produce a wide range of benefits including increased tensile strength, improved barrier properties, smoother surfaces, and more.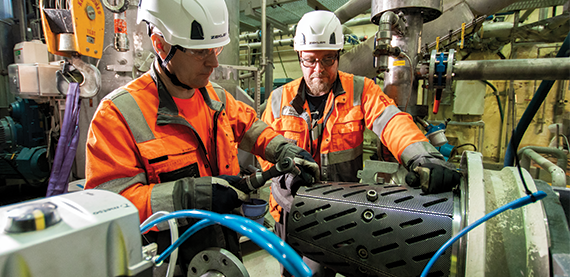 WATCH: A refiner pilot trial and sample analysis


Working together towards a green future
Valmet launched a new R&D and innovation project called Beyond Circularity, which improves Valmet's readiness to support the green transition in Valmet's customer industries based on the company's technology vision 2030. The project aims to further strengthen Valmet's R&D work to develop process technologies, automation, and services for utilizing renewable materials, recycled waste, and side streams.
Valmet has started building an ecosystem that is aimed at attracting partners, universities, research institutes, and customers to participate in making the green transition a reality within the pulp and paper industry. This ecosystem is expected to have more than 100 partners in Finland in 2025.
"The Valmet Pilot Facility in Inkeroinen is perfectly suited to launch new initiatives such as the development of recycled and cellulose-based textile fiber technologies. Piloting and performance evaluation with commercial-sized machinery is a crucial part of R&D. The full-scale setup, combined with the commitment made in the Beyond Circularity project provides a solid foundation for not only our customers but also to develop sustainable solutions for the future." Tuomo Aho, Director, Research and Technology Development, Stock Preparation Business Unit at Valmet.
With 150 years of innovation so far, the future looks bright for research and development at the Valmet Pilot Facility in Inkeroinen.


150 years of innovation - Valmet Inkeroinen Timeline