Valmet delivers boiler diagnostics systems to Outokumpu's Tornio plant in Finland
Valmet Oyj's trade press release on October 9, 2019 at 11:00 a.m. EET

Valmet will supply boiler diagnostics systems to Outokumpu's Tornio ferrochrome plant in Finland. Two separate orders of six Valmet Furnace Imaging System, Fixed Mount Mid-IR cameras increase the number of cameras in the plant from three to nine. The solution is a critical part of the plant's process monitoring enabling real-time visual monitoring of the alloy manufacturing.
The orders were included in Valmet's orders received of the second and the third quarters 2019. The cameras are delivered during the last quarter of 2019. The value of the orders will not be disclosed.
"Valmet was able to provide us with a solution withstanding the extremely harsh process environment of submerged arc furnace. This enabled real-time monitoring of conditions inside the furnace thus decreasing reaction time considerably, which results in better safety, quality, and process stability," says Joni Raiskio, Manager of the submerged arc furnaces 1 & 2, Outokumpu.
"It is always exciting to work with industry leaders and develop solutions to aim for even higher process performance and quality. These repeat orders from Outokumpu are a good example of Valmet's process monitoring capabilities and a strong testimony for our high temperature imagining technology," says Timo Laurila, Business Manager, Pulp and Energy Analyzers, Automation, Valmet.
Information about Valmet's delivery
Both deliveries consist of three Valmet Furnace Imaging Systems. The customized Valmet Furnace Imaging System infrared cameras are designed to provide operational views of the submerged arc furnace (SAF) at temperatures of 370°C to 1,900°C. The camera system is integrated with the Valmet DNA automation system.
Valmet Furnace Imaging Systems are specially engineered for industries using extreme high-temperature processes, including metal, power, pulp, paper, and petrochemical for durability and longevity. The system provides real-time ability to identify problems and apply solutions, resulting in fewer unplanned outages, savings in avoided shutdown costs, and improved productivity.
Information about Outokumpu's Tornio plant
Outokumpu is the global leader in stainless steel and employs 10,000 professionals in more than 30 countries, with headquarters in Helsinki, Finland. At Outokumpu's Tornio plant, ferrochrome production takes place onsite using raw materials mined nearby in Kemi. Tornio ferrochrome operations consist of sintering, smelting, crushing, and screening. Molten ferrochrome is delivered directly to the Tornio stainless steel melt shop.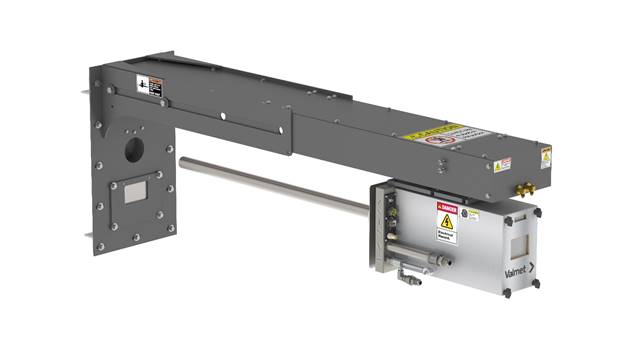 Customized Valmet Furnace Imaging System, Fixed Mount Mid-IR infrared camera is used to monitor the operation of the submerged arc furnace.
For further information, please contact:
Timo Laurila, Business Manager, Pulp and Energy Analyzers, Automation, Valmet, tel. +358 40 0922 442
Read more: http://www.valmet.com/boilerdiagnostics
VALMET
Corporate Communications
Valmet is the leading global developer and supplier of process technologies, automation and services for the pulp, paper and energy industries. We aim to become the global champion in serving our customers.
Valmet's strong technology offering includes pulp mills, tissue, board and paper production lines, as well as power plants for bioenergy production. Our advanced services and automation solutions improve the reliability and performance of our customers' processes and enhance the effective utilization of raw materials and energy.
Valmet's net sales in 2018 were approximately EUR 3.3 billion. Our more than 13,000 professionals around the world work close to our customers and are committed to moving our customers' performance forward - every day. Valmet's head office is in Espoo, Finland and its shares are listed on the Nasdaq Helsinki.
Read more www.valmet.com, www.twitter.com/valmetglobal
Attachment