Nov 25, 2020
Valmet and Bharat Heavy Electricals Limited (BHEL) in India have extended their Technology Collaboration Agreement (TCA) for distributed control systems (DCS) for a further period of ten years. The agreement was signed on October 6, 2020.
"As the largest supplier of power plant equipment in India, BHEL is a very important partner for Valmet. Through partnership with it, we have a significant market share in automation systems in India," says Kari S. Heikkilä, Director, Partner Business, Automation, Valmet.
The two companies signed their first TCA in 2000. During the past two decades of partnership, BHEL has manufactured over 0.7 million DCS modules, executed projects with a total capacity of 170 gigawatts (GW) and delivered over 500 DCS systems based on Valmet's technology.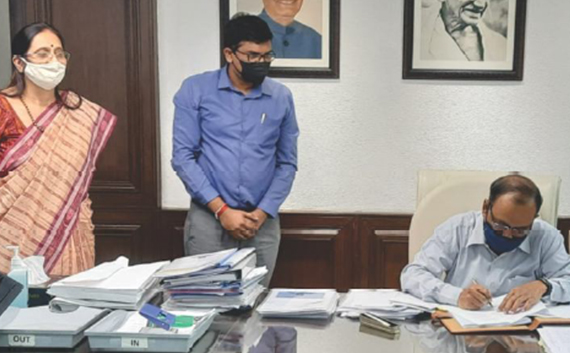 System development together
According to the agreement, Valmet shares with BHEL the design and manufacturing know-how of various variants of its distributed control systems, such as maxDNA, maxDNA-V2, Valmet DNA, and the new Valmet DNA User Interface.
To continue offering the most proven DCS platform and provide repair and maintenance, spares and service support for another 10–15 years for the existing plants running on maxDNA, Valmet has developed a renewed version of maxDNA called maxDNA-V2. It has been redesigned with the latest available components incorporating newest technology. Furthermore, it features downward compatibility with the existing maxDNA system with one-to-one replacement of hardware and software.
maxDNA is a DCS that has its origin in USA and has a strong focus in power industry. maxDNA is extremely well recognized brand especially in growing power markets of India and China. maxDNA system was acquired by Metso (nowadays Valmet) from Max Control Systems in October 2000.
Information about Bharat Heavy Electricals Limited (BHEL)
Bharat Heavy Electricals Limited (BHEL), a state-owned enterprise, is one among the largest engineering and manufacturing enterprises operating in India's power, transmission, railway, renewable energy, oil & gas and defense sectors. Established more than 50 years ago, the company was employs over 32,000 people and manufactures boilers, gas and steam turbines, motors, generators, transformers, high voltage switchgear, medium-voltage drives, distributed control systems, safety systems, and non-conventional energy systems in its manufacturing units distributed across India.
For further information, please contact:
Kari S. Heikkilä, Director, Partner Business, Automation
Tel. +358 40 552 8372, kari.s.heikkila(at)valmet.com