Jun 24, 2019
Valmet and Seastema have entered a value-added reseller (VAR) agreement for marine automation to strengthen their foothold on the marine industry market. By joining forces both companies will be able to make their automation solutions better known and more attractive in this industry sector.
"We have seen the expertise that Valmet has in automation systems for the marine industry. Valmet continuously develops its solutions to better meet the challenging environments on many types of vessels. SEASTEMA can leverage this expertise to fuel the expansion in the Cruise market, widening the offer and better capturing Client needs", says Alessandro Concialini, CEO, Seastema.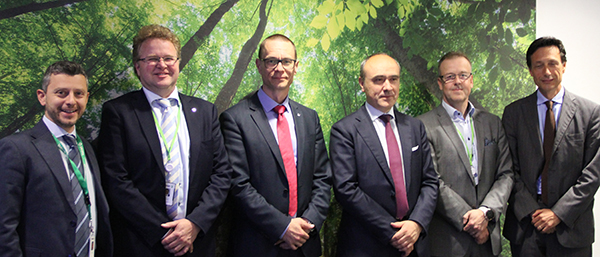 "We are pleased to cooperate with Seastema who are true professionals in the demanding marine technology industry. Our companies complement each other perfectly, and our cooperation will greatly benefit the end customers in the marine industry as they will now have access to a well-functioning combination of Seastema's technology and our automation know-how," adds John Weierud, Director, Marine Automation, Valmet.
Information about Seastema S.p.A.
Seastema S.p.A. is a global supplier of integrated marine automation technologies, providing ship automation and navigation systems for naval vessels, cruise ships, ferries and yachts. It is a Fincantieri Group company with headquarters in Genoa and operational units in Lucca, Rome and Trieste, Italy.
SEASTEMA
Corporate Communications
For further information, please contact:
Benedetta Masignani, Marketing Office, Seastema, Tel. +39 010 9863667
Information about Valmet
Valmet is the leading global developer and supplier of process technologies, automation and services for the pulp, paper and energy industries. We aim to become the global champion in serving our customers.
Valmet's strong technology offering includes pulp mills, tissue, board and paper production lines, as well as power plants for bioenergy production. Our advanced services and automation solutions improve the reliability and performance of our customers' processes and enhance the effective utilization of raw materials and energy.
Valmet's net sales in 2018 were approximately EUR 3.3 billion. Our more than 13,000 professionals around the world work close to our customers and are committed to moving our customers' performance forward - every day. Valmet's head office is in Espoo, Finland and its shares are listed on the Nasdaq Helsinki.
VALMET
Corporate Communications
For further information, please contact:
John Weierud, Director, Marine Automation, Valmet, Tel. +47 9574 5020
Read more www.valmet.com, www.twitter.com/valmetglobal