Customer case:
Turun Seudun Energiantuotanto - Environmentally friendly energy with renewable fuels
Turun Seudun Energiantuotanto's power plant in Naantali on the Southwestern coast of Finland produces district heat and electricity for the area of Turku and process steam for the needs of nearby companies. This large-scale multi-fuel plant is designed to generate power by utilizing solely bio fuels at a very high efficiency ratio. Valmet's automation systems and Industrial Internet solutions enable the power plant to run at a totally new level of efficiency in its performance and operations.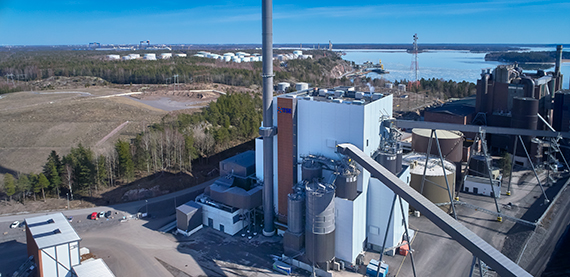 "We are convinced that Valmet's total solution that features both automation and boiler technology from the same supplier works best for us."
SUMMARY
Location
Naantali, Finland
Customer challenge

To replace an old coal power plant that has been operating for 50 years ​
To increase renewable fuels in power generation​
To enable compliance with the new IEA Emissions Directive

Solution

Valmet CFB Boiler based on circulating fluidized bed technology
Flue gas cleaning equipment​
Flue gas condensing equipment
Asphaltene combustion systems​
Valmet DNA automation and safety interlocking systems​
Valmet Training Simulators and Valmet Online Learning courses

Results

Large-scale multifuel plant is designed to generate power by utilizing bio fuels at a very high efficiency ratio​
Meets the IEA emissions directive
Automation to secure the plant's availability​
The total uniform solution without integration costs​
Single point of responsibility for design, implementation, start-up and tests

Keywords
CFB boiler, Automation, EMEA
Technical data
Steam

144/130 kg/s
​164/44 bar
​555/555 oC​
390 MWth

Fuels
Wood biomass, agro biomass, ​peat, coal, SRF
Start-up
2017