Valmet is committed to protecting the health, safety and environment of our people, partners, customers and the communities where we operate. Promoting safety culture is in focus as we strive towards our goal of zero harm.
At Valmet, everyone is responsible for the safety of themselves and others. To achieve a common understanding of safe working practices, Valmet has in place minimum safety standards for high risk activities. These standards are the "golden rules" of working safely.
The minimum standards do not replace local policies, standards, procedures or work instructions, but are a tool to provide increased emphasis on high risk activities and focus to ensure global minimum requirements are met in all of Valmet's activities and operations.
"Updating our minimum safety standards is a part of the company-wide target of excellence in processes. The updated standards ensure that we have the best HSE practices in use across all our operations. Our people are our greatest asset and we are committed to everyone returning home safe, every day," says Juha Lappalainen, SVP Strategy and Operational Development, Valmet.
Two new standards focusing on electrical and radiation safety
Valmet has now updated the minimum safety standards with two new standards. The new standards cover electrical safety and working around radiation. A new General Requirements section was also added to further outline basic safety principles.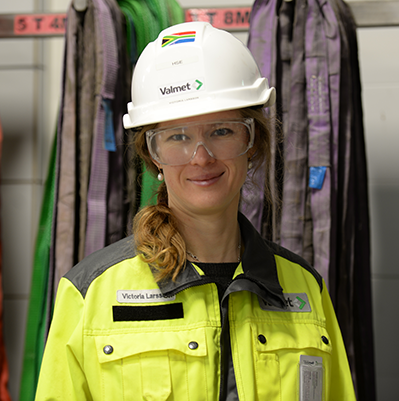 "Since the introduction of the initial standards in 2012, we have managed to decrease our incident rates significantly. For example, our total recordable incident frequency rate reached an all-time low of 4.9 in May. The standards have also led to the use of common safety practices at our work sites," says Victoria Larsson, Director for Health, Safety and Environment.
For example, at the end of 2017 we created a common classroom training for HSE induction to all Valmet's workplaces and launched an online e-learning as well. By taking the course, either online or in a classroom, all employees and contractors receive an overview of our common HSE rules and the minimum safety standards.
We also hold regular safety related events, such as "HSE cafés" organized in Valmet's locations globally. The cafés focus on interactive discussion and learning on minimum safety standard topics and can feature guest speakers from Valmet's partners, such as PPE (personal protective equipment) or lifting equipment suppliers, to share their best practices.
The minimum safety standards now cover the following activities:
Electrical safety
Entering or working in confined spaces
Exposure to hazardous substances
Hazardous manual handling
Hot work
Lock out / tag out procedure
Maintaining good order
Mechanical lifting
Operating vehicles and mobile equipment
Personal Protective Equipment (PPE)
Safeguarding of machines
Using work equipment
Working around radiation
Working at height
All Valmet units globally are responsible for implementing legal requirements and the company's minimum safety standards in their procedures and for ensuring local compliance. The minimum safety standards are assured as part of Valmet's global auditing processes. Valmet conducts annually at least 10 audits at customer sites and 20 at its own locations.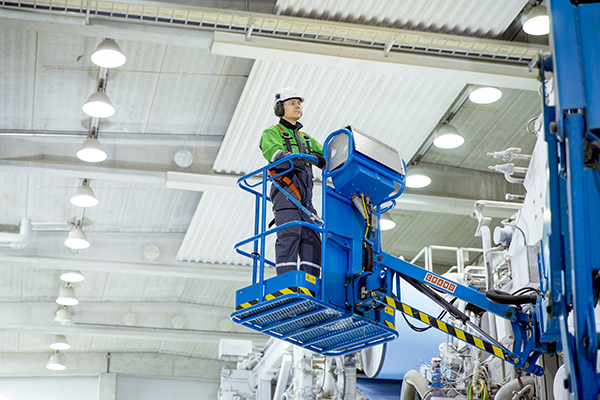 Working at heights is one of the activities included in Valmet's safety standards.
Read more:
More information about Valmet's HSE targets and principles is available at Valmet's HSE pages and in our Annual Report.