Welcome to Valmet's Annual Report 2017 page
Valmet has published five reports that together form the Annual Report for 2017. This website has all the different PDF files available for downloading: Annual Review, Financial Statements, GRI supplement, Corporate Governance Statement and Remuneration Statement. All of our reports are available in English and Finnish, except our GRI Supplement, which is available only in English. The GRI supplement has been externally assured.
Orders received in the Paper business line increased
44%
Comparable EBITA margin
7.2%
TRIF*
5.5
*Total recordable incident frequency
56
supplier sustainability audits
Consistent progress in strategic focus areas
Our way forward is based on four Must-Wins that we are focusing on. Under these Must-Wins, in 2017 we concentrated for example on the global implementation of our new services approach – Shared Journey Forward. As part of this program, we renewed our Industrial Internet offering to our customers and started to build a related ecosystem with leading partners in the field. We also established Performance Centers for each customer industry as a channel to our Industrial Internet services.
We have systematically widened our global footprint close to our customers in recent years. As Asia-Pacific continues to be one of the major growth areas for Valmet, we inaugurated a new Services center in Indonesia in September 2017.
Our major internal efficiency development program – the Leap Forward enterprise resource planning system (ERP) renewal project – has progressed well. In late 2017, we successfully started the stepwise implementation of the ERP, first in our Services Business Line in Finland.
Furthermore, we continued to have a very positive trend in employee engagement, and working together continued to be our major internal strength. To accelerate our progress in our Must-Wins, we ran seven global training programs, improved our performance management processes, activated internal mobility and enhanced internal mentoring.
Valmet's Way Forward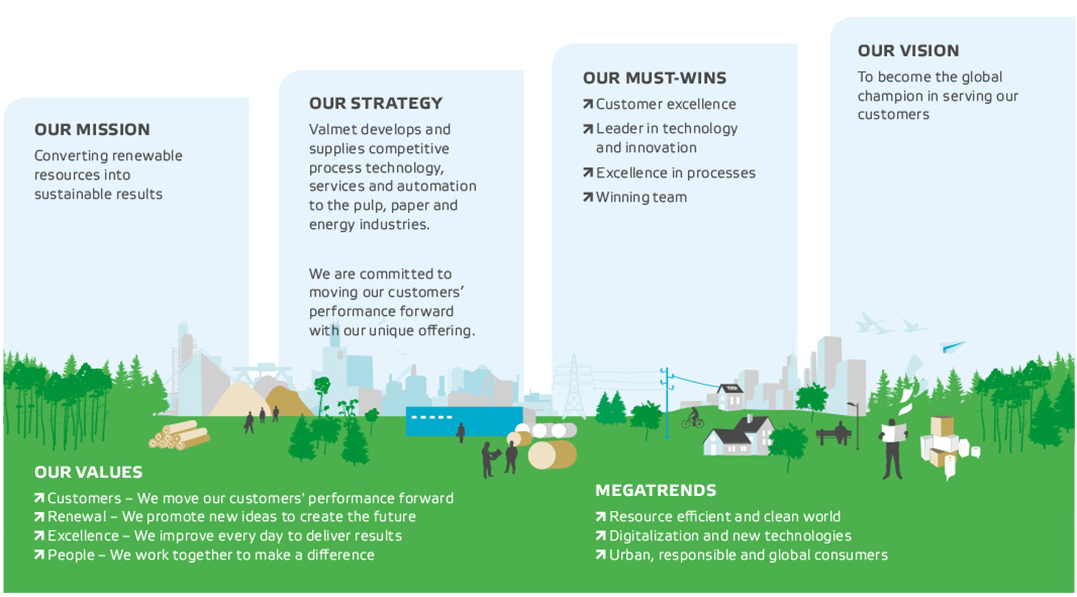 Orders received
EUR 3,272 million
Comparable EBITA margin
7.2%
Net sales
EUR 3,159 million
Dividend per share
EUR 0.55
(proposal by the Board)
| | | | |
| --- | --- | --- | --- |
| Financial (1) | 2017 | 2016 | Change |
| Orders received, EUR million | 3,272 | 3,139 | 4% |
| Services | 1,242 | 1,182 | 5% |
| Automation | 317 | 299 | 6% |
| Pulp and Energy | 678 | 939 | -28% |
| Paper | 1,035 | 718 | 44% |
| Order backlog (2), EUR million | 2,292 | 2,283 | 0% |
| Net sales, EUR million | 3,159 | 2,926 | 8% |
| Comparable EBITA (3), EUR million | 226 | 196 | 15% |
| % of net sales | 7.2% | 6.7% | |
| Operating profit (EBIT), EUR million | 178 | 147 | 21% |
| % of net sales | 5.6% | 5.0% | |
| Dividend per share, EUR | 0.55 (4) | 0.42 | 31% |
| Return on capital employed (ROCE) before taxes, EUR million | 15% | 12% | |
| Research and development expenses, net, EUR million | 64 | 64 | 0% |
(1) Group figures: the formulas for calculation of the key financial figures are presented in the Financial Statements 2017.
(2) At the end of period.
(3) Comparable earnings before interest, taxes and amortization.
(4) Board of Directors' proposal.
Sustainability at the core of our strategy
Valmet's comprehensive Sustainability360° agenda is at the core of strategy implementation and Must-Wins. In 2017, Valmet maintained its position among the world's sustainability leaders and was included in the Dow Jones Sustainability Index for the fourth consecutive year. Valmet was also included in the Ethibel Sustainability Index Excellence Europe, and achieved the second-best A- rating in CDP's climate program ranking.
During 2017 Valmet further strengthened its sustainable supply chain management, safety performance and employee engagement. Valmet audited 56 suppliers in 14 countries in 2017. Valmet's operations were fatality-free and the total recordable incident frequency (TRIF) rate for own employees decreased to 5.5 (6.0). Valmet conducted its employee engagement survey in 2017, which showed shows positive trends in all three indices: engagement, performance excellence and values.
Sustainability360° agenda focus areas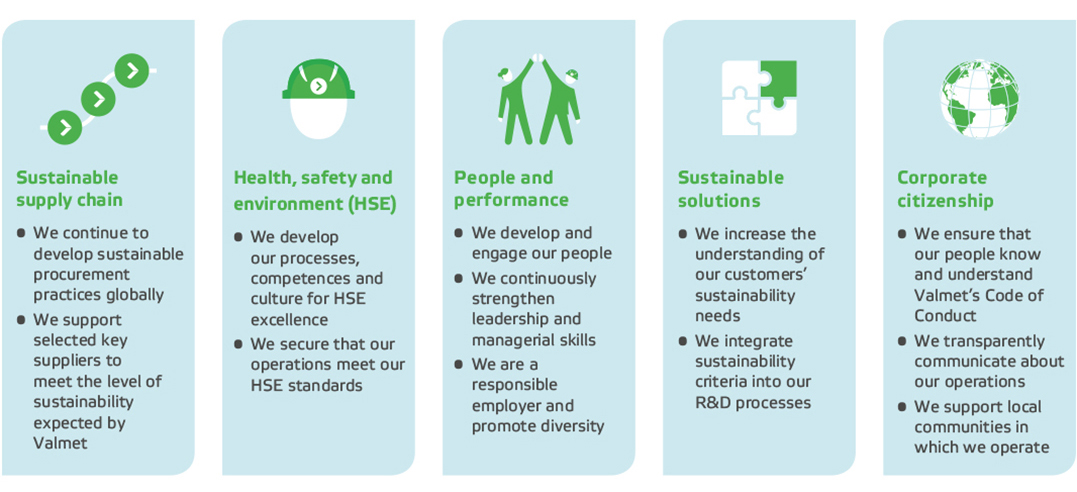 Significant, customer focused research and development work
The aim of Valmet's R&D work is to continuously strengthen the company's technology leadership position and further improve its competitive edge. We achieve this by developing competitive new solutions to customer needs; by enhancing raw material, water and energy efficiency; and by promoting the use of renewable raw materials. Valmet launches around 100 new products to the market every year. In 2017 orders received of new products and services was EUR 692 million.

Valmet has 16 research centers and pilot facilities and over 420 R&D professionals working across businesses. The spend on research and development was EUR 64 million in 2017. To enhance innovative culture a new global innovation training program was launched in 2017. The target of the program is to train about 300 Valmet employees from different functions during the coming years.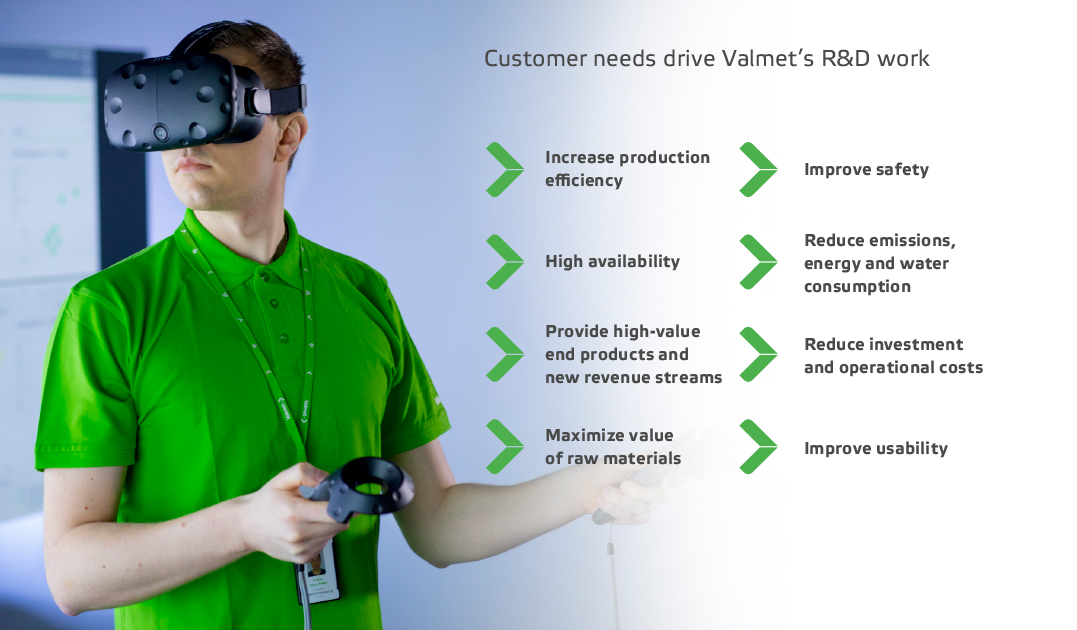 About Valmet
Valmet is the leading global developer and supplier of technologies, automation and services for the pulp, paper and energy industries. Valmet's vision is to become the global champion in serving its customers. Valmet's net sales in 2017 were EUR 3.2 billion and it employed more than 12,000 professionals around the world. Valmet's head office is in Espoo, Finland and its shares are listed on the Nasdaq Helsinki.