Jul 8, 2021
Valmet aims to reduce CO₂ emissions by 80 percent in its own operations by 2030. One way to achieve this is to improve Valmet locations' energy efficiency.
At Valmet's Lentokentänkatu premises in Tampere, Finland the real estate and HSE (health, safety and environment) teams have worked systematically to identify and implement various energy efficiency actions. Concrete actions have halready been taken for example in the area of lighting.
115 lamps switched in the parking area
There are 115 lamps in the parking area. They were all switched to LED lighting in 2020, which resulted in energy savings of 75 percent.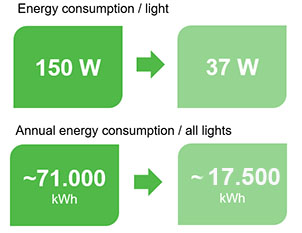 LED lights for the offices
There are 16 separate office areas (modules) at the Lentokentänkatu premises. Each has approximately 50 lights, so replacing the old fluorescent lighting with LED lightning brings savings in energy consumption. So far, the lightning has been changed in 11 modules, and the work is continuing in conjunction with other renovations.
Energy efficiency the focus when designing a new office space
There is a major ongoing renovation project at the location, where a space, which was previously used for automation pre assembly and testing, is being converted to new office space. Energy efficiency has been the focus during the planning work.
"We're designing a multifunctional office space that will support future ways of working with a flexible capacity of 170–340 people. Most of the workstations will be flexible, meaning that we can utilize the space very efficiently and have less CO2 emissions per person. Functionality, quality and environmental manufacturing have also been important criteria when we've been selecting materials and furniture for new space. They all have the EU Ecolabel," says Suvi Reinikka, project manager for the renovation.
Designing boilers and automation systems with solar power
The roof of the Lentokentänkatu location was converted into a solar power station in 2016. There are 567 solar panels on the roof in an area of 920 square meters, producing on average of approximately 116 MWh.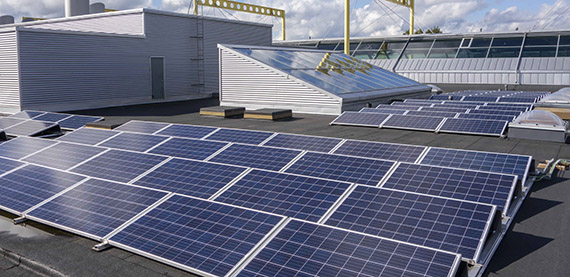 Valmet's Climate program targets for 2030