Did you know that Valmet offers its customers a CO₂-free way to get to know its reference plants – virtually?
Covid-19 has changed the world and our communication with each other in many ways. Imposed restrictions and the need to ensure health and safety have had a major impact on the way how we at Valmet have arranged reference visits for our customers, too. Previously, we always invited them to see Valmet's technology at our reference plants and talk about it face-to-face with each plant's management and staff as well as Valmet's experts.
"To do the same despite the pandemic, we created a new virtual concept that has proven to be very successful in terms of sustainability and easier participation. And what's best, the new reference visits have all the elements included in onsite visits but take place on each participant's own premises," Hanna Alarotu, Director, Project Sales at Valmet explains.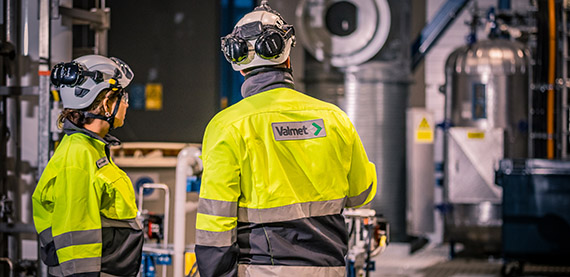 Less traveling, lower emissions
Based on Valmet's customer survey, our customers appreciate reference visits highly. Normally, a reference visit consists of company presentations, a reference plant introduction, a technical presentation and, of course, an opportunity to discuss technology and share experiences from it between the potential customer, the reference customer and Valmet people.
"A virtual reference visit enables all the above, but additionally makes participation easier and more environmentally friendly. As Valmet is a global leader in sustainability, we want to do our part to reduce the emissions from traveling. Virtual reference visits are also more cost efficient, fast and easier to arrange," says Marko Nokkala, Valmet's Senior Sales Manager in EMEA.
Almost like on site but with no noise
To date, we have arranged reference visits for many of our customers. The customers have given us good feedback on how easy it has been to participate in the reference visits and how interactive the sessions have been.
A reference plant can be presented virtually to interested customers on a video or via a 360-photography view. "The 360-photography view is an exceptionally good tool, as it enables the customers to proceed at their own pace and move back or forward during the virtual visit. It is almost the same as walking at the actual plant but without the noise," Nokkala describes.
Even though the pandemic situation is slowly getting better, Valmet plans to continue the virtual reference visits due to the easier participation and environmental friendliness.