After the dark winter season, sunshine brings a smile to a lot of faces in Finland. In Tampere and Jyväskylä, it also brings an additional bonus since the roofs of Valmet's Lentokentänkatu and Rautpohja facilities have been converted into solar power stations. This means that on sunny days days, these locations can utilize a good number of green energy.
Last weeks have been exceptionally warm in Tampere. The temperature has risen close to +30 °C during several days. Even though the heat wave may also have caused some discomfort, for the operation of the solar power station, it has been a good thing. The daily energy production has been significantly higher than average, 1,030 kWh compared to 319 kWh (calculating an average of the annual production, which amounts to 116.3 MWh, or 116,300 kWh.)
The roof of the Lentokentänkatu office was converted into a solar power station in 2016.
"We have been very happy with the operation of the solar power station. We have 567 solar panels on the roof in an area of 920 square meters, and the actual annual production of the power station is approximately 116 MWh on average. The amount corresponds to the energy consumption of the laptops at our premises during regular working time, so we can think that many boilers and automation systems have been designed with green energy," says Jyrki Rintamäki, property manager for the Lentokentänkatu site.
In Jyväskylä, 524 panels were installed on the roof of Valmet's Rautpohja office and manufacturing facility's Building 2 last fall as a part of a larger investment project. In optimal conditions, the capacity of the solar power station is 144 kW, and the annual energy production amounts to 120,000 kWh. The annual production until now has been approximately 65 MWh.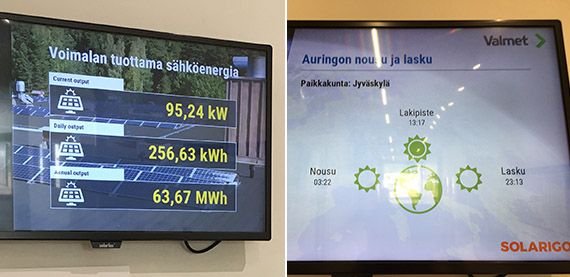 There are monitors at the machine shop lobby and main lobby that can be used to follow the energy generated by the power station.

A decrease of 37 tons in CO2 emissions
"Sustainable development is at the core of Valmet's business and, consequently, of our own operations. The solar power stations installed at Valmet's Tampere and Jyväskylä facilities are a great example of this. With them, we can reduce our annual CO2 emissions by approximately 37 tons," says Kimmo Kohtamäki, Director, Group Real Estate Management at Valmet.
At the both sites, the solar power station is owned and operated by Solarigo Oy.