Valmet's Forward Strategy and Fast Forward programs have been recognized as the best Organizational Development programs by The European Foundation for Management Development (EFMD) in its annual Excellence in Practice Awards (EiP). Valmet was awarded together with the program provider IMD for the successful and impactful implementation of the courses.
EiP awards annually outstanding and impactful Learning & Development partnerships in four categories: Leadership, Professional, Talent, Organizational and Ecosystem Development. The winners are selected based on the review of four key areas: a properly documented challenge, an effective partnering commitment, an appropriate L&D initiative, and a proven business impact.
"We built our Forward Strategy and Fast Forward programs together with IMD to accelerate strategy execution and enable growth increasing the capabilities and competences of the organization. Through the programs, we've been able to leverage the talent of our high potentials and re-energize senior management with Valmet's Way Forward," says Julia Macharey, Senior Vice President for Human Resources at Valmet.
James Henderson, Director of Valmet Forward Strategy Program and Professor of Strategy at IMD, adds: "We are honored at IMD to be recognized for this prestigious EiP award with Valmet. It has been such a deeply rewarding experience to be part of Valmet's leadership development journey – in helping transform the company from a struggling company in a seemingly unsexy industry to a forward-looking technology front runner through real impact."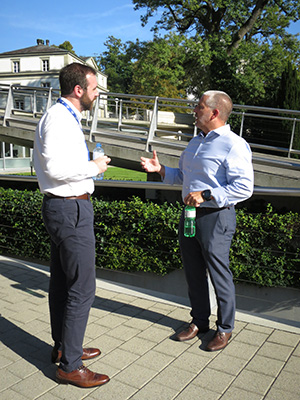 Practicing "shut up and listen" -listening: the other person speaks for 7 minutes and the other one just listens. Surprisingly challenging!
Investments in competence development lead to success
The Forward Strategy and Fast Forward programs were developed together with the IMD business school in 2014. To this day, around 450 Valmeteers, representing all of Valmet's business lines and operating areas, have participated in these programs. The programs have helped to turn Valmet into a forward-looking technology front-runner where the management truly sees how they can execute their part of the strategy with real impact.
"The knowledge of the participants has evolved since the first programs! Interestingly, most of the challenges in the first couple of years were around Process Excellence and Customer Excellence. Today the challenges are more around Leader in Technology and Customer Excellence – looking more toward the future – the real future of Valmet. The conversations have evolved and the confidence of the organization has improved – with the depth of the questions asked to the CEO or Executive Team members. It has been an absolute pleasure to observe over these last three years," explains Henderson.
The programs have exceeded the expectations set out at the beginning, not simply based on impressions and testimonials but in terms of real impact. Not only have individual capabilities been built, but also 62% of the mentoring relationships established during the courses have continued beyond the original scope, cohort networks have improved by over three times because of the program, and substantial financial impact has been achieved.
"The feedback from the programs has been really good. Most importantly people have been able to learn things that they can put into practice in their everyday work. This proves our themes have been good and useful: strategy execution in different horizons, change management and a bit of individual leadership skills. We pay a lot of attention to the diversity of the groups, and the opportunity to network throughout the program is highly valued," says Hanna Heikkilä, Vice President, Talent Management at Valmet.
Forward Strategy and Fast Forward programs are two of Valmet's altogether seven global training programs. Valmet's global training portfolio is designed to motivate individuals and inspire new thinking, bring minds together from around the world, and ultimately, make a true business impact by supporting growth and driving Valmet's strategic initiatives and Must-Wins. Valmet's training programs also aim to utilize new training methods, such as the "meeting points" concept, which brings Forward Strategy and Fast Forward program participants together for unique networking and mentoring opportunities.
"These programs have acted as true accelerators for new projects and business ideas. We have succeeded in bringing together people from all over the world and have reaped the benefits of diverse thinking. I look forward to seeing the programs evolve over Valmet's next five years," concludes Heikkilä.