The Valmet team in India has been working to develop its team in line with the global 'Winning Team' Must-Win. While managers focused on improving managerial and leadership skills, their team members were given the opportunity to strengthen their winning team mindset in a specially designed training program for non-managers.
Focus on driving high performance culture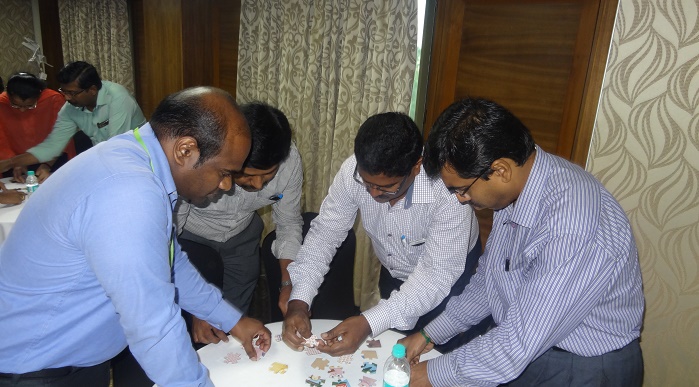 The Winning Team employee training gives people key insights to excel in their current roles and work together to achieve the Must-Wins. Basics of role excellence, positive attitude, self-motivation, taking ownership, and working together were key themes of the training. Participants learned to identify and overcome barriers to top performance and focus on role excellence and working together to make a difference.
"We have been systematically building our winning team in India, which focuses on engagement and values, driving performance, and ensuring competence development. The Winning Team employee training was kicked off in Q4 2015 with the aim of strengthening the individual's role in driving the high performance culture and working together to make a difference. The training is for individual contributors and is designed to build on and complement the ongoing managerial skills development activities," says K. Gopinath from HR in India.
Personalized development
The training was divided into three parts. In the first part, participants attended a one-day workshop that tackles the themes through a variety of group activities and self-reflections. The second part of the training includes a 21 day self-evaluation period, where individuals self-monitored how well they adopted the key learnings in order to better drive their own performance and fulfill their personal development plan. In the third step, the results were shared with the participant's managers and used as input for the individual development component of the Annual Review discussion process.
Participation in the training was high with 91% of employees taking part. Participant feedback was positive and engagement high. People were able to apply the learnings to their roles within the company and in their personal lives as well.
"In recent years, we've focused a lot on strengthening our winning team in India through managerial and leadership skill development. By taking it a step further and providing a learning opportunity for all our employees to adapt a winning team mindset, we really are able to drive the high performance culture and work together to make a difference," concludes K. Suresh Kumar from Delivery Operations in Asia Pacific.