Earlier in 2020 Valmet announced its three-year agreement with Save the Children Finland to support their Child Sensitive Social Protection project in Dungarpur, India. The collaboration is a part of Valmet's new long-term social responsibility program.
Valmet and Save the Children have worked together previously, too. Laura Puustjärvi, Valmet's Head of Sustainability, and Anne Haaranen, Save the Children's Director for International Programs, discussed about the collaboration and the current project.
When and how did the collaboration begin?
Anne Haaranen: Since 2015, we have had the pleasure to be selected to receive Valmet's annual seasonal donation for several years. Also, in 2016, we organized a training for Valmet in India with the theme 'Children's Rights and Business Principles', a joint international initiative pioneered by us, Unicef and the UN Global Compact.
Laura Puustjärvi: Valmet has global principles for sponsorships and donations, which define what kind of partners we work with. As Save the Children meets these requirements very well, the organization has been one of our main partners for many years. We are also happy about how widely the organization is appreciated throughout Valmet, as our annual seasonal donation projects are chosen by our employees.
How would you describe the collaboration?
Laura Puustjärvi: Save the Children has a long experience on working with global companies, so they understand our needs well. It has always been easy to approach them with our hopes for potential joint projects and to receive information about their ongoing work. We have had an active dialogue about our collaboration as well as of different social responsibility topics in general.
Anne Haaranen: I agree, the collaboration has been very smooth. Our targets, strategy and even geographical plans have linked well together. We respect Valmet's work with sustainability and their constant efforts for improvements. It has been nice to notice how open our discussion is and how we have both learned from each other.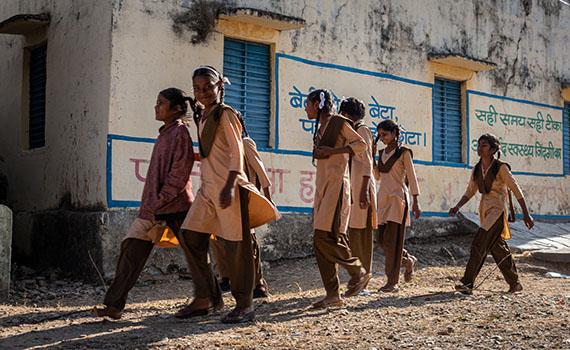 Tell us about the new project in Dungarpur, India.
Anne Haaranen: For years, Save the Children has worked to develop social protection programs for children in India, and improve their school attendance and retention. With Valmet's support, we can strengthen the education aspect even more. We aim to ensure that even the most vulnerable children can attend to school, and we also want to activate parents' and teachers' role on children's education and wellbeing. In Dungarpur, the use of child labor is very common, and many children are dropping out of school.
Laura Puustjärvi: Equal opportunities for wellbeing is one of the themes in our social responsibility projects. For Valmet, this is a strategic long-term social responsibility project that aims to receive significant results that can be followed and measured. The project will reach altogether 24,000 children and adults.
How did you come up with this joint project?
Laura Puustjärvi: When we developed our long-term social responsibility program and were looking for suitable global partners, we again started a dialogue with Save the Children. When we discussed their current projects, we learned about the Child Sensitive Social Protection project in Dungarpur, India. One of our targets was to find a project from some of our operating countries, so this project was a good match for us. We have more than 300 employees in six locations in India, and an active customer base and supplier network.
Anne Haaranen: We are happy that we were able to find a joint project and we truly appreciate Valmet's support. Thanks to partners like Valmet, the impact of our work is much more effective. It has been also good feedback for us to notice how excited our employees in Dungarpur's office are about the collaboration.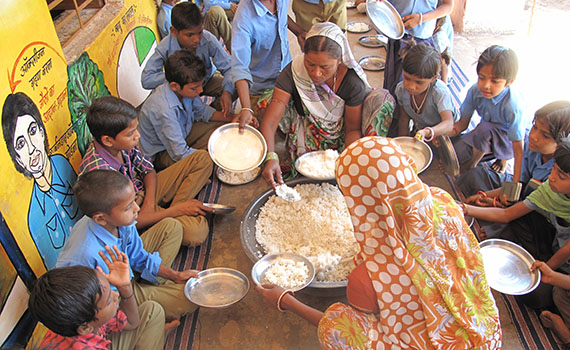 How do you see the current situation with companies' social responsibility work?
Laura Puustjärvi: A lot of companies have started their corporate responsibility work from very concrete actions, such as environmental impacts of their own operations and occupational health and safety. As the time has passed, corporate responsibility work has expanded to include more social aspects and also to take value chain into account, not only direct operations and their impacts. One of the most impactful areas affecting companies' social responsibility work is ensuring compliance with human rights globally. There are different initiatives and policies for companies on how to acknowledge human rights in their business.
Anne Haaranen: In general, I think the current status of companies' social responsibility work is going to the right direction and transparent communication has an important role in the development. It's a pleasure for us to work with pioneer companies like Valmet, but still there are a lot of companies that simply don't have the resources to systematic corporate responsibility work. Luckily, we have noticed that the interest is constantly increasing, and bigger companies are leading the way. More and more, the companies want to improve their handprint in society, not just reduce the impacts of their footprint.
How would you encourage companies to participate more in these kinds of collaboration models?
Laura Puustjärvi: It is important for global companies to respect and promote human rights, including children's rights, around the world in their value chains and Valmet wants to show a good example. We have done a lot of work to understand the potential negative social impacts of our operations and have a systematic approach to develop further. Our sustainability work is managed through our Sustainability360º agenda, and one of its focus areas is Corporate Citizenship, which includes human rights and collaboration projects with different organizations. It is an essential part of our sustainability agenda with a systematic action plan and targets.
Anne Haaranen: Save the Children has a long experience on working with companies in different contexts. Our existing partners appreciate our local connections in our operating countries, as it enables them to understand the culture better and have a stronger positive impact to the society as well as improve their business in the area. On the other hand, we appreciate that our partners are global companies that know the local business field, which helps us to improve our actions even more. Collaboration is the best way to make a difference.