Sales Journey is a competence development program for Valmet's sales function and the biggest training investment Valmet has ever made. The program started in 2017 with a tailormade program for 140 sales management representatives. As the feedback was excellent, it was easy to build on the program globally.
"Sales Journey has helped Valmet's sales professionals to see the big picture and customers' point of view as well as understand the importance of common tools and processes. It is much easier for areas and business lines to work together when roles and responsibilities are clear," says Pekka Moisio, Vice President, Process Management, Valmet.
More than just a sales training
Sales Journey works to transform Valmet's matrixed sales function by expanding and deepening the competencies needed to succeed in a competitive market environment. During the program, the participants build on what they've learned and challenge themselves every step of the way.
"Sales Journey is a big investment from Valmet to improve the skills of sales personnel, but I believe it will pay back many times compared to the invested money. It really guides us to find common Valmet´s way to operate and strengthens our global presence." – participant feedback
The program is tailormade for Valmet and combines different learning methods, such as e-learnings, virtual instruction lead training, face-to-face sessions and group coaching. Group coaching is the final element of the program with the purpose of supporting the participants to take the learnings into practice. It gives them the opportunity to discuss the main themes of the program with their colleagues in a structured way and get input to their real-life challenges.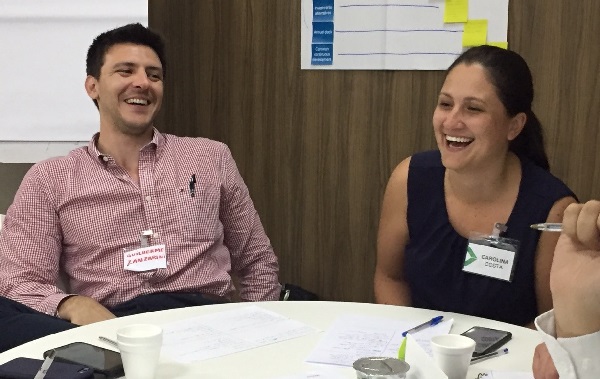 "I thought it was very enjoyable, probably the best sales training course that I've attended. It's hard not to disclose just how enjoyable it was to colleagues who are yet to attend, but I will. You need a better superlative than excellent for some modules." – participant feedback
Facilitators play a key role as all the methods are based on action learning. In total the program utilized more than 90 internal Valmet facilitators. Emphasis was placed on facilitator preparation which was a key success factor for the program – and also a clear engagement factor. Having internal facilitators showed a great commitment from Valmet's sales management and was highly appreciated by the participants.
"As a facilitator, the preparation was a challenge, but worth doing. It was a great experience and we had a lot of interesting discussions. One team gave me a very positive feedback when facilitating the last session by stating that they liked my style very much. That will ensure some positive power at least for some days." – facilitator feedback
In the end it is about people – more than 1,000 of them
One of the main targets of the program is to improve sales network within the organization. So far, Sales Journey has brought together more than 1,000 Valmet sales professionals across all geographies. The program is set up so that participants interact with each other in many ways – online in virtual group trainings, face-to-face and during group coaching. There is enough time between the modules to utilize the new sales networks and put the learnings to practice.
"Our team had positive feedback on the whole approach. Sales journey made us feel like a part of the Valmet family. After the program, there is better communication throughout the organization, and we are able to influence relevant sales cases much earlier." – participant feedback
Sales Journey will continue until 2020, and after that, the concept is available for new sales professionals when needed.
"In a big sales organization we need to follow common process, methodology and tools to improve the product margin. However, in the end you win the deal with passionate people who work for the common goal," Moisio concludes.