Coater roll covers for board and paper making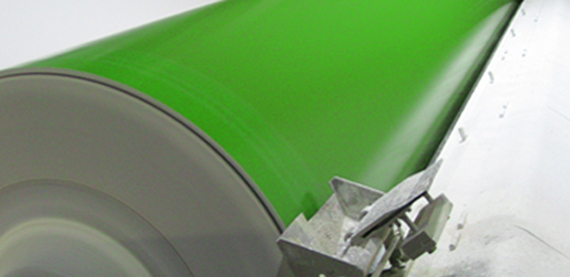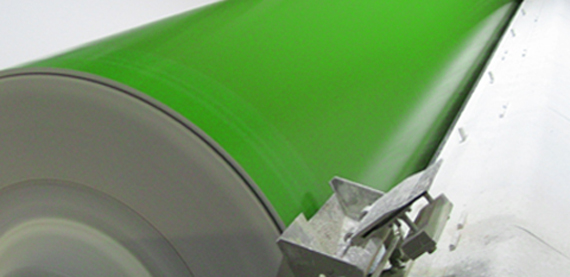 For highest quality coated paper, with high smoothness and gloss, the process of choice is the blade coater, and here Valmet offers a full range of reliable rubber covers as well as a high performing polyurethane cover. These covers keep the smooth surface finish during their running time for smooth coating profiles. Good wear resistance and strength properties ensure long grinding intervals and long lifetime. The blade coater cover offering ranges from our well proven economical rubber cover to more durable rubber cover to the most durable polyurethane cover.
Valmet Coater Roll Cover Eco
Valmet Coater Roll Cover Eco is a further development of Valmet's well-known economical rubber cover with enhanced property e.g. cracking resistance under ozone.

Results with Coater Roll Cover Eco
Affordable solution
Increased durability from ozone cracking resistance
Preferred cover for many coaters, with long list of references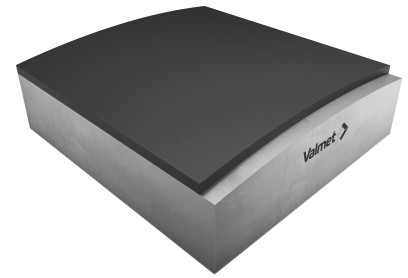 Valmet Coater Roll Cover CC
Valmet's roll cover product portfolio also includes a polyurethane cover as alternative for rubber covers for blade coaters. As hard-coated coater blades have become increasingly common, problems have emerged with the durability of traditionally used rubber covers, particularly in the edge areas where the roll cover and the abrasive blade come into contact. The durable Valmet Coater Roll Cover CC provides a solution to this issue multiplying running time in the blade coater, reducing the need for roll replacement and grinding.

Results with Coater Roll Cover CC
Longer regrinding intervals, reducing the need for roll replacement
Less profile wear thus less material removed during grinding, resulting in longer cover lifetime
Uniform hardness profile and stable roughness profile resulting in smoother coating profiles
Superior impact resistance during web breaks reducing roll cover marking and damages

Find optimal roll covers for every board and paper process

Click the image above to use Valmet's roll cover application tool to find the right covers for your coating applications
Articles and references
Uncompromised roll cover performance for sizing and coating
Valmet is the market leader in film coaters and sizers, and has developed a great deal of related process know-how. We have put this expertise to good use in developing new roll cover materials that deliver uncompromised sizing and coating performance with both grooved and smooth rods, as well as with coating blades.

keyboard_arrow_leftBACK
{{currentHeading}}
keyboard_arrow_right
{{productForm.Name}} {{"("+productForm.Size+")"}}
| | | NAME | TYPE | LANGUAGE | FILE | |
| --- | --- | --- | --- | --- | --- | --- |
| | {{file.MaterialIcon}} | {{file.Title}} | {{file.MaterialType}} | {{lang(file.Language)}} | get_app{{file.ContentSize === 0 || file.Title == null ? "" : filterSize(file.ContentSize) + " MB"}} | |