Rolls for board and paper making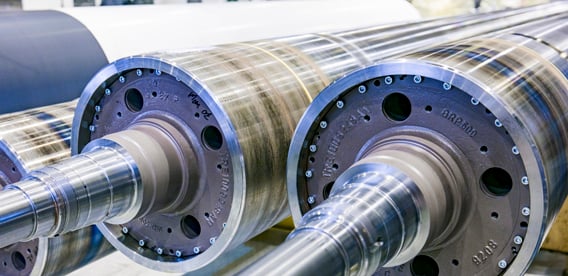 Maximum performance with high-quality rolls
With over 50 years of roll manufacturing experience, innovative R&D, and the process know-how of a paper-machine builder, Valmet offers highly reliable roll solutions that provide maximum performance and extend maintenance intervals.
The latest manufacturing technology and strict tolerances result in high-quality products with excellent operating performance, low vibration levels, and fewer sheet breaks.

The long operational life of new rolls is ensured by accurate dimensioning, durable materials, and functional roll design. With decades of experience, we have access to a vast library of original roll manufacturing drawings, which are used to engineer fully compatible spare rolls for all applications, regardless of the original machine supplier.
Roll solutions for all needs
Roll upgrades
Incorporate the latest technology
Highest performance and runnability
Rolls can be redesigned for higher speeds or nip loads
Changes in roll connections, automation, and hydraulics may be necessary
Improved spare rolls
Fully interchangeable with existing rolls
Offer some of the latest technology innovations
Easy installation
Improved performance and runnability
Reduced maintenance needs
Spare rolls
Copies of existing rolls
Fully compatible
Common spare parts
Valmet's high manufacturing quality
Value added with 360°Rolls
Revenue

Life cycle cost




Improved process performance
Efficient dewatering
Better sheet quality
Better roll runnability
Reduced sheet breaks




Savings in energy consumption
Savings in maintenance costs
Longer maintenance intervals
Less wearing parts
Reduced cleaning water usage

Assets

Minimizing risks




Durable rolls with longer lifetime
Extended cover and felt lives due to less roll induced nip vibration




High roll reliability
Fewer unexpected roll-related shutdowns
Roll condition monitoring
Fully compatible spare rolls
Keeping your production rocking and rolling!
keyboard_arrow_leftBACK
{{currentHeading}}
keyboard_arrow_right
{{productForm.Name}} {{"("+productForm.Size+")"}}
| | | NAME | TYPE | LANGUAGE | FILE | |
| --- | --- | --- | --- | --- | --- | --- |
| | {{file.MaterialIcon}} | {{file.Title}} | {{file.MaterialType}} | {{lang(file.Language)}} | get_app{{file.ContentSize === 0 || file.Title == null ? "" : filterSize(file.ContentSize) + " MB"}} | |