The redesigned Airborne dryer is today setting the new market standard for pulp drying technology, delivering the best production efficiency, reliability and energy consumption. The dryer is engineered for safe and easy running and maintenance.
"We listened carefully to our customers' views and built the new Airborne dryer to meet their demand for better operational reliability, user-friendliness, and superior operational cost-effectiveness and production efficiency," comments Juha-Matti Liukkonen, Valmet's manager of pulp drying and air systems. "Based on their input, our development team has added many new smart functions that improve performance, using the latest technology for operations, control and monitoring."
End towers keep dust low

for higher efficiency
Feedback from the field indicates that dust formation is one of the biggest problems mills face. Dust negatively impacts both productivity and energy use, because it clogs steam coil filter nets and reduces heat transfer. To fix this, mill workers must manually vacuum the dust off to clean the system, which is not an enjoyable task.
To address this, Valmet's redesigned Airborne dryer now features new end towers with an increased number of drying blow bloxes that reduce dust generation and provide better flotation control of the web. The towers are located at the incoming and outgoing dryer zones, and use active flotation blow boxes right up to the turning rolls that guide the web, replacing the previous web support structures.
In addition, the end fan towers provide a higher airflow and increase evaporation capacity by an estimated 2.6%.
A further innovation is the use of a rotating aluminum roller support at the dryer inlet. Rotating contact solves the issue with web scrubbing at the dryer inlet and allows optimal sheet entrance between the blow boxes. This further increases operational reliability by minimizing dust formation.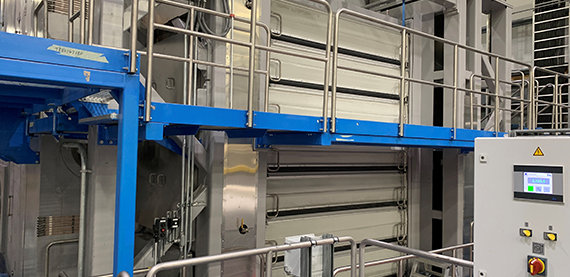 Fa

st and safe access via fold-up hatches
To simplify access for operators, simple new safe-to-open fold-up hatches made of flexible material have been added. These provide both good visibility into the dryer and ideal conditions to perform fast and safe maintenance work. "Thanks to the flexible material, they're very quick to open. It averages only 20 seconds to open them all at the same time," says Juha-Matti Liukkonen.
Further technology to help guarantee a safe and effective work environment for the operators includes a new version of the movable platform and photocell technology to monitor it. The movable platform – which the operators greatly appreciate – allows them to get much closer to the dryer than before. And while they are working, the photocells make sure the platform cannot be moved, simplifying the work process and increasing safety.
Another new feature that increases both user-friendliness and safety is the automatic locking of the upper blow boxes in the open position. As this was something operators previously had to do manually, it is now easier and more secure.
High degree of automation
The Valmet Airborne Dryer has a higher degree of automation than ever before, based on sensors, cameras and the Valmet Industrial Internet. This increases operational reliability and facilitates the operator's work.
For example, air pressure in the dryer is automatically controlled and regulated to improve runnability. Electricity consumption and the need for filter cleaning are also monitored, and the operator can see all the relevant data on screens in the control room.
In addition, the Valmet Industrial Internet enables the operators to receive key information directly in their smartphones, giving them access to the required insight from anywhere on a user-friendly interface. The applications and functionality to be included are chosen in close dialogue with our customers and are developing all the time as needs are identified.
Automatic tail threading the key to high output
A pulp dryer that takes a long time to get back to full production speed after a stop really hurts both efficiency and profitability. And tail threading has a very large impact here, says Liukkonen.
"Problems with tail threading are often the main reason it takes an unnecessarily long time to get production back up after a stop," he explains. "That's why we put major effort into perfecting automatic tail threading. We now have automatic threading from the press section to the Airborne dryer, which means the time to get back up to full production speed is no longer limited by manual threading to the dryer. So instead of slowly ramping up the speed, we can reach high production rates almost immediately."
Many benefits from flexible modular structure
Valmet's Airborne Dryer is made up of modules assembled on site. The modular construction provides flexibility, because it can be scaled up or down to match the customer's unique size and performance needs, and then be quickly and efficiently built on site. This means the solid quality and technical innovations that are the cornerstones of high performance are found in all the dryers Valmet builds – large and small.
The modular design also brings financial benefits to the customer, says Liukkonen. "Since we assemble the blow boxes and build the dryer modules at the customer's site, the project's transportation costs are lower, construction time is faster, and overall economy is better. The modular structure is a great competitive advantage and a decisive factor in reducing our customers' capital investment costs."
Global presence and long experience
Thanks to Valmet's extensive global network, the Airborne dryer can be delivered to any mill in the world, and Valmet's employees and subcontractors are never far away. "We're always close to the customer, including during construction, start-up, and when the dryer is in operation. We start with the best possible design, and then our project managers and technical specialists ensure the dryer's top performance throughout its lifetime, helping pulp producers succeed," concludes Juha-Matti Liukkonen.
Rebuilds - everything is possible

Production world record at Södra Cell Värö
"Even before we expanded pulp capacity at Värö, our dryer was a major bottleneck at the mill. When we increased production, we needed to replace it with a new one.
Before the rebuild, the dryer was prepared outside the building in eight large mega-blocks. So as soon as we shut down, the old dryer was easily taken out through the wall opening, and the new one brought in and erected.
After start-up, we steadily increased production. Since the dryer was built for higher steam pressure, when it was increased, we could also increase the production to a very high level. In fact, we set a new world productivity record in February 2020," says Jimmy Syrén, production department manager at Södra Cell Värö, Sweden. Read more in the record article
Rebuild with Booster dryers

–

more capacity in a space-efficient solution
Valmet's Booster dryers are a creative way to increase drying capacity. They were previously available but now feature more deployment methods, offering greater flexibility to customers. There can be several reasons to rebuild a dryer, with the most common being to increase your production capacity. With Valmet's Booster Dryer solutions, pulp output can be increased through a targeted extension that is placed on top of, after or inside the existing dryer. The one you choose will depend on your particular needs.
"Adding a Booster dryer extension on top of or after the dryer can be done on almost any pulp dryer," says Kari Koski, Project Manager, Pulp Drying Air Systems. "On the other hand, if you want to add capacity inside the dryer, expansion space must be reserved during the original planning and construction stages. It is thus already prepared for the capacity increase, and it's easy to do when it's needed. Another advantage of this solution is that there's no need to increase the dryer's physical size or footprint. Due to the extreme flexibility it offers, and since each project is unique, we're seeing great interest in the Valmet Booster Dryer for expansions."
R

ebuilds

on non-Valmet

dryers

too
The pulp dryer being rebuilt can be an original Valmet dryer, or it can be manufactured by another supplier. We are equally comfortable and see no obstacle in upgrading the dryer in both cases.
"More and more assignments involve rebuilds of non-Valmet dryers," says Kari Koski. "The mill wants to keep the original dryer frame but upgrade it with a targeted selection of our advanced Airborne Dryer technology. Customers are well acquainted with our expertise and technical innovations, and they understand the meaningful benefits they deliver."


TEXT: Kristofer Sjöblom and Hugh O'Brian
PHOTOS: Lars Berggren, Rodger Rauch and Torbjörn Bergkvist