The construction of APP's OKI Pulp and Paper Mill, with an annual production of 2.8 million tonnes of bleached hardwood pulp, began in South Sumatra in 2014, and the mill started up in late 2016. Valmet was chosen to deliver key technology, including pulp drying and baling, evaporation, ash treatment, biomass drying and gasification, lime kilns, green liquor handling, biomass boilers and the mill wide NCG collection system.
Valmet has a proven track record in supplying high-quality equipment with innovative and leading-edge technology. This explains why Valmet was chosen as a major supplier for OKI, one of the world's largest pulp mills.
"APP has partnered with Valmet on major projects in the past, and we expected and received the same good level of cooperation in all areas of the project," says David Kerr, General Manager of OKI Pulp and Paper Mill.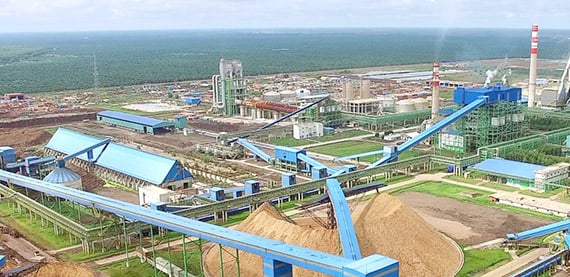 A successful multinational project
The project was a true team effort. Professionals in the pulp and papermaking business have a unique and kindred spirit – no matter where you are from. APP and Valmet recruited highly skilled specialists across the globe for the OKI project.
"Although language sometimes got a little in the way, there was a natural glue of talent and skill across all nationalities, making the project a tremendous success. Personally, I was proud to be part of a diverse global team, made up of many different backgrounds, working together to start OKI," says Kerr.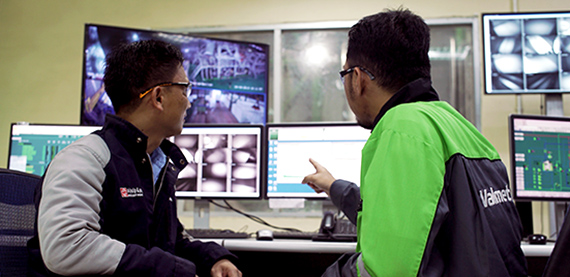 Throughout all phases of the project, from planning to full operation, APP brought in the best talent from their existing mills, and this, coupled with new OKI employees and Valmet specialists, was a key success factor.
"There are many challenges with a greenfield project of this magnitude. Valmet and OKI worked closely together through all project phases to solve each challenge, and to ensure a smooth start-up. For the mill's start-up and ramp-up, Valmet supplied skilled technicians in each area. We could always rely on them for critical support when needed. And the operation of the mill has so far been excellent," says Kerr.
"In all aspects, OKI has been a very challenging project in a remote location. A major factor in the project's success has been the people working on it. Valmet teams in the Nordics, South America, and Asia have been involved, and everyone has cooperated and done their very best to make this project a success," says Johan Schotte, Project Director at Valmet.
Ensuring sustainable performance
Valmet's solutions represent the latest and best available technologies and improve customers´ sustainability performance by increasing raw material, water, and energy efficiency, and reducing emissions and waste in their industrial processes.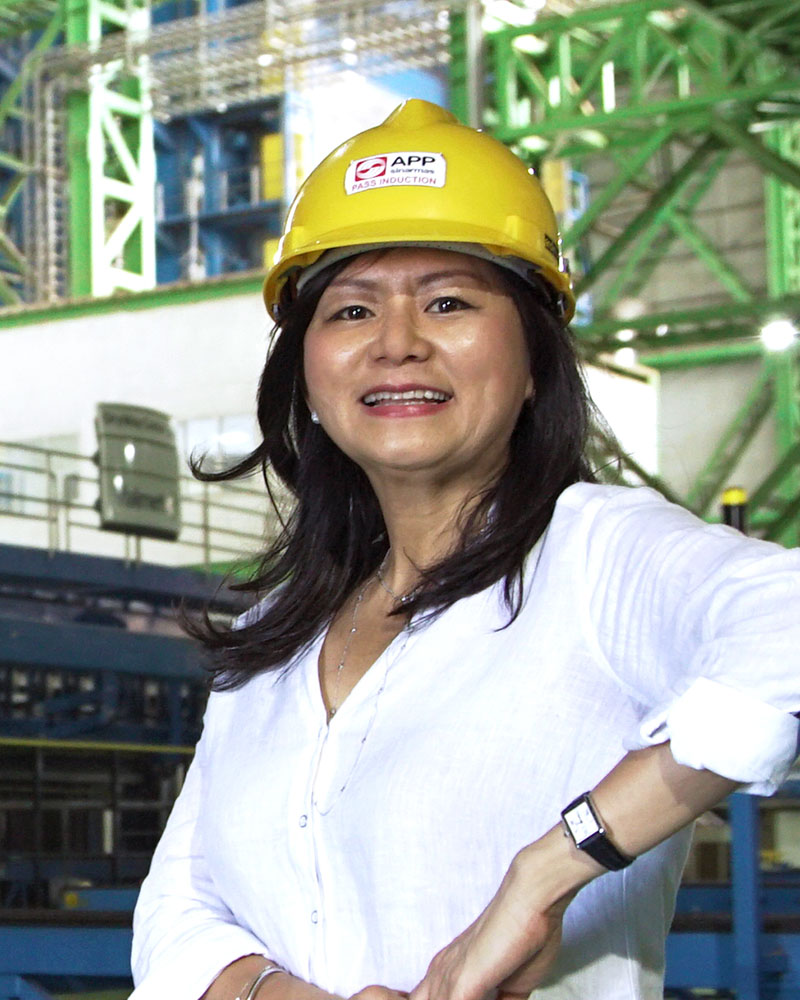 "Like many businesses, we need to balance the world's demand for products with the natural resources available to deliver them. In our case, we operate in a particularly sensitive area. Our core focus areas are the four Cs – climate change, conservation, community, and commerce. While our business thrives, we need to constantly ensure balance and harmony with the environment, as well as the communities that live within our concession areas, taking a landscape approach to ensure that as we grow, we're also helping to improve lives, and conserving and protecting the natural forests and landscape," explains Christina Koh, Head of Global Communications and Sustainability at APP.
Fast, efficient and highly productive
The pulp dryers at OKI are the largest machines in the world with the highest ever production. "Valmet has good equipment with very high wet end and press section dewatering features, and the machine is wide. This allows us to be fast, efficient and highly productive. We've managed to achieve production records with the new lines from an early stage. There are no capacity limitations on the Valmet pulp dryers. In fact, we expect to push for even more than design capacity," says Kerr.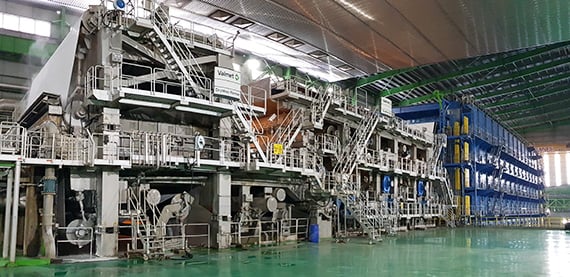 The pulp drying machines at OKI are the largest in the world. Each has a width of 10.6 meters.
OKI mill has two pulp drying machines, each with a width of 10.6 meters. Since the start-up, several production records have been registered. As the machines are the biggest in the world, each of the records was a new world record. In June 2019, the production record for both machines combined is 8,630 air dry tonnes (ADT) in one day, and 4,360 ADT for a single machine.
"It was an immense technical and logistical challenge both for Valmet and OKI to build the world's biggest ever machines. We can only be proud of the results achieved. The operators and mill managers have been doing an excellent job," says Paulo Aguiar, Vice President, Wood and Pulp Handling Business Unit at Valmet.
"These records were accomplished thanks to a skilled and dedicated Indonesian workforce supported by a few international specialists. We also have an excellent quality pulp furnish made from fast-growing acacia plantation fiber," Kerr adds.
Energy efficiency with evaporation
Like many areas in the OKI mill, the evaporation plant is by far the largest in the world, and the dry solids are exceptionally high.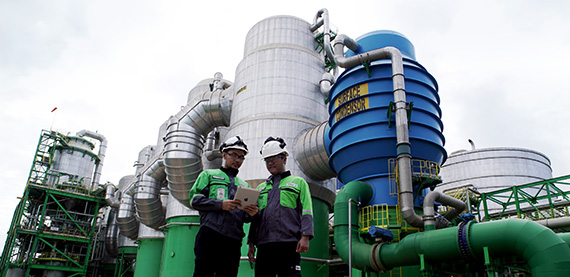 The evaporation plant at the OKI mill has 7+ effects and very high final dry solids for extraordinary overall energy efficiency
"We've tested the full capacity of our evaporation plant, and the results have been good. The high dry solid level provided by the evaporation plant gives us higher steam generation in the recovery boiler, high and steady furnace temperatures, with low emissions of sulfur dioxide and TRS," Kerr comments.
The condensate treatment system is designed to enable 100 percent reuse of condensates in mill processes – for example, in fiber line and recausticizing. The recovery boiler ash is treated in an ash crystallization plant to keep potassium and chloride at the desired low levels in the mill's recovery cycle. The ash crystallization is fully energy-integrated in the evaporation plant, optimizing the steam balances.
The mill's energy production is complemented with two Valmet-supplied power boilers.
A 100 percent fossil fuel-free mill
The lime kilns at the mill uses gasified acacia bark as fuel.
"The combination of a biomass dryer, gasifier and lime kiln system is the first of its kind in terms of size, acacia bark, and substitution rate. We've been able to improve the technology to make it a reliable and safe solution, but we've also faced challenges along the way and have continued to optimize the process to reach its full potential," explains Claus Jensen-Holm, Director for Valmet's lime kiln technology.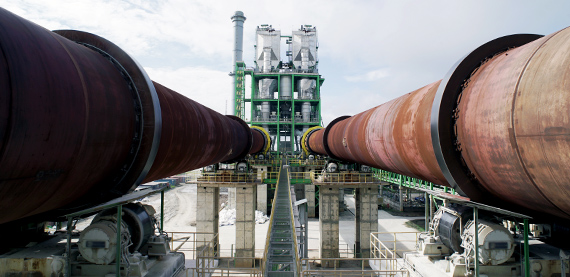 The lime kilns are fueled with gasified bark.
"The bark gasifiers have allowed us to almost eliminate fossil fuel in our lime kilns. This equipment needs further optimization to reach its full potential. In essence, this will allow us to make the OKI mill 100 percent fossil fuel-free," Kerr adds.
Green liquor from the lime kiln is cleaned in Valmet OptiClear high rate clarifiers to increase the efficiency of the recausticizing process.
"With OKI's highly skilled workforce and new pulp making equipment, we can meet the highest quality standards and produce excellent pulp grades," Kerr concludes.
Text: Kerstin Eriksson and Lotta Forssell
Photos: Valmet and mmsdreamteam.com