Jun 2, 2021
The Valmet Airborne Dryer has been developed in close dialogue with Valmet's customers. A key aspect has been that the dryer should achieve the highest possible production efficiency.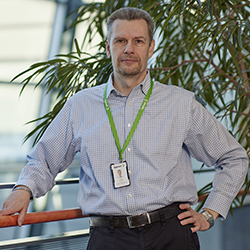 "To ensure high production efficiency and good profitability, a pulp dryer must return to full production quickly after a stop. Our dryer is equipped with smart innovations that provide higher production efficiency than both competing solutions and our previous pulp dryers," says Mika Saarinen, Chief Engineer at Valmet.
Automatic tail threading increases production
Reliable and simple tail threading is a key to achieving high production efficiency. Problems with manual tail threading are often the main reason it takes an unnecessarily long time to get production back up after a stop.
"That's why we put major efforts into perfecting automatic tail threading," explains Mika Saarinen, who also is a specialist in tail threading. "We now have automatic threading from the press section to the airborne dryer, which means the time to get back up to full production speed is no longer limited by the manual tail threading to the dryer. This means that instead of slowly ramping up the speed, we can reach high production almost immediately."
Automatic tail threading is an important advantage in Valmet's new dryers. It is also common for tail threading in an existing dryer to be upgraded to Valmet's automatic design, says Saarinen. "Our automatic tail system can be installed on almost all existing dryers, large and small. The obvious advantages have led to many dryers switching to automatic threading."
High drying capacity, minimal dust formation and quick cleaning
Dust formation and cleaning are aspects that have big impact on production efficiency. Valmet's Airborne dryer has been developed to generate minimal dust and is also equipped with the new innovative folding doors, which can be opened faster than previous designs. This means that the dryer can be filled immediately with cold air and that cleaning time is much faster than before.
"Our customers want cleaning to be as simple and efficient as possible, which we have done, to make their operations even more competitive," comments Saarinen. "Furthermore, the redesigned end towers with an increased number of blow boxes and the rotating aluminum roller support at the dryer inlet give both better flotation control of the web and reduce dust generation to a very minimum."
Performance monitoring - Valmet's Industrial Internet
By monitoring and controlling parameters such as pressure and temperature, ideal conditions for high evaporation rates and high production efficiency can be obtained. The operator can get the desired information via Valmet's Industrial Internet platform for digital solutions and services, (link in web version of the article) which can be accessed from a computer or smartphone. The interface is user-friendly and the layout is tailored to each customer.
Through Valmet's Industrial Internet, customers can also get a detailed picture of other parameters directly in their smartphones, such as filter cleaning and energy consumption. This helps them achieve both higher production efficiency and better cost efficiency.