Dual Unwind for higher winding capacity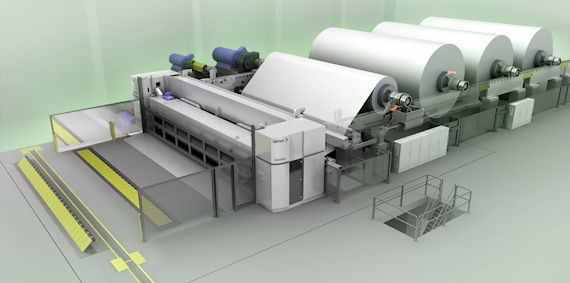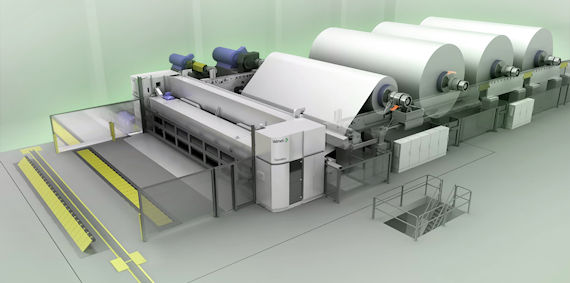 Why store spools in two positions? Why pause production when changing the parent roll? Why not have a winder with two unwind stands instead? Valmet's Dual Unwind is an exceptionally fast way to make a parent roll change at the winder. You'll end up with more production and higher winder capacity. Valmet has a proven technology with a solid 10-year track record with over 30 references!
New thinking at the paper machine finishing area
A decade ago, Valmet launched a revolutionary winding equipment that would significantly increase capacity. The first one was delivered to Propapier. After this first start-up, over 30 Dual Unwind solutions have been sold already to increase winding capacity. Dual Unwinding makes it possible to get rid of additional reel spool storages at the winder. There is no need to pause the production due to parent roll change as earlier. The Dual Unwind sequence is fully optimized and independent of a crane.

Old type of finishing area

New type of finishing area with Dual Unwind
Higher winding capacity
With Dual Unwind, you'll get:
One-minute parent roll change
Typically 30 % more capacity for winders - even over 50%!
For winder modernizations and new winders
With conventional parent roll change solutions, fast manual changes are 5-6 minutes. However, typical measured parent roll change times in the industry are on average some 9-12 minutes. With this in mind, a one-minute parent roll change with Dual Unwind is very fast. This alone leads to big savings with the capacity increase at the winder. Depending on the winder, the capacity gain can be substantial.
The movements of parent rolls are arranged to happen simultaneously with the set changes, which is a robust solution to ensure there are no compromises to the roll structure and quality during winding. The second unwind stand is designed only for unwinding the last set from the parent roll. This allows the primary unwind stand to receive a new, prepared parent roll during winding.
The dual unwind can be delivered with two different splicing technologies, a conventional flying splice or a butt-joint splice, BJS, which will prepare a sellable splice.

Butt-joint splicing
BJS delivers:
High-quality splices that run through the printing press
Excellent splicing quality and reliability
Suitable for all paper/board grades
Automatic tail threading from parent roll to slitter section
Unwinding from above and under
Customer success stories