Valmet DNA Plant operation monitoring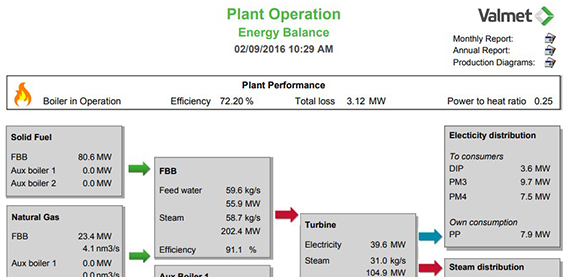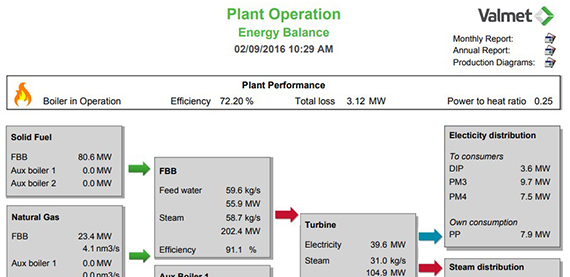 The Valmet DNA Plant Operation Monitoring application calculates, stores and displays the relevant production and consumption data that is needed in invoicing, purchasing and budgeting. It also monitors power plant's overall heat balance, water/steam balances and performance.
The application also brings the real-time status of production and plant efficiency available on every computer at the power plant, which is the cornerstone for profitable production and performance improvements. The user interface is a combination of a flexible number of customized reports and displays, which visualize the operation and performance of the power plant and report the cumulative production and consumption data.
Benefits
Enables an efficient way to reduce production costs and maintaining competitiveness in the energy markets by presenting the exact status of production, consumption and plant efficiency
Provides the power plant management and operating personnel with a laptop view to the process displaying the relevant production, consumption and performance figures in a compact form, at any time
Helps to plan the tasks for the day i.e. in regular morning meetings by viewing the relevant figures
Tracking the history data and changes in the figures is efficient by using easy-to-use trending tools
For more information, please contact:
Elina Kleemola
elina.kleemola(at)valmet.com