OptiFlo Fourdrinier headbox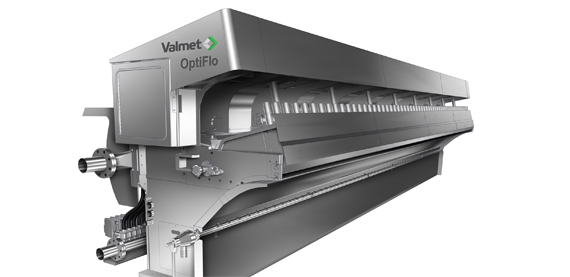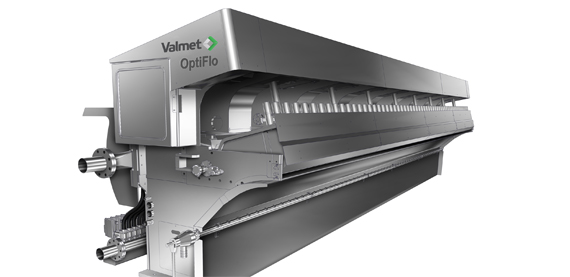 OptiFlo Fourdrinier headbox - Transforming machine performance
The OptiFlo headbox family introduces a new level of performance with a modular construction developed to meet the growing productivity and quality requirements of high-quality board and paper machines. The OptiFlo Fourdrinier headbox is a mix of proven technology and new ideas.
Valmet's OptiFlo Fourdrinier headbox provides:
Excellent end-product quality
Lower life cycle costs

Higher productivity
Secure investment
Better quality
The secret behind the 30% better CD profiling accuracy is OptiFlo's ejector type dilution system and patented CD dilution profiling with edge feed control. Unlike traditional designs, profiling water is delivered to every primary tube. The redesigned hydraulics using accelerating secondary tubes provide better turbulence and flock breaking power and deliver a more uniform and stable headbox jet to the wire. The raw material quality potential is maximized and good formation without streaks or stripes enhances end product properties for perfect visual appearance.
Higher productivity
Making more with less is the byword for today's competitive production environment and OptiFlo introduces a new level of performance for high-quality board and paper machines. Increased machine speeds and better runnability are made possible by the excellent web uniformity achieved by the OptiFlo headbox. Quicker tuning at grade change, more uniform web edges providing a wider trim, further maximize production capacity potential. Unplanned downtime is minimized with the easy operation and good cleanliness of the headbox, allowing extended operation times while excellent component accessibility makes maintenance easier and shutdowns shorter.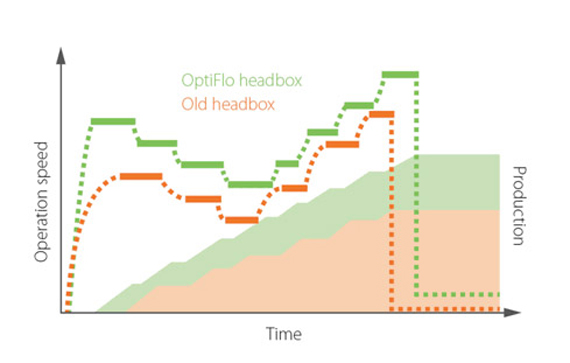 Headbox production boost - operate faster and longer. One production batch example.
Lower life cycle costs
Considerable energy savings are gained with OptiFlo's ejector dilution systems, more efficient tube design and reduced internal pressure losses. Recirculation is minimized (5 %) and overflow pumping eliminated. The result is a 50 % reduction in energy consumed by internal headbox losses. Lower operating costs are also achieved with OptiFlo's simplified maintenance requirements and exceptional component accessibility to make service easier and shutdowns shorter.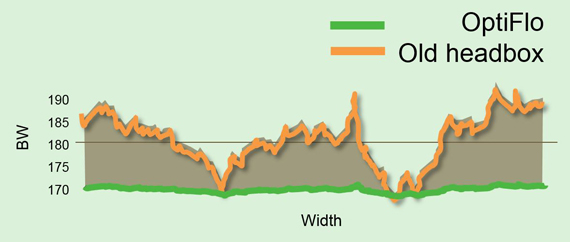 Liner board machine example: In order to achieve strength properties of 180 gsm, you would need only 170 gsm with flat profiles.
A secure investment
The advanced design of OptiFlo makes later upgrades possible to handle changing production needs or new control technology with the minimum disruption in production. The headbox ensures optimum utilization even though production or quality targets may change later. With OptiFlo, you can reach targeted improvements in productivity and quality right after start-up.
Have a closer look at the main features of OptiFlo Fourdrinier Headbox
The innovative design of Valmet's OptiFlo headbox provides the greatest floc breaking ability and flattest profiles available on the market. That ensures that the paper and board products you make is of optimal quality. All the features of the headbox have been carefully designed to increase machine productivity, while keeping daily operating costs in control.
Have a closer look at a few of these main features, like the attenuator, optimized headbox header shape and design, edge feed, ring feed dilution system, and redesigned hydraulics with accelerating secondary tube on the video: Valmet OptiFlo Fourdrinier Headbox - Transforming machine performance.
Headbox rebuild for Ahlström Munksjö's Dettingen
"Just plug and play, start the systems, and get extraordinary good quality out of the PM34." , said Thomas Gehring, Mill manager at Ahlstrom-Munksjö Dettingen Mill after successfull wet end rebuild of their PM34.
Gehring also continues explaining that the improvements to the machine performance and paper quality were immediate since the rebuild. They have achieved more constant and flatter grammage variation in both machine and cross direction. Especially the CD deviation improvement was evident, as the reduction in deviation was more than 15 percent.
The customers of Ahlström Munksjö's Dettingen mill in Germany set high expectations of the quality and printability of decor paper used in furniture. The mill's recent wet end rebuild has further improved paper strength, as well as decreased the grammage deviation, enabling them to deliver the quality their customers expect. See the video for full reference.