Multi-Fourdriniers for high efficiency and output across a broad range of grades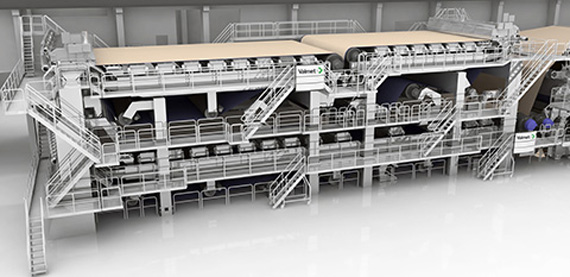 Valmet's OptiFormer Multi provides:
Cost-effective design with two, three, four or five Fourdriniers
High drainage and production capacity

Wide basis weight range with good sheet formation
Tailored concept for best utilization of raw material
Valmet Fourdrinier ensures high efficiency and output. The flexibility to make products across a broad range of grades is also often desired, and white lined chipboard, folding boxboard and coated SBS can all be produced on the same multi-Fourdrinier machine. With this flexibility, production can be targeted at the best market potential and the highest value.
A Fourdrinier forming section delivers gentle dewatering and high strength yield. The length of the Fourdrinier forming table is optimized for furnish used. The concept is cost-effective and provides good product properties throughout its operating range.
Fourdrinier forming can involve 1 to 5 plies, enabling a wide basis weight range with good sheet formation. The heaviest ply is often equipped with an OptiFormer Hybrid top former unit. Advanced dilution basis weight profiling can also be used for efficient profile control with the heaviest ply.
Valmet's extensive product range also provides rebuild solutions for traditional Fourdrinier formers to improve end product quality and output, or to enter a new basis weight range or board grade.
Customer success stories

World's fastest coated board machine
The Ji'an Group's PM 3 in China enables the company to optimize its raw material costs and to become a major producer of coated board. The novel curtain coating technology provides the mill with more furnish options to choose from.

Perfect combination at Greenpac
High-quality, lightweight containerboard production line and mill maintenance agreement move the Greenpac Mill in Canada forward.