Greenpac turns data to value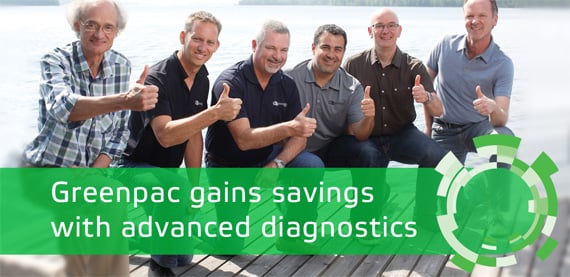 Greenpac Mill knows how to take a firm grasp of data and the possibilities it offers. They turned their data into a valuable asset and use it to prevent production losses with Valmet's Industrial Internet applications and with the help of Valmet Performance Center online experts guiding the mill personnel.
Started up just four years ago, Greenpac's Valmet-supplied PM 1 is a state-of-the-art recycled linerboard production line with full Valmet service support in the form of long-term service agreements and outsourced mill maintenance operations. The modern systems and measurements combined with advanced plant systems provide an enormous amount of data every second, and the mill was determined to put the data to good use. As a result, they've been able to accurately predict both small machinery failures and larger, critical ones, and thus avoid unplanned shutdowns and production losses, and operate in a more controlled manner.
Case 1: Lower press suction roll performance

Greenpac Mill noticed from the weekly analysis report that the press roll suction condition indicator had been showing lower performance for a while. They asked the Valmet Performance Center for guidance, and as Valmet's experts studied the case further, they suspected that the sealing strip of the suction chamber might be worn out, or the shell suction holes might be partially plugged. In the next scheduled shutdown, the suction roll was removed and exchanged for a new one.
Changing the suction roll based on the condition data prevented an unplanned shutdown of 24 hours that might have resulted due to the damaged suction roll. The estimated cost saving was USD 480,000. The suction roll maintenance report confirmed the suspected condition failure.

Case 2: Double doctor performance

An expert at the Valmet Performance Center noticed that the double doctor blade performance went into a critical state late one Friday night. The expert notified the mill immediately. As the double doctor performance indicator showed critical values, the mill workers kept a close eye on the doctor and operated it in a very controlled manner until the next planned shutdown.
As a result, major damage to the press was likely avoided. Also, a 48-hour unplanned shutdown was prevented, and the estimated savings were over USD 1,000,000.

Case 3: Hood exhaust moisture control

A Valmet Performance Center expert noticed an anomaly in the press section dryness, investigated further and discovered that the exhaust moisture measurement signal from the paper machine hood had collapsed. The expert notified Greenpac right away. The mill investigated the moisture measurement instrument and found it was faulty. They ordered a new part, and the instrument was repaired.
The actions taken prevented runnability problems that a malfunction in hood air balance and moisture accumulation would have caused, thus preventing production losses he estimated savings were more than USD 1,000,000.

Results through dialogue with data
Valmet Paper Machine Diagnostics, one of Valmet's Industrial Internet applications; is a software package that enables a paper machine to observe and track its own behavior. It indicates if the asset or performance of the process is within normal limits or not. Each machine component and process has a unique diagnostics approach and performance indicators. The indicators are carefully adapted to their specific function and designed to be as informative as possible.
Paper Machine Diagnostics combines existing data from several sources, like the machine control system, quality control systems and other mill level information systems. There is no need to install any new measurement devices just for this application. This live data is fed to algorithms that have been created based on Valmet's vast papermaking knowhow. The system creates timely reports that provide in-depth information about the machine performance and condition of the equipment, which can be used to predict and avoid production losses and increase the process reliability.
The application is complemented by support from Valmet Performance Center. If the machine's behavior is outside the set limits, Valmet experts check the process remotely and troubleshoot possible causes of process variations, solving abnormalities without delay.
The Valmet Paper Machine Diagnostics tool is available as a part of a Service Agreement. The scope of the agreement can include services for reliability, performance or new technology – or for all of them. Valmet delivers improved predictability and reliability of processes and overall performance, leading to savings on time and money.
* Calculations based on estimated machine downtime cost of USD 20 000 /h.