Sep 7, 2021
For many, the first thing that comes into mind when we mention the name Neles is valves. While we have decades of experience in manufacturing industry-leading valves, we also have decades of experience in automating them. And not just Neles™ and Jamesbury™ valves, but any valve by any major manufacturer. We offer full automation works for all industrial valves, giving you the competitive edge in terms of the best possible flow control performance.
An offering based on experience
We in the flow control business line have made a concentrated effort over the years to build a portfolio of products and solutions for the best possible valve automation for a wide range of industries, ranging from the demanding processes in the oil and gas industry to the very specific requirements of the pharmaceutical and other life science industries. We are also particularly experienced in solutions for the pulp, paper and bioproduct industries. Some 50 years of experience in automating our own valves has put us in an excellent position to also automate valves by other manufacturers.

Our offering includes a wide range of actuator types, from our latest Neles EasyflowTM rack and pinion actuators for standard applications, to the more highly customized pneumatic actuators that have been in use in demanding oil and gas applications for years. We also put the intelligence into your valves by offering a comprehensive portfolio of valve controllers and limit switches. The one thing that our entire offering has in common, is that they are all designed to work with any valve from any manufacturer.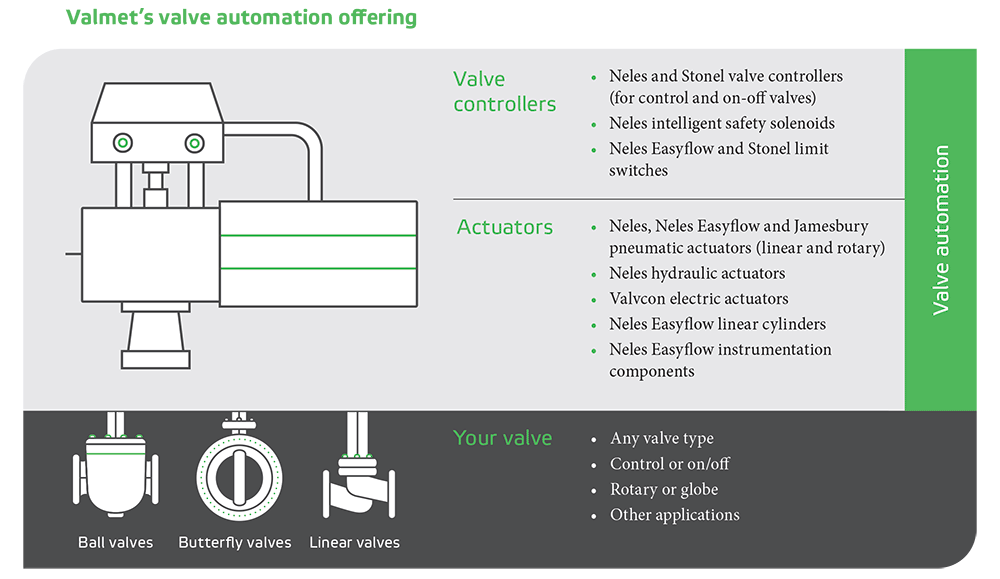 Our unique approach means that we are your one-stop-shop for all valve automation components. We have made it simple and easy to order and receive a full product offering from a single responsible source designed to work together as a coherent and reliable valve assembly within your process. This also means that our delivery includes all the fixing and mounting hardware needed to build the complete automated valve assembly.
Make the smart vendor choice
The added intelligence our controllers deliver of course means that we can give any valve the diagnostics and analytics capabilities needed. Our solutions are also ready for easy integration with your plant DCS, regardless of the make and model. We have wanted to make everything as easy as possible for our customers – easy ordering, easy installation, easy integration and easy serviceability.

Buying valve automation solutions from a supplier with a proven track record as well as an in-depth understanding of both valves and how they work and the industrial environments they are expected to serve in, helps provide peace of mind. We offer solutions that meet the needed standards and comes equipped with industry- and market-relevant certifications. We are able to offer worldwide service support from local service center in more then 40 countries. Our global service center network means that the service we promise, is available to you, wherever you are.

So, in addition to working with one of the leading names in flow control, with experience and understanding of the industrial processes we serve, utilizing Valmet valve automation typically comes with the added bonus of working with a name that is already on the accepted vendors' list and provides full specifications coverage and the needed testing results from the very beginning.
Building global availability
Reliability and availability are two things that are extremely important to our customers. We are continuously developing not only our products, but also the way we work with partners and customers around the world. We have just launched our Eurohub concept, which ensures the availability and faster delivery of standard valve automation components across the continent. It is a logistics and warehousing concept that will reduce the need for our European channel partners to stock spare parts and replacement devices locally on site.

As we speak, we are only at the beginning of the journey. We are currently rolling out the concept in the EU but see the potential to expand this level of service and fast response globally on the long run. As we want to be at the forefront of the valve automation business, it is not enough to keep up. We need to set the pace. We will continue to focus on continuously developing both our offering and our customer-centric way of bringing it to you.
Text by Ulrich Gensicke, VP, VC&A Business Management
See the interview with Kalle Suurpää, Vice President, Valve Controls and Actuators:
The text has been updated in April 2022, due to the company name change to Valmet.