Automation av avloppsvattenrening


Valmet har erfarenhet av miljöprocesser – till exempel dricksvattenbehandling och avloppsvattenrening – som hela tiden behöver nya och mer effektiva tekniska lösningar för att klara miljö- och kvalitetskrav som skärps kontinuerligt. Den här typen av anläggningar är ofta väldigt stora, i synnerhet i städer där flera närliggande samhällen är anslutna till samma anläggningar för vattenbehandling.
Klicka på bilden för att visa en animering och hitta mer information >>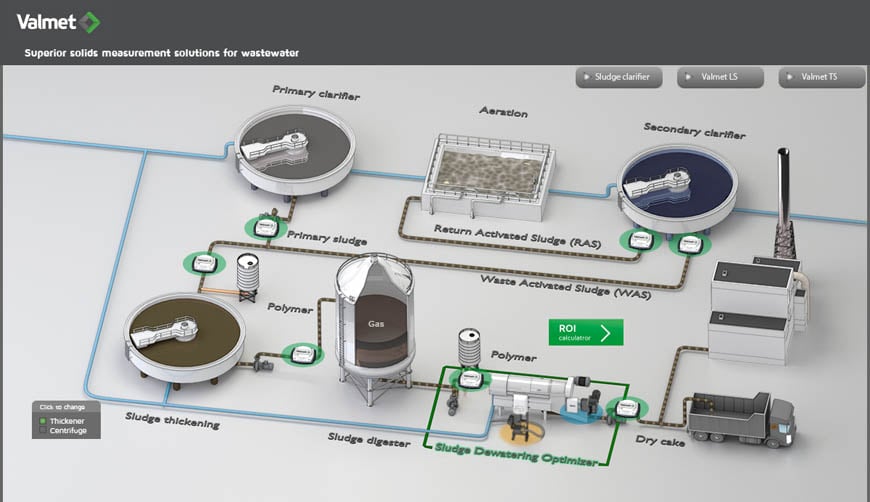 Egenskaper
System för automations- och informationshantering
Konduktivitetsmätningar för avloppsvatten och starka syror
Fördelar
Kontinuerlig tillgång till realtidsdata
Avsevärda besparingar
Lägre transportkostnader
Minskning av polymerer
Mindre omfattande laboratorieprovtagning
Lägre bränsleförbrukning
Effektiv energianvändning
Kort återbetalningstid
RELATED LINKS
Distributed control system (DCS)
Valmet DNA Distributed Control System (DCS) gives you complete control of all your processes and provide user-friendliness and transparency that go far beyond traditional automation systems.

Wastewater measurements
Valmet offers superior solids measurement solutions for wastewater treatment plants based on many years of experience and know-how. Valmet's solids sensors provide benefits for all sludge processing stages.