Always refer to the roll doctor OEM supplier manual for maintenance information. The following are guidelines for periodic maintenance for roll doctors.
Daily maintenance
Check doctor assembly for operation.
Check blade for wear. Replace as necessary.
Monthly maintenance
Clean out saveall (catch) pans.
Check loading air hoses (if exist) for leaks.
Lubricate oscillating shaft bearings as necessary.
Check gear motor oil level.
Quarterly maintenance
Inspect the pneumatic cylinder (if exists) for operation and leaks. Repair kits are available. Online supplier datasheets for the cylinders are available.
Annual maintenance
Maintain oscillating shaft bearings according to supplier instructions.
Maintain gear motor according to supplier instructions.
Location of lubrication and maintenance points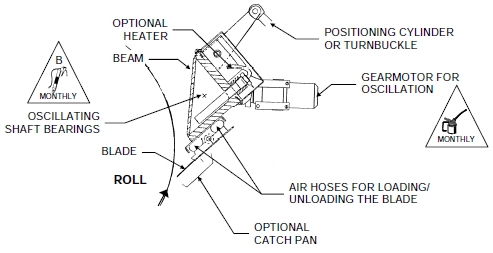 Typical doctor assembly with cylinder loading and motor oscillation
For more information on roll doctors and their maintenance, contact your Valmet representative.