Advanced plant-wide automation, optimizing controls and plant management applications, topped with close cooperation with Valmet, ensure that Kuopion Energia Oy's Haapaniemi CHP power plant operates efficiently and safely.
An ice hockey jersey from a local national league team – KalPa – on the control room wall reveals that we are in Kuopio, Finland. In late spring, the hockey season is over – as is the peak district heating season. "Our company sponsors the team," puts in Ossi Härkönen, one of the plant operators, while closely keeping an eye on the automation system displays in the main control room of the Haapaniemi CHP power plant.
Kuopion Energia produces district heat for about 6,000 customers and electricity for the national grid through co-generation at its two Haapaniemi units and with biogas in Pitkälahti. Started up in 1982, the 245 MWfuel Haapaniemi 2 unit was originally fueled by pulverized peat but converted to fluidized bed technology by Valmet in 2013 to enable biofuel firing, too. The 162 MWfuel Haapaniemi 3 unit, commissioned in late 2011, is a multi-fuel fired power boiler using Valmet's circulating fluidized bed (CFB) technology.
Both units are controlled with a Valmet DNA automation system that supports the plant in producing energy efficiently and safely with low cost and low impact on the environment. High-level automation consists of automatic controls, integrated performance monitoring applications, an easy-to-use operator interface and advanced analysis tools. Together, they all add up to operational flexibility, reliability and availability.
Easy operation with a lot of information available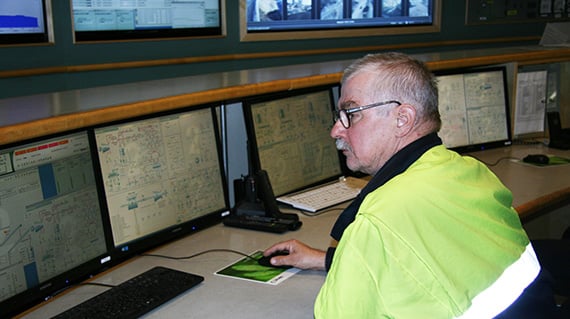 Cooperation between Kuopion Energia and Valmet dates back to the startup of Haapaniemi 2 in 1982. Ossi Härkönen has been working at the plant since 1985 and is familiar with various Valmet automation system generations. As an operator, he appreciates the development in the user friendliness: "System use has become easier. Having the whole power plant process visible on the displays makes it easier to run the process. There is less to remember as more information is available. Also, control is more accurate."
His colleague, Timo Balk, started in his job less than 1.5 years ago and regards himself as an apprentice. Perhaps that's why he values the Valmet DNA system's informative loop descriptions. "You can always check and make sure that you are doing the right thing," he says.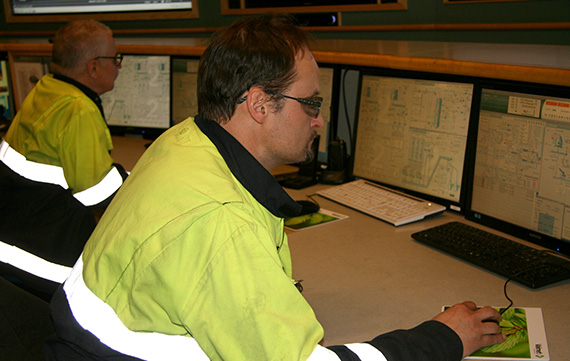 Valmet DNA Plant Management applications provide the operators and power plant management with a view to the process by displaying the relevant production, consumption and performance figures in a compact form. The highlights in the applications include monitoring operation point deviations to ensure energy efficiency in the short term and providing an energy efficiency report for long-term follow-up. History data and changes in the figures can be tracked by easy-to-use trending tools.
For emission monitoring and reporting to the authorities, Kuopion Energia uses the Valmet DNA LCP Emission Monitoring.
Long cooperation and continuous development
Members of Valmet's local service center staff often visit the plant and its control room to contribute to improving ways of running the process and to provide support in problem solving. There is also a remote connection to Valmet experts in Tampere. Kuopion Energia has a development agreement with Valmet that covers both the boilers and automation.
"Valmet employs competent people who are easy to get along with. That is important for cooperation," adds Peter Seppälä, Director in Haapaniemi Power Plant.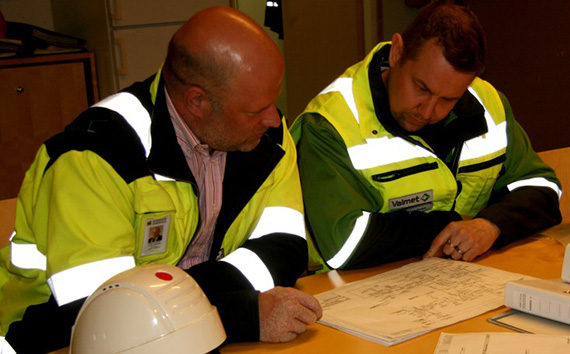 Optimizing combustion and boiler capacity
Combustion in Haapaniemi 3 has been optimized with Valmet's DNA FBB Combustion Manager. This multivariable fuzzy controller simultaneously regulates combustion variables, such as fluidized bed temperature, flue gas oxygen content and the NOx/CO balance. It manipulates the fluidization gas flow, recirculation and primary air flow ratio, secondary and tertiary air flow ratio as well as fuel and air symmetry by changing their setpoints or inputs through fuzzy logic.
Based on this same advanced control, boiler capacity has been optimized, too. "Our target is to reach full boiler capacity or even exceed its nominal output. This extreme capacity is needed during the coldest winter periods to decrease the need for oil-fueled heating plants," Seppälä remarks. "Advanced controls make it easier to fully utilize existing boiler capacity or lower emissions even further. With manual control, there always tends to be a safety buffer."
To tackle the effects of corrosion induced by biomass combustion on the Haapaniemi 3 superheater, extend its lifetime and optimize the fuel diet, Kuopion Energia uses the Valmet FuelDiet KCl Corrosion system with a Valmet DNA FuelDiet application.
"The solution controls alkali chloride in the superheater and ensures that we are on the safe side with regard to corrosion. We can now enter the risk zone, maximize the amount of wood residues in our fuel mix and always know what is taking place inside the superheater," Seppälä says. "By being able to increase the share of biofuel, we have been able to achieve cost benefits without any risks to the superheater condition."
The automation delivery to Haapaniemi 3 also included a safety system for the boiler and control for Valmet's electrostatic precipitator.
Open-platform turbine automation
The 50 MW Skoda backpressure turbine at Haapaniemi 3 features Valmet's redundant turbine controller integrated with the Valmet DNA automation system. This advanced open-platform solution improves the cost efficiency of power plant operations and simplifies system maintenance.
The controller is complemented by a Valmet DNA Steam Turbine Performance Monitoring solution that calculates and monitors isentropic efficiencies and steam as well as heat rate and turbine constants.
District heat plants to be run with Valmet DNA, too
By June 2017, Kuopion Energia's district heating plants will be also connected to the Haapaniemi power plant's automation system. Valmet is replacing outdated automation and remote control systems with modern Valmet DNA technology at seven district heating plants, three district heating containers and 11 pumping stations. The project improves the availability and reliability of their automation and remote control. Additionally, it will be possible to run them together with the Haapaniemi units in an energy-efficient and economical way and optimize the use of the district heating network.
After modernization, the plants will operate within the same automation and reporting system as the Haapaniemi plant without any separate programmable logic controllers. In the future, it will be possible to not only control but also maintain and make changes to them centrally from one location. Despite integration, they will function independently and can be operated locally, for example, during disturbances in the company's internal communications network.


For more information:
Olli Koivumäki, olli.koivumaki at valmet.com