Aug 12, 2021
The special relationship between Ittihad Paper Mill and Valmet extends from supporting the establishment of the greenfield plant to delivering the mill's entire production line. Valmet is also the sole supplier for paper machine clothing for the mill.
Ittihad Paper Mill in Abu Dhabi, United Arab Emirates, is anything but ordinary. Inaugurated in 2019, it is the first printing and writing paper mill in the GCC (Gulf Cooperation Council), and the largest in the Middle East and North Africa region. Cooperation between Ittihad Paper Mill began with the preliminary calculations and the assessment of the feasibility studies.
"Valmet has a good track record as a world-class paper technology supplier, but what really convinced me was that they understood the dynamics of our project and believed in it. I'm very grateful for Valmet's support and the expertise they've offered us so far," Rabih El Assadi, Operations Director, Ittihad Paper Mill, says.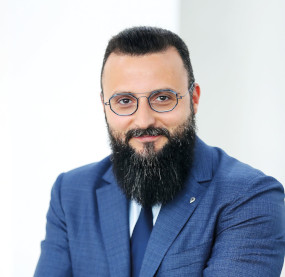 Production Manager Mika Viertola has long experience in the industry and especially in the commissioning and start-up of greenfield paper mills around the world. He thinks the operating environment in his current position is notably different, and perhaps for that reason, far more interesting than his previous ones.
"Starting up a greenfield mill is always quite a challenge. However, here at IPM, we've not only built a mill – we've built the entire organization and the culture within it in a region with no previous experience in the paper business. Taking all this into account, I think we've been able to achieve excellent figures in both runnability and operating efficiency during our first year," Viertola says.
One-stop shopping makes things simple
When Viertola jumped aboard IPM in mid-2018, all the main supplier agreements had already been made. The building of the mill site and the delivery of the Valmet OptiConcept M paper machine were already in the home stretch, and the overall maintenance agreement, including paper machine clothing and consumables, was about to begin with Valmet.
"Technically, I felt comfortable with the start-up. With all the paper machine clothing and consumables supplied by Valmet, we only needed to go through the specifications with one partner – and in this case, an experienced one," Viertola says.
The personal relationships I've built with Valmet's experts over the past decades definitely bring extra value.
Viertola's personal experience and long-term cooperation with Valmet has also proved an asset. "The personal relationships I've built with Valmet's experts over the past decades definitely bring extra value. It makes communication and problem solving smooth. This, combined with reliable products, means that shopping for another PMC or consumables supplier is unnecessary," Viertola says.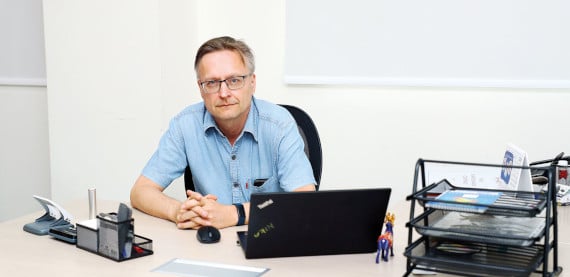 Promising results – despite an exceptional year
Ittihad Paper Mill launched its commercial production in early 2020. As we all know, the year was to prove exceptionally challenging on many fronts – especially for a business starting up.
"It's been difficult to enter the market as a new player at the same time as prices have been shrinking, and demand for office paper has been decreasing. We had to have some downtime on our machine every month and couldn't stabilize our production as we'd planned. Yet our overall operating efficiency ended up being as high as 88 percent at the end of the year. With small adjustments, we can increase the running speed and achieve our efficiency target in one or two years. I also believe in the growth potential of our regional market and our ability to be the desired supplier for local customers," says Viertola.
Due to Covid-19, international travel has been restricted for more than a year. According to Viertola, this has been a challenge, but it's also been an opportunity to learn new things.
"There've been times when we really would have needed a Valmet guy on site, but we've had to settle for remote support. During the pandemic, we've learned to utilize the remote connection between the mill and Valmet's Performance Center more, which has led to shorter response times in many cases," he says.
Reliable paper machine clothing plays an important role in production
Ittihad Paper Mill started up with paper machine clothing and consumables supplied solely by Valmet. Viertola's experience had shown that Valmet's paper machine and the company's own PMC made a good pair.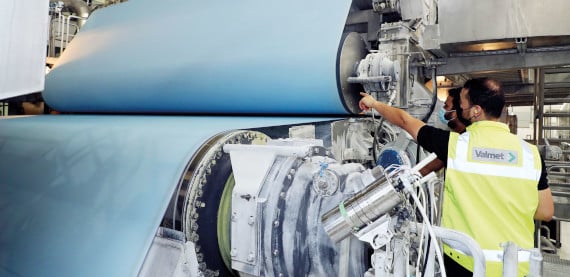 "I don't think I've ever seen a trouble-free start-up, and it was no different this time. However, I'm satisfied with the support we got from Valmet, and we were able to solve the teething issues quite quickly together. I'd started four Valmet OptiConcept machines before, so it was easy to select the optimal PMC design for each position."
When it comes to the quality of Valmet's PMC and consumables, Viertola points out two characteristics above all.
"From the production perspective, it's of the utmost importance that the press felts, belts and forming fabrics are durable and enhance the machine's runnability. Reliable machine clothing supports us in achieving our production efficiency goals and enables the production of high-quality paper – and most of all, it gives you peace of mind," Viertola says.
Text Marianne Valta
Photos Firstcomm Marketing Consultancy FZE