Dec 18, 2020
The SCA Obbola mill in Sweden has an impressive track record of success in the pulping industry. Upgrades in technology, the utilization of Advanced Process Controls and support from Valmet's evaporation service help the mill achieve its production goals for renewable packaging material.
The SCA Obbola mill in Sweden manufactures board for consumer and transport packaging. It is currently in the midst of a massive expansion project. Global demand for renewable high-quality packaging is on the rise, and the current goal is to increase production at Obbola from 450,000 to 725,000 tonnes per year.
Partnering in technology, service and automation
Valmet supports the mill with new technology, service and automation in several of its process areas. One of the most recent upgrades from Valmet was the new evaporation supervisory control system. This proved a great success. Andreas Vikström, manager of the chemical recovery department at SCA Obbola, is happy with the results: "The new supervisory control system keeps the dry solids very stable. Some of our operators say that the dry solids level is 'flat as a line,' and as they have the experience to be experts at what they do, I'm sure they mean that it's a good thing."
Vikström has worked at Obbola mill for more than 20 years. He managed the fiber line department before he was responsible for chemical recovery. He therefore has a good view of the mill's development. He outlines Obbola's focus: "At Obbola, we often discuss what we should do to make the mill robust. And for us, this means that our mill is safe for our people, and that the equipment works as it should. Achieving this makes it easier for us to avoid accidents, reach or exceed our production targets, and reduce our costs."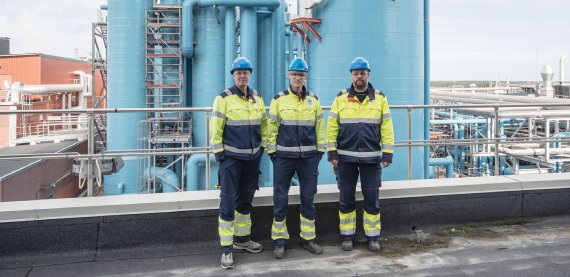 Evaporation service secures reliability and safety
Valmet's evaporation service team has supported the Obbola evaporation plant for several years.
"From Valmet's perspective, things look fine. The evaporation plant is ten years old, but our inspections have confirmed that it's in very good mechanical shape. Based on what we've seen, I think Obbola will be able to enjoy the benefits of their evaporation plant for many years to come," says Carl-Jonas Krus from Valmet's Services team in evaluating Obbola's evaporation plant.
"We're happy with the evaporation service Valmet provides. We get good advice, and there is an high focus on safety," Vikström comments.
SCA Obbola – more than 100 years of success
SCA Obbola has a long history, and it's easy to find stories on achievements and highlights from the past. Sulfate pulp production started in 1913, but today Obbola is a good example of a well-performing mill. The products' carbon footprint has decreased by 30 percent over the past ten years, biofuel has replaced oil, and there is an intense focus on quality and environmental performance.
SCA is currently investing heavily in Obbola. More improvements are underway, and the future looks bright: "We've always worked to make the mill better, and I think many are proud of what we've achieved so far. But there's also a feeling that the future is exciting. Things look good," ­Vikström concludes.
The Obbola evaporation plant
Obbola's evaporation plant, which started up in 2009, was built to evaporate 270 tonnes of water per hour. Special care was taken to ensure a good working environment, and one result of this work is that the plant is very quiet. This makes it much easier for personnel to work there. As improved technical solutions have been discovered during the decade since the start-up, some small upgrades have been added to the plant, but the original heating surfaces are unchanged.
Text Andreas Liedberg