Even though digital tools are being utilized across the entire value chain and intelligence is incorporated into the valve products and services we provide, studies (ARC Advisory Group) show that up to 1,5% of revenue is still lost each year due to unavailable or unusable asset data for example. There are still many steps to be taken on the journey towards efficient digital data utilization.
The digital take-over
Digitalization, the internet in particular, was once viewed as a threat to the traditional pulp and paper industry. With time, it has turned out to be a positive driver for change and renewal in terms of both revenue and profitability. While the internet as a digital media may have reduced newspaper circulation numbers and the distribution of printed documents to some extent, it also opened many new doors for e-commerce. This shift from high street shops to online shopping resulted in an explosion in the demand for packaging board. The demand for pulp and the products made from it has continued to grow, and is expected to continue growing in this increasingly digital world we live in.
The secret to improving efficiency, profitability and sustainability lies in the smart utilization of accurate, real-time data.
Growing demand, tight competition and growing environmental concerns are making digitalization an important tool for the manufacturers of increasingly sustainable pulp-based products. The secret to improving efficiency, profitability and sustainability lies in the smart utilization of accurate, real-time data of installed process control assets. With smart solutions related to this increased data availability, and capable support related that data, they can be applied to pulp, paper and bioproduct mills around the world, also delivering benefits across the entire lifecycle and value chain that ACR is referring to.
Smarter project execution
Valves, as one of the most critical element of process control loops, are often among the first parts specified and ordered in any new greenfield project. This is also the first place where digitalization comes into play. For our process and machinery supplier customers (EPCs), who take on entire mill engineering projects from scratch, the engineering pass-through time is one of the most important factors. We can already do our part to ensure that schedules and deadlines are met, or even better, provide accurate information that can help cut down the needed time spent on engineering. With modern engineering and digital engineering data up- and down loads (tools paired with the active standardization of data), we can speed up the data intensive exchange and specification process considerably. Eliminating the time wasted on massive manual data processing allows us to give the EPC an advantage of healthy head start in their project, cutting the project spent time by up to weeks.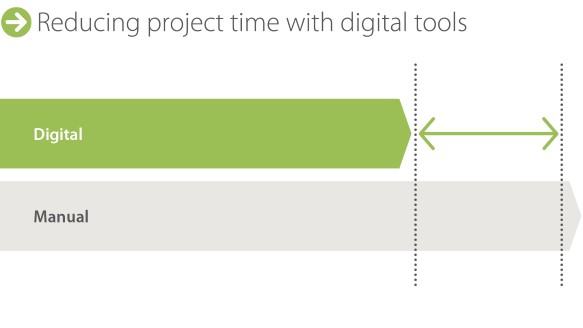 Digitalization can help reduce engineering and project times by weeks
Industry experience means results though a wealth of usable data. The historical valve performance data we have collected over the years serves as the basis for smart valve selection and sizing today. As a result, Nelprof™, our digital valve selection and sizing tool, already came out in the early 80s. Along with continuous data updates, the latest version is still the industry benchmark today, when it comes to smart tools for selecting the right valves for any given process or application. It now includes calculation modules, which enable the selection of intelligent automated control, on/off and emergency valves. Today's increasing concerns and awareness surrounding HSE factors have been taken into careful consideration. Special safety requirements such as actuator-sizing safety factors or complete valve-assembly safety-integrity levels can be evaluated with our state-of-the-art tools.
Better service operations through asset data
At its best, digitalization can considerably improve the reliability of your mill operations. According to ARC Advisory Group, poor asset information management regularly results, to an equivalent of about 1,5% losses of annual sales of an industrial plant. To be able to base smarter service operations and planned shutdown procedures on digital data, having an accurate and up-to-date database of all installed valve assets is a must. If your asset data is no good, neither is your plan to use the assets. The lack of a coherent asset database also results in a lot of time-consuming manual information processing.
Ensuring the improved quality of your installed base data can start with a digital audit used to create a unified database of all installed valve assets. An accurate and actively maintained 'list of assets' serves as a great basis for proactive and preventive maintenance and can help ensure the availability of spare parts and replacements based on each valve assembly's lifecycle status. Processes and areas of responsibility need to be pro-actively defined together to ensure also the future quality of available data.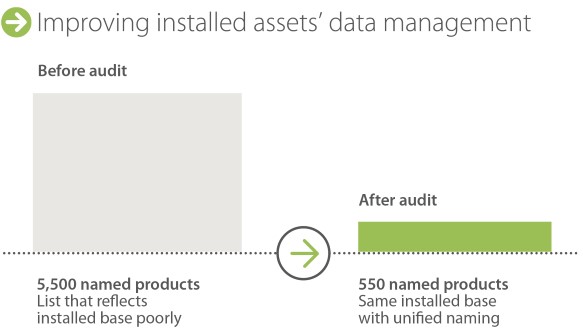 Streamlined installed base data translates directly into savings in terms of time and money.
Gathering, unifying and enriching all relevant data creates a solid base for efficient service operations.
Making a long-term commitment to gathering, maintaining and utilizing data will deliver added value over time. Historic data, in the case of many customers spanning up to 25 years into the past, can significantly improve reliability in the future. Trends can be identified, and statistical analysis and risk assessments made to allow for service planning that takes major scheduled service shutdowns and overall cost efficiency into account. Gathering, unifying and enriching all of the relevant data will create a solid base for all efficient service operations that will help ensure process reliability, minimizing the risk of expensive unplanned shutdowns.
Improving mill performance digitally
When it comes to utilizing digitalization and automation to improve process performance, the pulp and paper industry has typically been several steps ahead of the rest. They have been early adopters in terms of e.g. different types of monitoring data and have in many cases been able to reap the benefits of the latest developments in technology. For example, our Expertune PlantTriage has been serving pulp and paper customers for some 20 years already. This software is designed to reduce process variability. It's done by monitoring and identifying any early signs of developing problems and analyze the root causes for any control loop issues in your process. In operation, it simply keeps an eye on your process 24/7 and prioritizes alerts, letting you know of any arising issues in real time.
Quite often poor performance is hidden, resulting in big number losses simply caused by poor loop tuning. With our Active Model Capture Technology, control loops can be tuned automatically to deliver optimum performance. A Large mill integration might have up to 5 000 automated valves, and together with measurements and binary I/O (input/output), up to 15 000 I/Os as a part of the automation system. As systems have become larger, a capable tool for easier optimization of process performance and finding and capturing possible improvement can add up quickly – This can even mean millions (EUR/USD) in terms of money.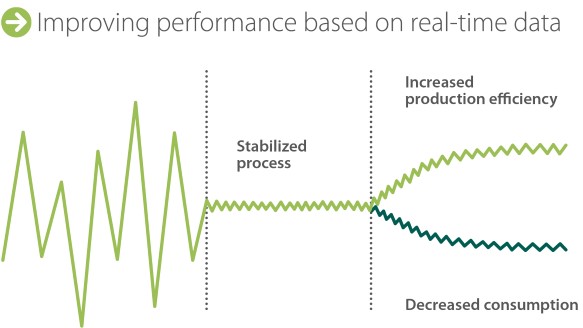 Identifying and addressing issues allows for true process optimization.
Missing out on the full potential of an optimized process can be significantly more costly over time than unexpected shutdowns due to process failure.
With accurate real-time data always available, these tuning actions can be carried out a whole lot faster than with loop tuning based on manual audits and inspections. Missing out on the full potential of an optimized process can be significantly more costly over time than unexpected shutdowns related to process failure. With continuous monitoring you can rest assured than neither will catch you off-guard.
Digitalization requires cooperation
Cooperation and a mutually agreed multilateral sharing concept for information exchange is the key to successfully harnessing digitalization. With virtually an infinite amount of information, accuracy that is supported and maintained by common practices becomes vital. Factors such as standardized data structure and content for data interoperability, cyber security, clear responsibilities and the sharing of practices are some of the hurdles still standing between us and the complete utilization of available information.
In the not so distant future, sharing information over data borders and across platforms will hold the secret to taking the benefits of digitalization to the next level through digital business ecosystems. We look forward to the day that technology will allow us all, customers, service partners, vendors and consulting experts to work without individual silos to harness the full potential that digitalization holds for the pulp, paper and bioindustry.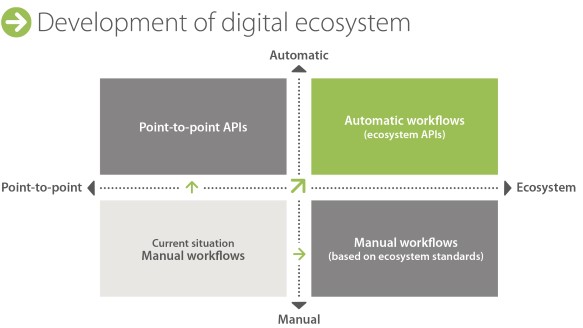 The industry is taking steps towards a digital business ecosystem. (Source: ARC Advisory Group)
Technology breeds innovation
Today, digitalization is already a part of everyday life for us. Our commitment to continuous development can be seen in our increasingly intelligent products such us our 3rd generation digital Neles™ NDX valve controllers, but also in back office system development. It is also a part of the development, design and manufacturing processes of our valve products. For example, we are already utilizing powder metallurgy and 3D printing to manufacture components that were previously virtually impossible to create with traditional mechanical production techniques.
As technology and digital tools in particular continue to move forward in various operations, we are looking to embrace the new opportunities it gives us to better serve our customers in the pulp, paper and bioindustry.
Let's take today's performance leaps and use them to build tomorrow's competitive edge together.
Text by Ilpo Miettinen. For additional information on the topic, please contact toni.kotiranta@valmet.com
The text has been updated in April 2022, due to the company name change to Valmet.