Valmet has delivered a high-strength corrugated paper machine (BM3) with an annual capacity of 280,000 tonnes to Liansheng Paper's Changtai site, and three corrugated paper and liner board machines (BM5, BM6 and BM10) operating at full capacity to its Longhai site. Following the recent completion of the Zhangpu site, the two parties have entered into another extensive supply and service agreement: On March 2, 2021, Valmet announced that it would supply a white cardboard production line (BM 1), a high-grade printing paper production line (PM 3) and a BCTMP production line to Liansheng Paper's new site in Zhangpu, which is expected to come on stream in the third quarter of 2022.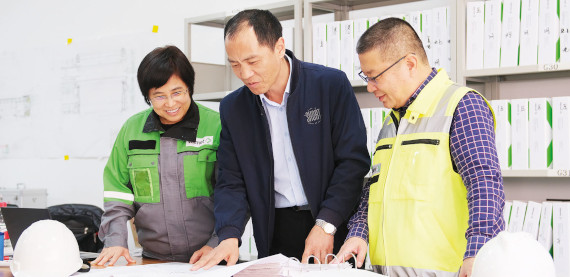 With the partnership in full swing, Valmet's proven and reliable technology for various paper grades, including paper and board machines, pulping systems, and services and automation, will contribute to Liangshen Paper's all-round development.
Cooperation for sustainable development
Xue Rongjun, Vice General Manager of Liansheng Paper, says he will never forget the world's first OptiConcept M, a modular production line supplied by Valmet in 2012: "We very much appreciate Valmet's innovative spirit. BM6 has been functioning smoothly with less impact on the environment and a lower operating cost".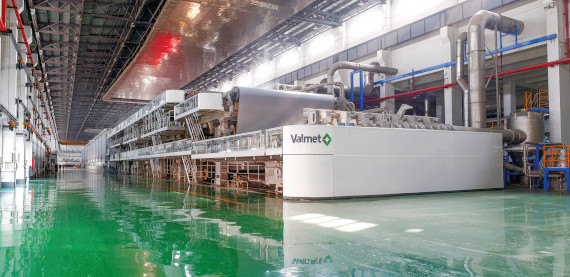 Later, when they were choosing the equipment supplier for BM10, and even the partner for several new production lines at their Zhangpu site, Mr. Xue and his team considered their previous experience with various suppliers. "We also visited our peers' mills. Ultimately, we chose to cooperate with Valmet again because of its worldwide and convincing operating performance and continuous innovation."
We can be confident about our future cooperation with Valmet!
He adds that they chose Valmet to supply the BM1, PM3 and BCTMP production lines to their newest site in Zhangpu partly due to the market's recognition of the lower environmental impact and operating costs of Valmet-supplied lines, and partly due to their user experience, "especially BM10's successful recent start-up."
Successful start-up despite pandemic
This generation is doomed never to forget 2020, and Li Quanyong, Liansheng Paper's Vice General Manager, highlights the fact that in the operationalizing of the BM10 in the fall of 2020, Valmet's professionalism and experience was beyond doubt. However, there was initially some anxiety, as the previous projects they had worked on together had often been led by senior foreign experts. This time, the pandemic meant the project was led by the domestic team.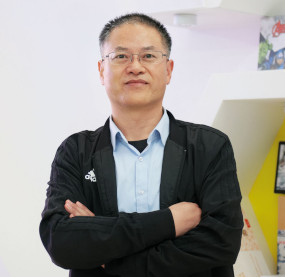 Mr. Li says that the project's final successful start-up met all expectations. "Throughout this cooperation, we've witnessed not only the Valmet team's professional ethics and enthusiasm, but also their forward-looking approach to the Industrial Internet and remote services. We can be confident about our future cooperation with Valmet!"
Proven technology and outstanding advantages
Zhang Weilian, Production Manager of Liansheng Paper's BM10, has been working for Liansheng for 15 years. He is involved in all the cooperation projects with Valmet, and rates Valmet's technology highly: "Valmet's paper machines' speed is outstanding. BM10 has been running for more than six months since its start-up, mainly producing 125–230 g/m2 kraft container board. Its operation is very stable, with a current speed of up to 1,150 m/min and a daily capacity reaching 2,200 tonnes. The whole production line has also achieved very low levels of water, electricity and gas consumption for the industry."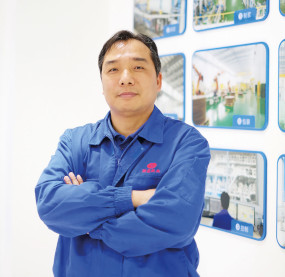 Manager Zhang also points to some technical details: "First, despite the 100 percent domestic OCC with poor fiber quality we're currently using, BM10 makes up for the disadvantage of the raw material due to the special design of its press section, enabling us to maintain the efficient high-speed production of lightweight products. Second, with the hood's outstanding energy-saving effect, BM10 is superior to other machines in terms of steam consumption. Third, the sizer also performs well, with precise sizing control, a wide adjustment range, high controllability, and a long-life sizing rod. Fourth, the reel runs more smoothly than its predecessors and has a high turn-up efficiency, which improves our productivity. Fifth, the winder is amazing! It's the first time Liansheng has attempted to match a paper machine with only one winder, and the result is better than expected. The automatic set change saves labor and enhances efficiency."
Text Sara Li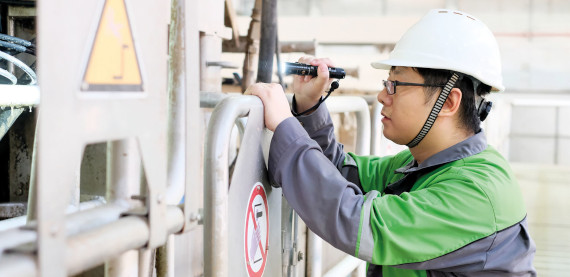 Jiang Yuanlong
Valmet's Machine Start-up Manager
Expert Jiang says that the Valmet and Liangshen teams share the same goal and have collaborated well. He says BM10 has achieved a good start-up curve, with production and product quality achieving the design goals, which fully demonstrates the experience, strong leadership and execution of Liansheng's project management team. He adds that the project makes full use of Valmet's Industrial Internet remote data analysis support, which is important for its success.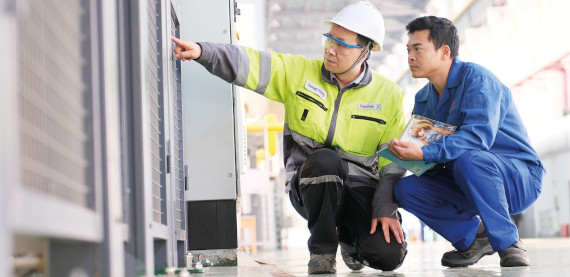 Xiong Fangqi
Valmet's Winder Technical Manager
Mr. Xiong explains that the winder's dual unwinding function can guarantee a roll changing time of 44 seconds and a parent roll changing time of less than one minute, significantly improving the winder's efficiency and enabling only one winder to handle the paper machine's capacity. He concludes that the winder features a high degree of automation, as well as simple operation and maintenance. It is therefore highly appreciated by the customers.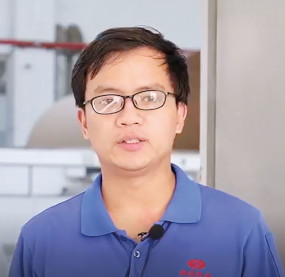 Huang Zhibin
Paper Machine Shift Supervisor
According to Mr. Huang, "BM10 is equipped with a linear reel with an automatic water jet turn-up device. When changing rolls, the reel drum moves up and down along the vertical rail, and the reel spool moves along the horizontal rail, which ensures better control of nip load in reeling, reduces the variables in the reeling process and improves quality."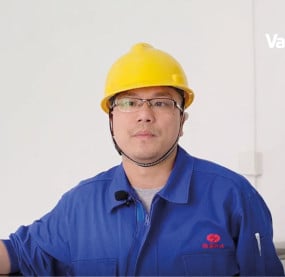 Jiang Liming
Winder Shift Supervisor
Mr. Jiang explains that BM10 is equipped with a winder with a Dual Unwind system, which is a technology unique to Valmet. The dual unwinding function changes the parent rolls automatically, which greatly increases production efficiency and elevates the winder's capacity while reducing labor intensity, enabling us to use only one winder to meet BM10's capacity. He adds that BM10 is currently achieving a capacity of 2,200 tonnes per day.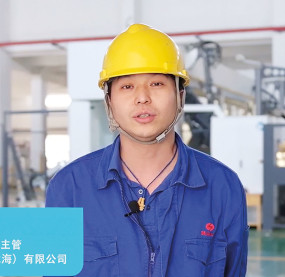 Huang Longtai
Automation Supervisor
Supervisor Huang explains that through BM10's established remote connection, they obtained online commissioning and start-up guidance from Valmet's experts during the start-up. He says that the paper machine is currently in optimized operation, and Valmet's experts have also established a quality prediction system through the collection, analysis and comparison of big data, which has provided strong support for their further energy-saving and emission reduction targets.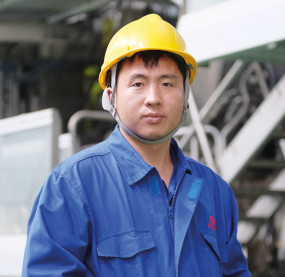 Chen Jie
Mechanical Technical Supervisor
Mr. Chen points to the benefits of BM10, it requires minimized maintenance work and is easy to operate. He provides examples: "There's a large operating space for the belt in the press section, and the replacement process is simple; the calender is designed with a high level of hoisting safety; and the automated tail threading is used for the drying section with a small maintenance workload."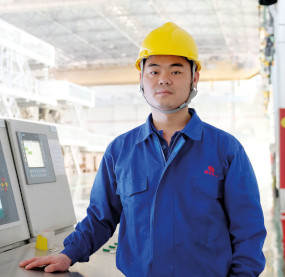 Wu Shuhua
Production Supervisor
Expert Wu explains that BM10's press section is specially designed, with a linear double-shoe press for the first and second presses, and a smoothing press with bottom felt for the third press. 100 percent domestic OCC is applied for the production of 125 g/m2 high-grade kraft container board and the current speed has reached 1,150 m/min. "It's the fastest speed in the production of this type of product, and we believe this paper machine can run even faster," he concludes.