High consistency pulping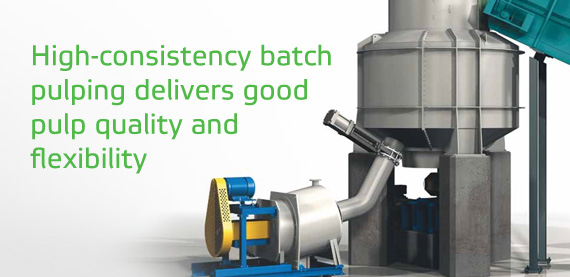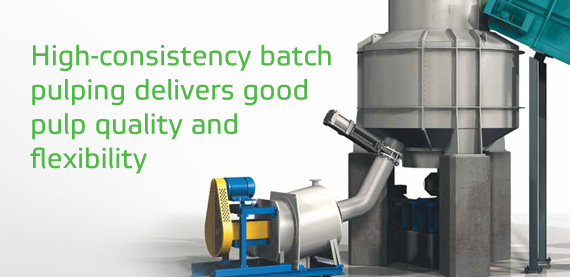 Valmet's high consistency pulper is a vertical-entry pulper designed for high efficiency. The rotor with hard-coated blade profile ensures good paper disintegration and effective separation of contaminants from fibers. Gentle slushing of high-consistency pulp minimizes the breakdown of contaminants such as plastics, adhesives, films and stickies. For deinked grades, the pulper promotes the detachment of printing ink and color particles with minimum particle dispersion, thus improving the downstream efficiency of screening, washing and flotation processes.
After slushing the pulp is discharged, either through a secondary pulper where contaminants and fibers are separated, or in highly contaminated raw material cases, through the pulper screen plate where reject at the end of the batch is fed to a drum screen for fiber recovery. In both cases these auxiliaries remove heavy trash and plastics, in addition to recovering fiber, and ensure the best preconditions for the next process stage.
Key benefits
Efficient pulping result

Effective slushing and separation of contaminants from fibers
Special rotor shape with long-life hard-coated blade profile
Efficient absorption of chemicals for fast fiber hydration and swelling
Reliable and vibration-free operation

Robust and firmly reinforced pulper vat design
Compact rotor unit design
Separate primary shaft bearing unit for belt drives
Simple, stick-free reject discharge hatch available for reject drum application
Low processing costs with high energy efficiency

Efficient energy distribution to entire pulp batch
Wide range of pulper sizes for optimum investment cost and energy consumption
Innovative design to reduce maintenance needs