Wastewater treatment automation

Valmet has experience in environmental processes, such as drinking water and waste water treatment that call for new efficient technologies to fulfill ever tighter water quality and requirements.
These types of plants are comprehensive in size especially in cities, where also the neighboring communities are connected to same water treatment entities.

Click the picture see animation and find more information >>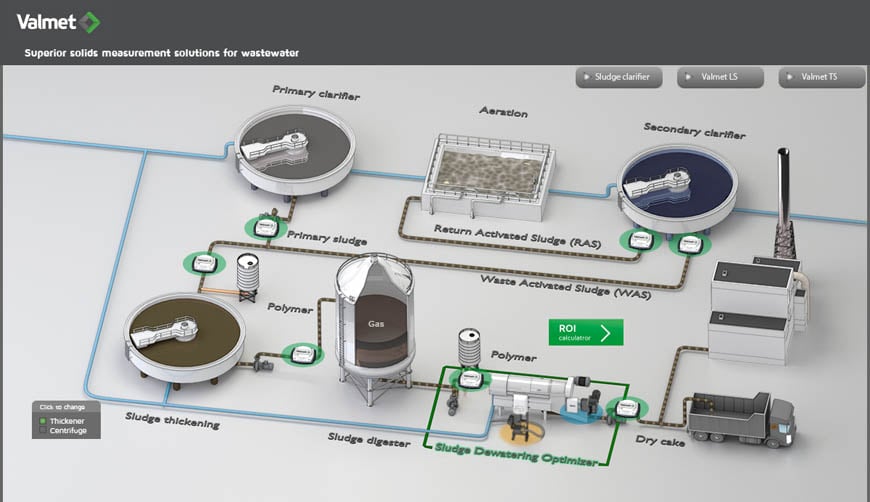 Valmet's automation and measurement solutions portfolio includes long tradition of pioneering innovative measurement solutions in challenging process areas like waste water. Working closely with the customers and the industry leaders we have developed the best value providing solutions in the industry.
Features
Conductivity measurements for waste water and strong acids
Benefits
Continuous real-time data
Considerable savings
Lower transportation costs
Polymer reduction
Reduction in laboratory sampling
Lower fuel consumption
Efficient energy consumption
Short payback time
Valmet goes underground to help treat wastewater
The Kakolanmäki waste water treatment plant, jointly owned by 14 municipalities, has been operating in the southern Finnish city of Turku since the beginning of 2009. Since the plant is built underground it has a more constant and higher temperature than surface facilities, a distinct advantage for treatment conditions. It is able to process the wastewater from 300,000 people and various industrial sources in a way that considerably reduces the nutrient load on the Baltic Sea.