The recovery boiler is a vital part of the pulp mill but also a source of potential safety hazards for its operators. One of the purposes of the recovery boiler is to recover the pulping chemicals from the black liquor which is done in the form of smelt from the bottom of the furnace. A potential hazard of this process is that if the smelt interacts or has contact with water, an explosion can potentially occur which could injure operators and cause damage to the boiler. Besides the risk of explosion, combustion in the recovery boiler creates very hot gases and highly corrosive molten ash which could be hazardous to operators who are performing physical tasks around the recovery boiler.
In an effort to make operations in the recovery boiler safer and minimize exposure to unsafe working conditions, Valmet has developed and perfected several auxiliary devices which serve to both automate as well as either remove the need for direct operator involvement or minimize exposure to unsafe working conditions. Here are four inventions and innovations that have improved the working conditions around recovery boilers and made operation of the boiler more stable.
Smelt spout micro hood arrangement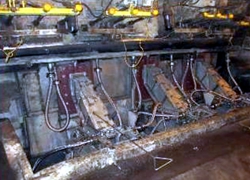 One area considered the most dangerous for operators, and one of the leading causes of recordable injuries is the spout deck on a recovery boiler. To make smelts more accessible for cleaning and to improve safety, Valmet has developed mini- or micro-hoods to replace old large-hood systems. The benefits of these systems are:
Easier access to spouts for manual cleaning
Easier replacement of spouts
Minimal hood shower water
Minimal internal ledges
Cooling water lines not exposed to smelt
Minimizes tramp air intake
Dual shatter jets (ShatterMax™)
Externally mounted shower bar headers
More reliable mounting interfaces for the smelt spouts
Spout cleaning robot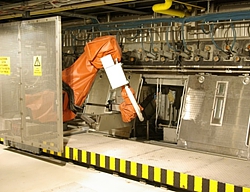 The DeckHand™ is a new system designed to improve the safety of operators and comprises an independent robotic arm which performs repetitive tasks. The safety benefits of this robot are:
Greatly reduces the risk of operators getting injured from splashes of green liquor or smelt
Cleans spouts, hoods & shatter jets
Robot camera allows operators to visually inspect spouts from safe control room
Safety gates stop the robot if personnel enter the spout deck
Fewer personnel at the smelt spouts
Liquor station with automated port rodder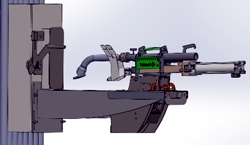 Working around the liquor guns is another area where operators are at risk, with large numbers of lifting and burn injuries being reported annually. To make this area safer, Valmet developed the GunnersMate™ liquor station. The safety benefits are:
Limited operator exposure to furnace
Station retractable outside furnace
Safety door protection from opening
Ready signal for spraying to start
Improved operator working conditions
Auto-cleaning cutter reduces amount of manual cleaning required
Automated port rodders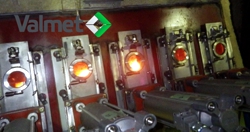 Valmet Air Port Cleaning automated port rodder was developed to limit operators from potential exposure to hot air (300 - 400 °F) and minimize exposure to the furnace. The safety benefits of automated port rodders are:
Improved operator working conditions
Large observation port
Control box easy access for remote isolation
Ability to change the cutter on the run with minimum exposure time in front of opening
At Valmet we can help you with all your recovery boiler safety needs. Contact your Valmet representative for more information.