There is no place in papermaking for winder downtime. With machines capable of producing paper continuously at speeds upwards of 6000 ft/min, mills cannot afford the costs of a preventable winder equipment failure.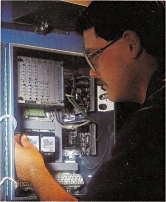 The role of the winder is to produce high quality rewound rolls suitable for the end-user. However, when a sheet break occurs in the winder area, either through equipment failure or operator error, the machine and the entire papermaking process comes to a stop.
To prevent these incidents, it isn't enough to train winder operators. The winder itself needs constant attention through a sound preventive maintenance program (PMP).
Maintenance benefits
There are two root causes of winder failure. First, the winder area rarely receives the level of maintenance it deserves. Often, winders are serviced only when the rest of the machine is undergoing a scheduled maintenance shutdown.
Second, the winder area typically has high employee turnover, which can lead to erratic performance and tends to compound maintenance neglect.
A consistent PMP can offer a winder operation a number of significant benefits, including reduced equipment downtime, longer equipment life, lower maintenance cost, and better use of maintenance personnel. In addition, a PMP can help prevent accidents by making sure the many built-in safety devices remain in working order.
Winder PMP
A winder operation should be certified every three months to ensure that the equipment is accurately calibrated, tuned up and safe to operate. A solid PMP with thorough inspection in key areas will not only help a winder to certify, but will lead to a smoother and more profitable day-to-day operation. During inspections, mill personnel should:
Check all controls, including push buttons, limit switches and proximity switches.
Check bolts weekly and tighten when needed. Loose bolts might indicate excessive vibration, misalignment and other problems.
Inspect for wear on the rider roll slides or gibs, core chuck slides, slitter rails, and unwind stand sliding surfaces.
Check drum bearings, rider roll bearings, unwind clutch and all paper roll bearings for heat and vibration. Bearings should be greased or oiled as recommended by the machine's manufacturer.
Check hydraulic oil level and temperature daily. A low oil level may indicate a leak. Foaming of the oil may indicate the system is pulling in air on the suction side. Milky-colored oil indicates water contamination.
Check the trim system, adjusting trim pans and ducts. Faulty trim systems can lead to winder speed limitations.
Inspect wiring terminals for loose wires. One careful glance by an experienced electrician can save hours of troubleshooting.
Check for hydraulic and air leaks. Leaks are unsafe and can lead to high maintenance costs.
Check chains, sprockets and couplings at least twice a year. Replace rider roll chains once a year. Sprockets, turnbuckles and pins, which become unsafe with prolonged use, require replacing every two years.
Lubricate all main components as recommended by the machine's manufacturer.
Inspect the hydraulic and pneumatic systems monthly. Replace filters when necessary.
Check the alignment of the rider roll and chucks weekly. These two components of a two-drum winder take a severe and constant beating. With time, their close tolerances tend to deteriorate, and performance suffers. Alignment is relatively quick and easy and can be performed between sets.
Check the unwind tension system. To do so, inspect and calibrate the load cells. The system should be "re-zeroed" and the PID controller tuned up. Calibration of a tension system is not complete without a recording of the unwind tension during a normal run. Record both the unwind tension and the speed curve of the winder. This exercise demonstrates how well the winder drive and the unwind tension are working together.
Calibrate the rider roll relieving system. Verify that the information received on the benchboard is correct. That is, if the rider roll gauge reads 12 pli, the rider must exert a force of 12 pli on the top of the paper roll. One way to accomplish this is to place two beams across the drums, approximately two feed away from each chuck. Next, place a load cell assembly on each beam underneath the rider roll. Lower the rider roll gently onto the load cell. Change the load through its normal operating range and record the force exerted on the load cells. A chart recording of the forces and hydraulic pressure curves is a good way to record this test.
Check the drum torque using a multichannel chart recorder or a data acquisition system to record the amps of the winder's back and front drums. If the controls allow, record the difference between the two signals.
Perform vibration analyses on drum bearings, slitter section and wind-up frame regularly. Vibration tests can help detect loose assemblies and problems with the foundation. The test can also help pinpoint the sources of vibration. Extensive analyses should be done during scheduled shutdowns.
Perform a roll structure analysis to identify operational and equipment-related problems. Use either a gap test, with a periodic WIT-WOT analysis or a density analysis with a periodic check by a gap test. Factor in unwind tension, speed, rider roll relieving program and the torque difference to assess the winder's performance.
A solid PMP will help a winder operation to produce better rolls and reduce operational emergencies, with fewer unscheduled shutdowns and lower departmental costs.
If you have further questions about preventive maintenance on winders, or are interested in possible upgrades to your existing winding equipment, contact your Valmet representative.