Using water jets to cut paper has been around for many years. However, using them to assist with reel turnups is a relatively new application and one that is growing at a significant rate. Water jet turnup devices can be used on paper, board, and tissue grades:
Board grades - minimize bottom losses as compared to tape turnup devices.
Tissue grades - eliminate messy glue spray or unreliable bag turnups.
Paper grades - improve turnup efficiency while reducing bottom waste.
Anatomy of a waterjet turnup system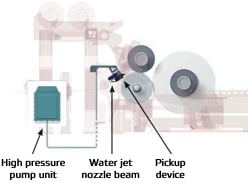 Water jet turnup systems comprise four parts – the traversing jet nozzle beam, a turnup device that picks up tail and pastes it to the new spool, the jet water supply system and a servo drive cabinet.
Traversing nozzles
The traversing jet nozzle beam consists of two nozzle heads, each connected to a cogged timing belt. The belt is driven by a precision servo motor. The speed of cutting is controlled by the servo motor's drive system, and can travel up to 10 m/sec. At these speeds, there is minimal unsupported paper at the spool, which reduces bottom waste. The cutting nozzles use high pressure water and very small sapphire or diamond tipped nozzles located less than 1" from the sheet.
When the reel is ready for a turnup, the nozzles are brought close to the center of the sheet. For some grades the nozzles' starting position is overlapped (the tending side nozzle is cutting the start of the drive side of the tail and the drive side nozzle starts the cutting of the tending side tail). When the nozzles move, they create the tail that is quickly picked up and transferred to the empty spool. Within seconds, the tail is cut, transferred onto the new parent reel spool and the sheet is widened to full width.

Tail pickup equipment
Tail pickup equipment varies slightly based on grade, but the basic concept is the same. For lighter weight tissue, the leading edge of the cut tail uses a small shot of adhesive to stick the tail to the new spool. The same method is also used for paper and board grades. For heavier board grades, a hot-glue may be used. Obviously, timing is important with these types of systems and a fast, repeatable controller system is required.
Water supply
The water supply to the cutting jet nozzles must be very clean and be pumped up to a very high pressure – 15,000 to 40,000 psi. Clean water is filtered down to 5 microns. The water source should not be steam condensate as one may think due to its "pure" nature. Pure water will react with any non-stainless steel metal components in the system (pumps, piping, valves, etc.) and try to attain their metal solubility concentration. These metal pieces will leach off in pieces and may clog the cutting nozzle. Therefore, a good potable or well-water source is required. Water usage is very small, about 1 cup per turnup. The water pressure is attained from a hydraulically or pneumatically controlled intensifier – similar to any hydraulic or pneumatic cylinder.
Benefits of waterjet turnup system
Justification for water jet turnup systems includes increases of turnup efficiency (due to the clean cut and less broke flying around which gets back into the sheet path) and reduced bottom losses. With such a clean start, there are very few wrinkles or caliper impressions near the spool as well. Mills have found that these systems can provide payback periods of less than 1 year. Operation is completely automatic, and the system is compatible with virtually all reels. Safety is improved with less broke cleanup required due to more successful turnups.
The Valmet Water Jet Turnup Device comes as a complete package including controls, user support and preventive maintenance program. This device ensures consistent, fast and clean parent roll changes. An exceptional parent roll start leads to reduced bottom waste, which again leads to increased productivity.
The system does require some maintenance to keep it functioning properly. Water filters should be changed as needed and jet nozzles changed on a planned schedule.
Case Study: Waterjet turnup at Stora Enso Hylte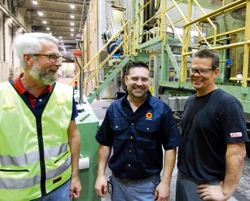 Stora Enso Hylte in Sweden installed a Valmet Waterjet Turnup Device, with the result that paper machine PM 4 runs more reliably and with less downtime. The production volumes increased and as a further bonus, occupational health and safety improved.
Stora Enso Hylte is located in Hyltebruk in the south of Sweden. The mill produces paper for morning and evening newspapers in northern Europe. PM 4 produces about 25 tonnes of paper per hour with a basis weight range of 42–48 grams at a speed of 1,480 meters per minute. The machine was originally equipped with a gooseneck turnup system from 1989.
In recent years, the turnup efficiency of the conventional pope reel had been deteriorating, leading to more downtime for PM 4. In 2013, PM 4 recorded no fewer than 861 failures due to poor turnup efficiency. On average, this meant two failures per day, each of which took three to five minutes to rectify. Armed with this information, Hylte now had an idea for the future of PM 4: how would improving the efficiency of the turnup system affect PM 4's production volume?They set up a project group including supervisor Jan-Erik Karlsson, maintenance engineer Magnus Hallberg, machine operators Joel Haglund and Mikael Mildbeck, and project engineer Per Malmros.
"We were looking for a supplier who could meet the three criteria that were important to us," says Per Malmros. It was important that the new equipment would ensure a successful turnup every time and had high availability and a short delivery time. Early on, the project group discovered that Valmet met all three criteria.
Installation during a planned weekly stop
In July, the contract between Hylte and Valmet was signed. At the end of October, the project group travelled to Finland to carry out a factory acceptance test. The Waterjet Turnup Device was installed during a planned weekly stop at the end of November. Before the planned stop, Hylte and Valmet worked intensively together to prepare for the installation. The electrics and water system were in place so that when the stop occurred, the team simply had to assemble the beam and start up the system. The fine-tuning of the system went without hiccups, and six hours after the beam was put in place, PM 4 was up and running as planned. "Valmet's capacity and competence were invaluable, both before and during the installation. Valmet's assembly manager Timo Martinsén and the fitters certainly knew what they were doing," says Per Malmros.
Better reliability and faster turnup
Hylte chose to scrap their old turnup equipment. The new Valmet Waterjet Turnup Device offers better reliability and turnup is carried out faster, more reliably and with more control than before.
"These days, the machine rarely fails due to unsuccessful turnups. Occupational health and safety have also improved, as we don't need to clean the machine before tail threading following disruptions. With the Valmet Waterjet Turnup Device, we saw immediate improvement in paper machine reliability, which has led to increased production volumes. The effect of the new turnup system has exceeded our expectations," Per Malmros ends.
For assistance with your reel turnups, contact your Valmet representative.