Synchronizing reel movement
Secondary arm movements need to occur at the same speed both when loading against a new spool and when unloading a full jumbo roll.
Pneumatic reels utilize a cross shaft between the tending and drive side arms. Hydraulic arms normally do not have cross shafts. They are timed by equalizing the oil flow to each cylinder with a flow divider or through position control systems. Not timing the arms properly can result in rolls getting stuck on the secondary rails and not making it squarely to the brake station. There have also been instances where a jumbo roll was pushed off the rails when one arm moved ahead of the other.
Uneven loading causes problems
When loading, even arm loading is required to minimize nip loading disruptions that can create a wrinkle, offset or crack in the sheet. This normally leads to sheet breaks on subsequent equipment or higher yield losses due to slabbing off the bottom inch or so of questionable paper.
Synchronizing with cross shafts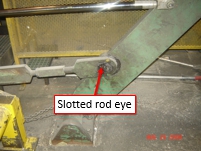 Where cross shafts are used, it is necessary to load the two ends independently, but at the same time kick the jumbo roll out at the same rate front-to-back. This is accomplished by designing in a floating linkage. This linkage can be found on the cross shaft and arm linkage or in one of the secondary arm cylinder rod ends (see picture). In both cases, the two ends are independently loaded when in contact with the reel drum.
Example of uneven loading due to non-synchronization
There was an incident on a machine reel where the sheet would wrinkle and break when widened out during threading. After a long threading attempt, the small jack screws that connect the cross shaft to the secondary arm were found to be tight against one of the jack screws. It was not free floating, so one end of the spool was being held away from the reel drum by the other arm and not nipping up properly. Backing the jack screw off to allow the linkage to float properly cured the problem. This was a severe case of not independently loading the secondary arms. If your machine has a cross shaft on the secondary arms, check the free-floating linkage if you see issues with threading the reel or with offsets during secondary arm loading movements.
For assistance with your reel primary and secondary arm movements, contact your Valmet representative.