Reel drums on slower machines do not require grooving. As machine speeds increase and sheet porosities decrease, there is a need to remove air from both sides of the sheet. If this air is not removed, wrinkles can form and create sheet breaks down the line or quality defects, resulting in lower machine efficiency and higher yield loss.
On high speed machines, a bubble of air can develop between the paper and the reel drum just prior to the nip. If this air bubble gets too big, it will get sucked into the nip creating a hard wrinkle that will surely result in a sheet break down the line or in the press room. To remove this air, the reel drum should have venta nip grooves cut in them as seen in the following figure.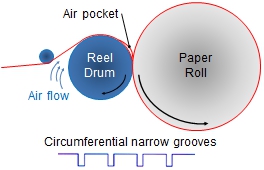 To remove air that builds up inside the building reel just prior to the nip, shallow chevron grooving is required, as shown in the figure below.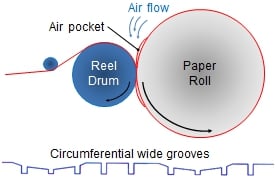 Shallow chevron grooves
Grooving can be done on steel or compliant reel drums. Recent reel drum installations have found that a compliant drum reduces or eliminates the frequency of crepe wrinkles and edge bursts.