As mills and suppliers have streamlined operations over many years, significant technical expertise has been lost in the industry. As a result, many mills have experienced the "silo effect" across day-to-day operations, maintenance, purchasing, and financial performance evaluation. This slow migration to disconnected, individually operating units has negative long-term effects on performance.
Optimal pulp mill operation is achieved when any change in a single unit's operation is also evaluated and optimized from the perspective of the entire mill. Changes made in one mill unit operation will always impact the entire liquor cycle.
In a webinar to be presented on Wednesday, November 17th, Randy Stern, Mats Nordgren and Jeff Butler will demonstrate how Valmet has activated proprietary mill balance and mill unit operation design programs to address Liquor Cycle Optimization.
Register for this free webinar HERE.
Attendees will:
Learn the basics of Liquor Cycle Optimization and how it can lead to better performance and long-term viability.
Discover how this approach can help break-down "silos" that may exist in mills.
Explore real-world examples of the benefits pulp mills gain from Liquor Cycle Optimization.
Understand the critical steps and collaborative requirements involved with executing large pulp mill expansions through studies with Valmet's Liquor Cycle Optimization Team.
The following is an excerpt of the webinar, as the presenters discuss liquor cycle and optimization tools that help break out of the silo mentality...
Liquor cycle characteristics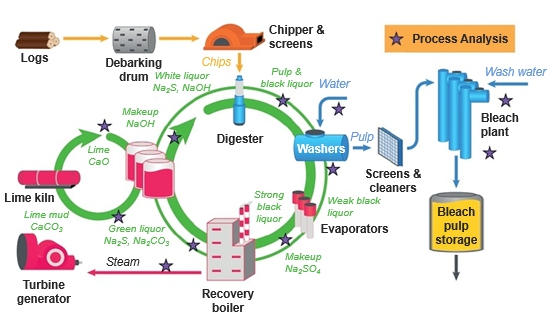 The recovery boiler is very dynamic and vulnerable to process conditions and upsets in the liquor cycle. Some of the factors affecting liquor properties include:
Wood species – Cycling from hardwood to softwood can create chemistry changes.
Alkali charge in digester – Residual alkali can result in changes to the viscosity of the liquor and swelling characteristics of the black liquor.
Kappa changes – Can result in lower heating values and potentially lower heat flux in the recovery boiler furnace. Many mills have converted to dissolving pulp, many mills are going to high kappa cooking for linerboard. These changes all affect the recovery boiler and need to be considered.
Soap skimming efficiency – Can cause the heating values to swing and result in char bed disturbances.
Operational stability – Mills that don't operate under steady state conditions can also experience upsets in recovery operations due to synthetic make up liquor.
Dead load – It is important to minimize deadload in the overall liquor cycle as pumping costs and fouling issues can occur in heat exchangers and evaporators.
Liquor Cycle Optimization
Valmet's Mill Balance tool allows drilling down into the details of each area impinging upon liquor cycle optimization.
Digester / Washing - If pulp production is required, Valmet offers cost effective retrofits with improved yield and quality. Washing improvements can result in lower bleaching costs, less bleach plant yield losses and less evaporation requirements. Wood handling and chip quality are also key to the cooking process.
Evaporators / Concentrators - Evaluate the capacity and the condensate quality for use in the process. Valmet has innovative methods for condensate quality improvements and evaporator audits on heavily loaded units.
Recovery Boiler / Auxiliary Systems - Evaluate the recovery boiler design with a focus on boiler circulation, air system modeling and modernizing systems in order to improved safety to include liquor firing stations, smelt spout retrofits and recovery boiler tuning. An evaluation may also be done on the electrostatic precipitator.
Causticizing / Lime Kiln - Lime Kiln production in many pulp mills is heavily loaded and adds issues to the liquor cycle. Valmet offers all solutions in the recauticizing and lime kiln areas.
Automation - Opens up opportunities for advanced controls solutions in all areas to enhance the value of Valmet's other offerings.
Benefits of optimizing controls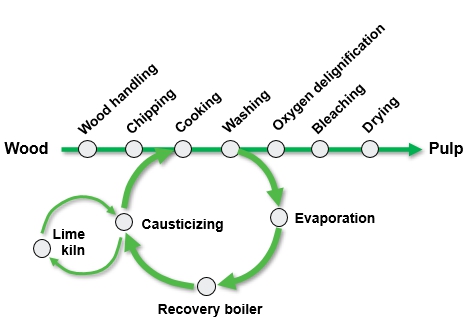 Cooking - Stronger and stable quality white liquor results in production of better and even quality of pulp.
Lime Kiln - Benefits are increased fuel efficiency and/or improvement in residual carbonate average and standard deviation. Both will allow room to increase production as CaO.
Causticizing - Stronger white liquor reduces the volume of white liquor needed in cooking. The decrease in volume due to higher strength is production capacity gained in causticizing ie "debottlenecking".
Evaporation - Stronger white liquor results in less black liquor to evaporate and increased evaporation capacity.
Recovery Boiler - Reduction efficiency increase is possible with a lower standard deviation. Energy efficiency increase is possible due to: excess oxygen decrease with lower standard deviation and lower flue gas outlet temperature. lower emissions are possible, as is decreased recovery boiler fouling. A dry solids throughput increase results in a steam production increase.
The webinar will describe how the above benefits are possible and the controls needed to make this happen.
For more information on improving your liquor cycle, watch the webinar and contact your Valmet representative.