Valmet's Maintenance Schools and Roll Academies gather people from the pulp and paper industry to learn from Valmet and one another. They help secure the best possible knowledge and skills needed to maintain and operate the equipment throughout their lifecycles.
Maintenance School offers an insight into key technologies
In North America, more than 4,000 industry experts have already shared this unique learning experience. Among them, Senior Reliability Engineer Dan Griffith and Senior Maintenance Planner Rob Wilson of Irving Pulp and Paper (main image) have joined Valmet's 3-day TwinRoll Press Maintenance School in Montreal. Irving Pulp & Paper produces softwood and hardwood grades of kraft pulp in Canada. The mill has a long and successful history with Valmet.
"We have an excellent working relationship with Valmet. We can depend on their technical guidance and maintenance recommendations. However, with an annual capacity of 335,000 tonnes and 25-year-old twin roll presses needed to run our 24/7 operation for the 18-month period, we wanted to challenge our knowledge and make sure we were maintaining our presses correctly," Griffith says. "The goal is to keep on top of our equipment's life cycle expectancy and maintenance possibilities."
"The best training ever!" From classroom to the shop floor
"Valmet Maintenance School provides specialized and in-depth training for the key fiberline products," says Carlo Marrocco, Director, Valmet Global Workshop Services. "The training program consists of various presentation materials focusing on the design and operation of the equipment, reviews of maintenance recommendations and highlights of troubleshooting techniques and upgrade possibilities. In addition to classroom training, we provide a unique shop tour experience to explore Valmet's capabilities behind the curtains."
"This training exceeded all our expectations," Griffith enthuses. "All the presentations were very knowledgeable and educational. On top of this, a tour of the shop floor offered an all-encompassing view of the different roll constructions and enabled us to apply the theory into practice. It's simply, the best training ever."
A unique learning experience
The Maintenance School combines technology insights and teaming up with industry experts. "Not only is it designed for one mill – many participants around the industry share the same passions, such as the 'less-cost-per-tonne magic' or the ambition for 18-month shutdown intervals. Each mill is also invited to bring their own questions to the table," Marrocco explains. "At the end of the course, the participants receive a certificate."
Both Griffith and Wilson also credit industry networking: "Problem solving with industry peers made this training a unique learning experience for us," they agree. Many people were directly involved in day-to-day maintenance with experience in various press sizes," Wilson points out. "We learned from their questions and Valmet's answers, and gained many new tips for our preventive maintenance routines. Above all, we were convinced that our old presses were still maintainable," Griffith concludes.
Problem solving with industry peers made this training a unique learning experience.
Together for better performance at Valmet Roll Academy
Another long-term Valmet partner, ITC Bhadrachalam gathered participants from their three mills to take advantage of Valmet's Roll Academy. This first three-day journey into roll insights in India was designed and conducted by Valmet's global technology managers Timo Karonen and Rob Stapels, as well as Ankit Arya, Mill Sales Manager in Valmet India.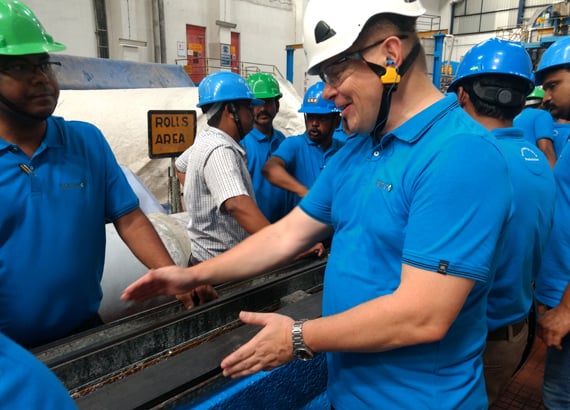 "The mill was keen to upgrade its performance, and Valmet took the initiative to offer us help," says Arya, the driving force behind this first Roll Academy in India. ITC Bhadrachalam is the largest integrated pulping and paperboard manufacturer in India. "We have a three-decade partnership with Valmet, with dozens of machine replacements and some specialized maintenance audits. To keep pace with the growing market demands in India, we also need to enhance the knowledge and skills of our own maintenance managers," emphasizes Makarand Barnanpurkar, VP mill operations of ITC. "It's especially important for us to know how decisive the right roll materials are in decreasing downtime and increasing change intervals."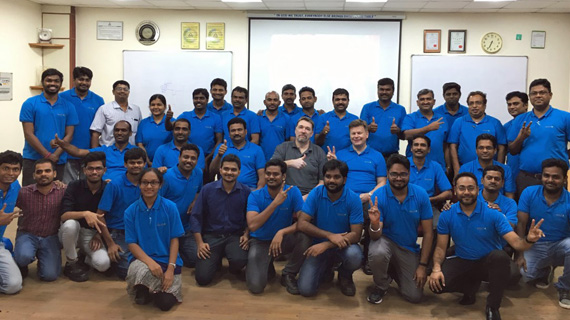 The Valmet Roll Academy for ITC Bhadrachalam was the first in India and gathered participants from their three mills to gain a deeper insight into Valmet roll technology.
Valmet Maintenance Schools and Roll Academies are chargeable and include a course certificate.