M/S Hammershus RoPax vessel sails smoothly in the Baltic Sea with Valmet's DNA integrated automation system (IAS) covering the control, alarm and monitoring of machinery systems.
With a capacity of 720 passengers including the crew and 90 freight trailers, M/S Hammershus is a modern RoPax vessel owned by the Danish ferry services company Molslinjen. The company operates ferry services between Jutland (Jylland) and the island of Zealand (Sjælland). The vessel was built in Finland by the Rauma Marine Constructions (RMC) shipyard, which specializes in multipurpose icebreakers, car and passenger ferries, and naval vessels. Telesilta, the Finnish marine electrical contracting company, integrated Valmet's automation system with other systems on the vessel.
As a result of the efficient work carried out by these three companies and their countless sub-suppliers involved in the project, the ferry is now sailing smoothly in the Baltic Sea.
Captain leads his team
Jens Andersen is captain on board the Hammershus. He is responsible for safety, security, navigation and the entire operation of the vessel. He emphasizes the importance of good teamwork to run successfully. Every crew member has his or her own duties and needs to be a professional in a specific field.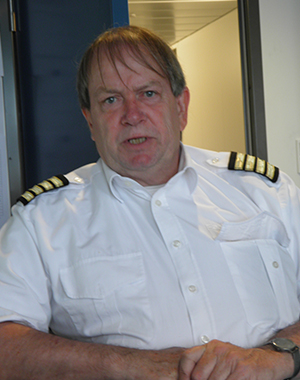 According to Andersen, the route from Rønne, Denmark, to Sassnitz, Germany, is always fully booked. This route is important for local people, and many tourists are attracted by the Bornholm island as well. The vessel also sails another route from Rønne to Ystad, Sweden.

"Hammershus is fast and environmentally friendly, running on marine gasoline. The vessel has plenty of new features, many of which are driven by recently introduced regulations. For example, it has more advanced computer systems in use, including Valmet's automation system," explains Andersen.

Cooperation with Telesilta

Niko Karlsson, Project Engineer, Telesilta, states, "We are pleased to be the main contractor for the electrical systems and their installation on Molslinjen's RoPax vessel. As it is the first newbuild order for RMC, it is extremely important for both of us to carry out the project well, from the start all the way through to the end of the warranty period. Based on our good experience of successful cooperation from past projects, Valmet with its Valmet DNA system was a natural choice for us as an integrated automation system supplier."

Valmet's delivery for the ship included the Valmet DNA integrated automation system (IAS) to cover the control, alarm and monitoring of machinery systems. Additionally, the delivery included training and commissioning. Training mainly took place during the project implementation phase.

Advanced automation for better operation

Chief Engineer Jan Jörgensen has been working at the shipyard in Rauma to learn how to use the automation system properly. During that time, he has learned a lot. He states: "It has been very meaningful to participate in the work at the shipyard. When some details came up, they could then be easily changed to better respond to our needs."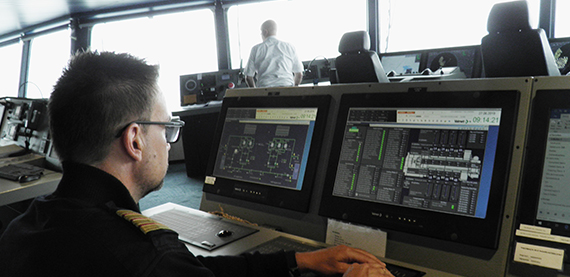 According to Jan Jörgensen, he and his colleagues have had a big chance to influence the work on different levels since they were able to actively participate in the project. For example, they were able to prove all the process mimics and give some suggestions to make them even better for Hammershus. All the proposals were easily accepted by Telesilta and Valmet.

The Valmet DNA Operate Trend and Event Archive (DNA Operate TEA) is a functional extension to the control room. It gives users access to trend and event history straight from the DNA Operate interface. This feature provides the user with a whole new dimension for process operations, since the user can utilize collected process history with trends, replay, and alarm and event analyzing tools in an already familiar DNA Operate environment.

"For me, DNA Operate TEA is an important tool. I can see the history, and I have used it several times for troubleshooting. We all gain valuable experience, because the system is actually educating us," states Jörgensen.

"The Valmet DNA user interface is good and easy to use. It features a nice color scheme that is easy on the eyes. It also provides important technical descriptions about the events, which seldom occur," he mentions.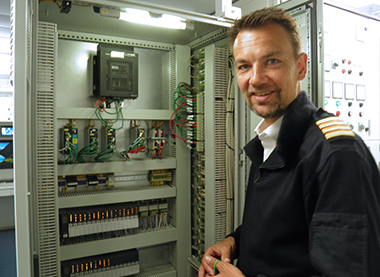 Valmet's Power Management System (PMS) is a fully integrated concept, covering functions for basic to advanced plants, for all types of engine, generator, motor and switchboard arrangements. On board, it contributes to safety and availability.

The Factory Acceptance Test (FAT) was carried out at the Valmet's premises in Tampere, Finland. Everything was well prepared in advance, so the marine certification agency was able to test everything in just a day.
Remote connection if needed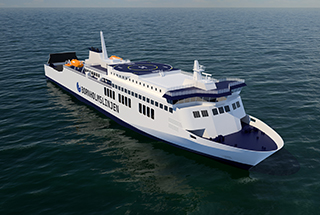 From Valmet, Matti Nurminen, Lead Engineer, is in continuous contact with the chief engineers. If needed, he is able to remotely connect to the vessel when it is in port. This connection is used every once in a while.

Matti has had very positive experiences with Hammershus. This RoPax ferry is a good example of many people working together to reach the main goal – a reliable, environmentally friendly vessel to serve both passengers and its owners.
For more information:
Heikki Tanner
heikki.tanner at valmet.com