Icebreaking expertise has reached a world-class level at Arctech Helsinki Shipyard. To date, more than 80 icebreaking vessels have been manufactured there with strong dedication and professionalism. The four new vessels are being built for the North-East Sakhalin Offshore oil and gas field region where they will serve the operator of Sakhalin-2 at Sakhalin Energy Investment Co., Ltd. (SEIC). Arctech is responsible for the design, construction, testing and commissioning of the vessels.

Harsh conditions in Sakhalin

In harsh conditions, reliability is required from the whole fleet. Automation plays a significant role in supporting the safe operation of the vessels. They need to operate in 1.5-meter-thick ice and in conditions where the outdoor temperature can fall as low as -35˚ C. They must also be able to take action in emergency situations – in evacuations as well as firefighting and helicopter operations.

The icebreaking supply vessel, Gennadiy Nevelskoy, mainly supports oil platforms in the Sea of Okhotsk. It transports supplies and cargo and helps clear paths in the demanding ice conditions. The vessel is 100 meters long and generates power with six main diesel generators power with a total capacity of about 21,000 kW. The propulsion power is 13,000 kW.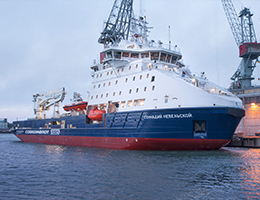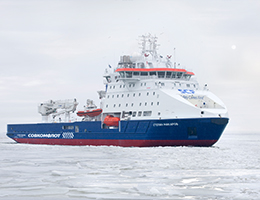 Gennadiy Nevelskoy Stepan Makarov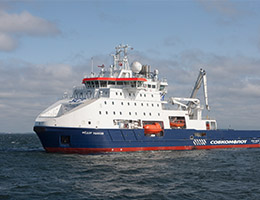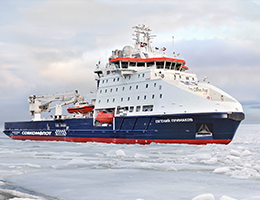 Fedor Ushakov Yevgeniy Primakov
The icebreaking stand-by vessels, Stepan Makarov, Fedor Ushakov and Yevgeniy Primakov, serve the platforms by carrying cargo and crew. These advanced vessels are designed for rescue operations and oil spill recovery. They are all 100 meters long and produce power of about 20,000 kW with four diesel generator engines.

A remarkable achievement for Arctech Helsinki Shipyard during 2017 was to deliver three of the vessels to the customer. And the fourth one will be delivered in 2018.

Automation contributes to the safety

When it comes to the Valmet DNA automation system, a team of experts has been working with it at Arctech Helsinki Shipyard. Unto Ryynänen, Manager of the Electrical Design Department, has been involved in several projects, where his main responsibility was to take care of the material budget, resources and some administrative tasks.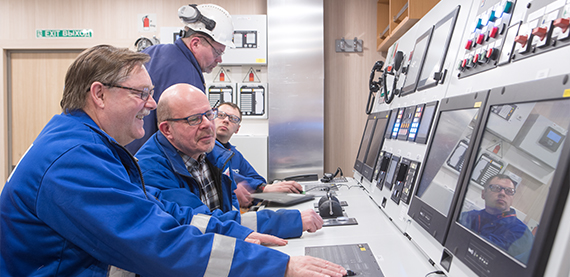 Caption: Markku Oksama (in front) and Unto Ryynänen

Matti Melander, Designer, Electrical Systems, Automation, contributed to the design and production phases as well as the startup of Valmet DNA. "In modern vessels, it is essential to have an automation system that functions without failures in all situations. Today, the vessels are equipped with high technology solutions. To control all that, a reliable and safe automation system is needed," Matti Melander states. The space for the automation cabinets and other equipment must be considered carefully, since the space is limited on the vessels. In addition, the maritime regulations impose restrictions on the solutions used.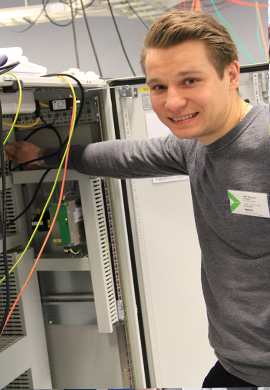 Markku Oksama (in picture on the right), Automation and Commissioning Engineer, is responsible for automation and planning purchase. For instance, he wrote the technical descriptions for the automation projects. He is very satisfied with Valmet's automation system. "In each of these vessels, nearby 4,000 alarms are available. So, a decent system is required. In my opinion, Valmet DNA is the choice. It is a good system for the marine industry," Markku Oksama says.

Since the number of alarms and amount of data is high in the automation system, redundancy of stations and networks is required to secure operation. In the engine control room, the main tools for the operators are the displays with accurate, to-the-minute information. With Valmet DNA, each user's favorite displays can easily be selected.

The history data is useful as well. Valmet DNA Operate TEA, the Trend and Event Archive, provides users with history data in the form of trends. Further, the data can be replayed and analyzed. According to Markku, the trends are followed constantly. "DNA Operate TEA offers us a lot of information. When something unexpected happens, we are able to follow it to the root cause. We can realize what has not started, and by using the trends or alarm, we can find the reason. It is a great tool, like watching a video and learning," he explains.
Specific marine features
Years ago, a so-called dead-man switch was introduced to secure the operation of an engineer when he enters the engine room. Every 30 minutes, he had to press the switch to confirm that everything was fine. Now, the dead-man equipment is connected to Valmet DNA, too. Matti Melander states: "This is definitely needed. It is the safety equipment for the crew."

Valmet DNA's alarm panels are also placed in cabins, which means that the crew is always alerted to abnormal situations. So, the information flow remains uninterrupted.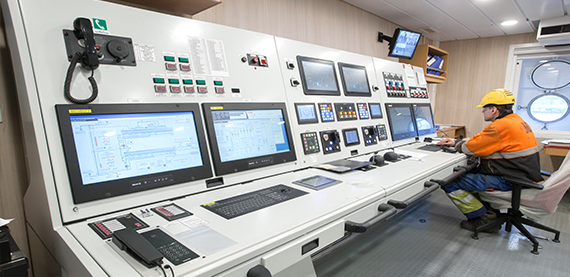 Caption: Valmet DNA in use in Gennadiy Nevelskoy

The Power Management system is fully integrated with Valmet DNA. It helps the crew follow, for instance, fuel consumption or power flow. Different reports can be prepared based on the needs of the operator and other crew members. A lot of data is available, but of course to get the most out of it, it has to be selected and processed. Already during the design phase, the kind of information needed is pre-planned.

Markku Oksama explains: "Service actions and their scheduling are available in the automation system. For example, it is easy to track exactly which parts are wearing out. Based on that information, we can plan service work so not all the same parts are changed at the same time. Now, we are able to follow pumps, fans, compressors – practically speaking, all equipment which has operational data."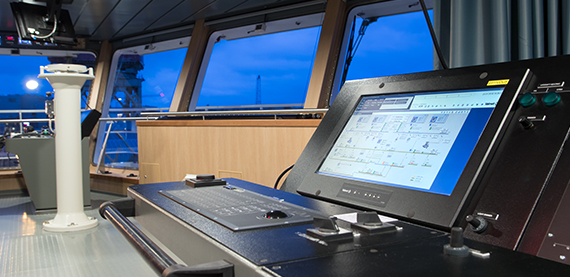 Caption: In the bridge of Yevgeniy Primakov

Trust is the foundation

The project has proceeded according to the plan and budget. One reason is certainly the fact that so many projects have already been completed together with Valmet.

Markku Oksama says: "Cooperation happens between individuals. We have learned to trust Valmet's project people. Both parties know how to proceed in different situations. Sometimes communication goes on without saying anything. But no risks are taken. Trust is the foundation of our cooperation."
According to Markku, cooperation has been very good with Valmet. He adds that it must be that way, of course, with vessels about to be sent out to the world. Every supplier has to be trustworthy.
For more information:
Heikki Tanner, heikki.tanner at valmet.com