Every doctoring process can be improved. The usual investments required are minimal. Optimizing your doctoring processes results in better runnability, improved quality, optimal production efficiency, reduced maintenance costs and improved safety and environmental effect.
Benefits of a Valmet Doctoring Services Agreement
Increased operator safety
Cost savings
Inventory management
Improved blade life and product quality
Minimized sheet breaks
Longer machine clothing life
Improved runnability
Improved roll cleanliness
Minimized maintenance time/need
A webinar about Valmet Doctoring Services Agreements was held on October 21st, 2020 and is available HERE.
Partnership and consignment program
A Valmet Doctoring Services Agreement is a partnership program between the mill and Valmet to improve overall performance of the machine, reduce downtime and maintenance costs through improved roll doctoring. The program includes doctoring audits, recommendations for improvements, blades, storage and blade handling equipment to reduce safety incidents, optimize blade performance and reduce the total cost of ownership.
The program also includes inventory managment which can be integrated with mill ERP systems. We organize the entire doctor blade program from ordering, inventory and installation. Our system provides identification of machine and position to ensure the correct blades are on hand for every position and are installed in the proper locations. The Valmet Doctoring Agreements can further include services such as:
monthly blade inventories to make sure the mill does not run out of blades
assisting to solve doctoring problems
training operators in the proper use of blades
helping to create safety procedures and standard working procedures
discounting doctor blades and all types of holders, including composites
shutdown services such as changing hoses, holders and bearings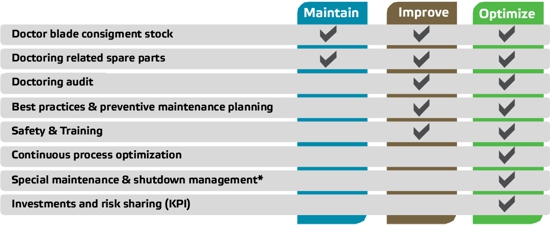 Agreements provide solutions
Typical solutions achieved by mills using a doctoring agreement include:
increasing operator safety
savings and improvement possibilities with continuous optimization
improving blade life and product quality through materials and training
recycling and regrinding of blades
optimization of carbon content in doctor blades
optimizing loading pressure, doctor blade angle, doctor blade holder, lubrication and shower setup
optimization of doctor beam and oscillation
choosing the best doctor blade for each application
Here are just a few of many positive results mills have achieved with a Valmet Doctoring Service Agreement:
Target: Eliminate problems with severe fiber buildup behind the blade and dirty cylinder surface.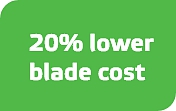 Solution: Valmet Doctor Holder Compact upgrade with Valmet Doctor Blade Carbon VT 2 doctor blade
Results:
50% longer blade lifetime
Annual blade cost reduction 24%
Visually cleaner cylinder surface
Less fiber build up behind the blade
Target: Resolve problems of pre-dryer breaks, occasional fiber passing problems and holes detected in paper.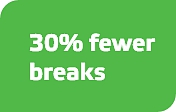 Solution: An improvement plan was made to cover the entire doctoring process. Our initial delivery included Valmet Doctor Blade Holder Compact holders, doctor blades, pneumatic control boxes and fixing screws, all carefully selected for each position.
Results:
Improved doctoring result and less doctoring-related downtime
Remarkably reduced holes in paper, resulting in 30% break reduction in dryer section
Easy holder maintenance and spare parts
Target: Increase center roll blade lifetime to match maintenance shut down interval.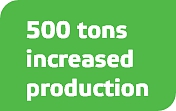 Solution: Valmet conducted a doctoring audit which led to an improvement proposal. Center roll lubrication showers were modified with new nozzle models for optimized water spray. Full carbon Valmet Doctor Blade VC 10 blade was selected for use in this position.
Results:
Blade lifetime increased from 8 days to 14 days
Blade cost reduced by 50%
Produces 500 tons/yr more board
Target: Customer had lost 20+ dryer fabrics in two years due to paper pass-throughs.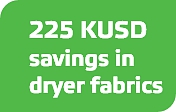 Solution: Valmet doctoring specialist measured dryer cylinder surface roughness and blade wear. Valmet tending blades were taken into use to increase the cylinder roughness. Tending blades are used from time-to-time to maintain the correct roughness level.
Results:
Dryer section doctoring cost remained at the same level
No dryer fabrics have been lost after improvements, savings of roughly 225 KUSD per year
Target: Increase dry content after the former.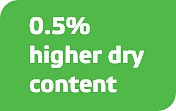 Solution: Replaced air blades (2 pcs) in couch roll with Valmet Doctor Blade Dual blade.
Results:
Over 110 KUSD annual compressed air savings
0.5% dry content increase after the former
100 m/min speed increase
30 tons/d production increase
0.5% increase in dry content
Target: Lower the annual blade cost.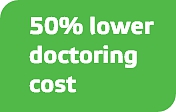 Solution: Support for improved doctoring provided by Valmet doctoring specialist. Stock management done by Valmet local personnel. Applied new technology including Valmet Doctor Holder Compact. Cost savings through optimization of doctoring and inventory.
Results:
Doctoring cost decreased by 135 KUSD (from 200 KUSD down to 65 KUSD)
50% lower doctoring cost
Efficient doctoring increases productivity
Valmet keeps the doctoring process of paper and board machines running efficiently all the time. To do this, it is important to use the best doctoring blade material and to correctly handle the doctor blades. Valmet looks after this for you and will supply the appropriate blades for each machine position as well as training and consulting.
Available 24/7
Training, consulting, and service are available 24 hours every day. Valmet ensures that your doctoring process runs smoothly and efficiently.
For more information on improving doctoring performance while lowering total cost of ownership, watch the webinar and contact your Valmet representative.