Maintaining a clean roll surface is an important element in the production process. Valmet's doctoring solutions provide a new level of cleanliness and reliability to the paper industry. Doctoring expertise and solutions are available for all areas of the papermaking process - from the wire through the press and dryer sections to the reel. Coaters and calenders are covered as well, as are all grades paper, board and tissue.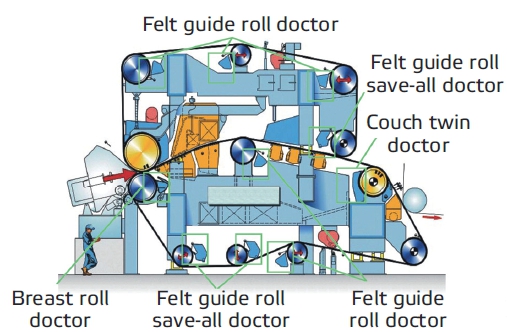 The doctoring operation is designed to provide optimal roll cleanliness as well as the ability to make controlled web takedown possible during web break situations. Utilizing Valmet's doctoring solutions also helps minimize sheet breaks and makes heat transfer in the dryer section more effective. Maintaining a clean roll and controlled web takedown allows the machine to reach higher quality and production levels. The following benefits to the operation are possible with Valmet doctoring solutions:
Cleaner roll
Cleaner dryer cylinder
Effective sheet removal from roll and dryer cylinders
Fewer breaks
Improved service life of wires, felts and dryer fabrics
More effective heat transfer in the dryer section
Minimized sheet break time
Improved runnability
Improved safety
Cost savings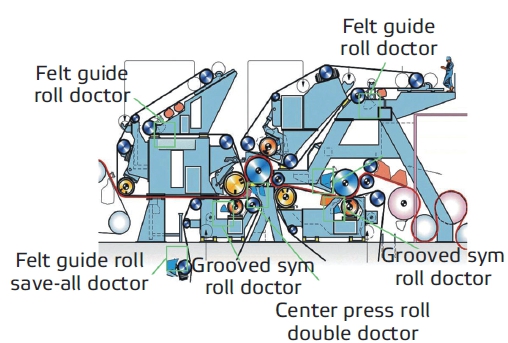 Doctoring results are directly affected by doctor construction, doctor adjustments, the condition of doctor components and the condition of the roll surface. Results are indirectly affected by roll cover material, roll or cylinder temperature, stock properties, temperature variations and felt conditioning. Maintenance is improved with Valmet doctoring solutions as well, including:
Minimized maintenance time
Reduced need for maintenance
Minimum number of spare parts
Improved maintenance safety
Ease of installation
Good adjustability
Lifting hooks
Quick blade change
No harm during roll change
Interchangeable component potential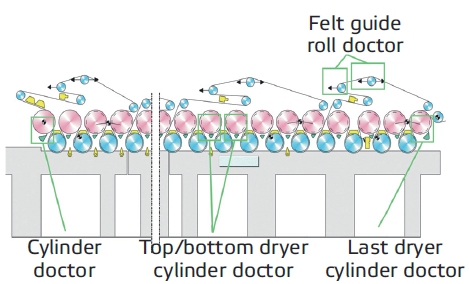 Valmet's doctoring installations worldwide provide significant advantages as a result of the tight cooperation between our engineering centers and field service personnel and your mill teams. For example, vibration-free design is standard, as is linear pressure measurement before delivery. Valmet performs optical measurement to guarantee that the blade is parallel with the shafts. Several bearing housings and oscillator combinations are available, as is insulation when needed. And our doctoring installations are also not sensitive to thermal distortion. Valmet knows doctoring - and has the right solution for your specific need.
Contact your Valmet representative to learn how our doctoring process solutions provide incremental investment opportunities to improve doctoring reliability, productivity, safety, quality and efficiency.