Dec 21, 2021
Thanks to advanced digital tools and the mutual trust between Valmet and Jeesr Industries, their tissue machine's targeted speed increase was successfully achieved, despite the ongoing pandemic.
Jeesr Industries operates Morocco's largest tissue line, with a capacity of 30,000 tonnes per year. To further improve productivity, it was decided to target a machine speed increase from 1,800 m/min to 1,900 m/min. Jeesr and Valmet initiated the project just before the global pandemic Covid-19 closed borders, making it impossible for Valmet's experts to travel to the site.
"It was likely that it would be decided to postpone the project, but after a thorough risk analysis, we decided to pursue our goal with remote support from Valmet. It felt like a challenge we were willing to face, knowing we had technically skilled teams with a good collaborative spirit on both sides. We knew we could trust each other," says Mohamed Oustouh, Mill and Plant Manager, Jeesr Industries.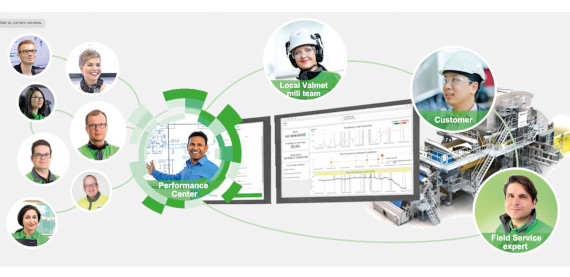 Valmet Performance Center is the core of remote support
Projects such as Jeesr's tissue machine's speed increase are complex, requiring thorough planning. When operating remotely, modern digital tools and communication channels are needed to enable real-time data collection and continuous information sharing.
The end of this project means a beginning of a totally new way of thinking.
"The four-day execution phase started with detailed monitoring and analysis of machine parameters such as vibrations. We utilized a remote collaboration tool to visualize the machine's behavior and were always connected through video conferencing. We led the work from the Valmet Performance Center connecting our technology expert network in the discussion with the on-site staff," says Lionel Martin, Senior Process Engineer, Valmet.
Remote support is a cost-effective way to cooperate
Everything ran as planned, and the project team, scattered in several locations, took pleasure and pride in witnessing Jeesr's J100, Valmet DCT 100 tissue machine, joining the 1,900 m/min club.
"We're very satisfied with this project's outcome: We achieved the expected productivity increase with a stable machine and a good quality product. I'm sure we will continue working this way – through remote support, Valmet's experts are available to us faster and at a lower cost than before. And thanks to not having external experts doing things for us, our own technical skills are further developed at the same time," Adil Elbeggar, Process Manager, Jeesr, says.
Text Marianne Valta, Guylene Franc
Photos Morad ELKHATIB