Jun 14, 2022
Designed to make life easier for maintenance staff and production operators in their day-to-day operation. Valmet now launches 'Valmet Mobile Maintenance application' (VMM), a mobile application for iOS and Android. It allows users to create fault notifications and review work orders directly in the field. It improves work efficiency, communications and created smoother workflows.
Makes life easier for maintenance staff and production operators
The idea behind the Valmet Mobile Maintenance application is to give maintenance and production operators a better workflow in their day-to-day activities, and to give management a better overview and control. Without a good workflow and the correct tools, it's very easy for the workday to disappear in tasks that are unrelated to the actual work.
"We noticed maintenance operators spent a lot of time in front of the computer in overly complicated systems, making fault notifications from their own notes on paper. Their time was drained by tedious tasks and just going back and forth between the control room", says Timo Harjunpää, Director, Maintenance Development and Outsourcing Services at Valmet.
"However, staff working in the mill have a mobile phone in their pocket all the time. So it seemed natural to create a mobile application that let them make fault notifications in real time. Previously, attaching photos to highlight issues was complicated, because the system wasn't designed for it," says Hemmo Lahtinen, Reliability Manager, Services at Valmet.
The VMM application helps maintenance staff to save time because they can report issues directly as they discover them and review work orders in the field – the information is immediately available to everyone.
Simple yet effective
A common problem with many digital maintenance tools is that they're too complex, overwhelming the user with a complicated interface.
"With the VMM application we've deliberately limited the functionality to meet the requirements of day-to-day operations. The interface is intuitive and easy to use, and it makes the workflow more efficient. Users hardly need any training," says Lahtinen.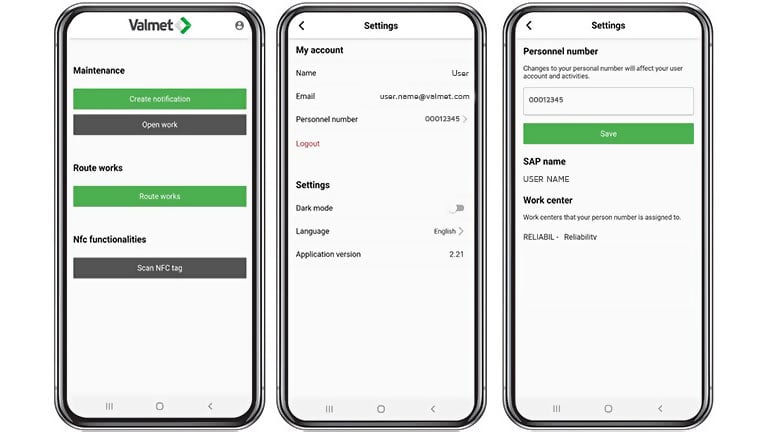 Everything that operators might need in their day-to-day activities is available in the VMM application. Users can review and update work orders, write comments and add pictures to highlight problems, assign operators, confirm work order completion, log hours, and much more.
Improved efficiency and reduced costs
The VMM application replaces the need for pen and paper, dramatically improving efficiency and minimizing the risk of lost or incorrect work orders.
"When things are written down on paper, you always run the risk of losing information. It's also quite inefficient. Staff run back and forth between the computer and the plant floor to make fault notifications. And there's no way of checking if an issue has already been reported. It's not uncommon to have several fault notifications for the same issue in the system," says Lahtinen.
With the VMM application, everyone can see if an issue has been reported. Equipment can be easily identified using Near Field Communication (NFC) or QR-codes and fault notifications are readily available for everyone as soon as they're made. This enables better overview and control of the maintenance operation and eliminates unnecessary work for everyone involved.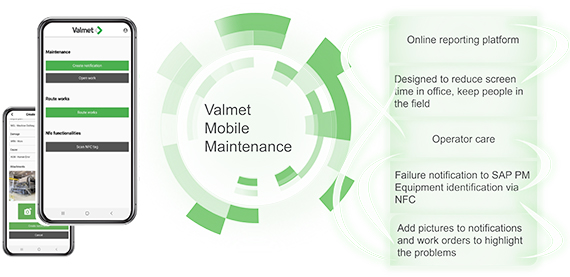 Quick, easy, and safe to implement
The VMM application uses the same Valmet Cloud platform as all Valmet Industrial Internet applications, which makes it easy and effortless to implement in the SAP system.
"This is a turnkey solution for our customers, so there's no need for further development at customer end. Valmet can simply integrate the VMM application with their SAP system. Once implemented, we'll train and support key users. And, if any questions arise, we have a dedicated support team standing by," says Lahtinen.
"We can actually do the implementation process 100% remotely. We have an installation package and can set it up. It's really quick and efficient," says Harjunpää.
The VMM application can be used on both Wi-Fi and mobile data networks. Only relevant data is transferred. The technical solution meets industrial cybersecurity standards, follows best practices and guidelines, and has been audited by an external accredited cybersecurity service provider.
"What we are building here is a maintenance platform with advanced solutions which brings sophisticated and intelligent tools for a better work environment," Harjunpää says.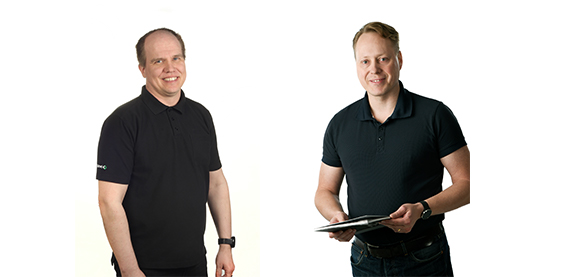 Find out more about Valmet Mobile Maintenance application >>