Whether you're running an existing or new mill or plant, the optimal target is to maximize reliability and optimize performance.
To help you reach your targets, we work together for continuous success.
5-10%
increased efficiency
10-20%
lower maintenance costs
Target zero
harm to people and the environment
We continuously develop our maintenance procedures, our way to manage maintenance and new

maintenance solutions to meet your needs. The team is connected to our global network of expertise

24/7.

​
Reliable maintenance operations will make your mill or plant run optimally throughout its lifecycle,

allowing you to focus on your core business.

​
We can help you with your industry specific challenges and ensure your optimal performance
Let us walk you through number of cases where we have helped our customers to reach their targets:
CASE: BOARD
This board mill customer had challenges to secure a world-class start-up curve, reach reliable production fast and secure safe and sustainable operations at the mill.
CASE: PULP
This pulp mill customer had challenges to secure availability and production, reduce maintenance costs and improve safety at the mill.
CASE: ENERGY
This energy plant customer had challenges to secure world-class start-up curve, meet operation and maintenance targets and establish and train an operator- and maintenance team to become multiskilled powerplant operators.
Did you miss the Valmet Customer Days 2021?
During the Valmet Customer Days our experts demostrated some interesting board and paper cases from Europe and Asia Pacific as well as captivating pulp and energy case insight. Meet our experts and watch how we are succeeding together with different customers.
Meet Anders Öhrblad, Vice President of Pulp and Energy Services. He will demonstrate how long-term collaboration can create success.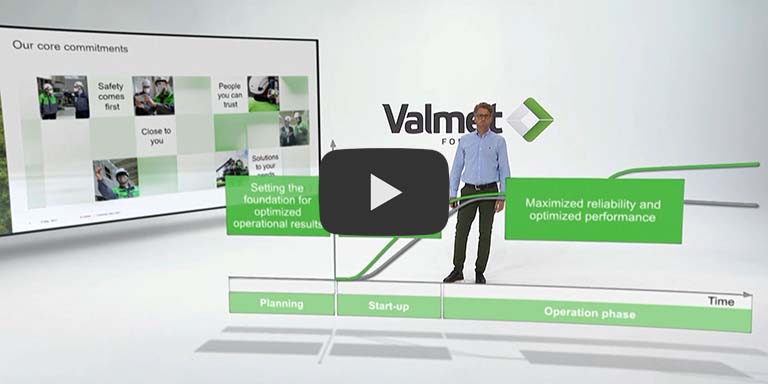 Meet Samppa Ahmaniemi, our Vice President of Board and Tissue Services. He will show you how we can create success by supporting our customers in every stage of their lifecycle.

We invite you to follow the maintenance operations dream team at Opal's Botany Mill in Australia for a day.
Are you ready to succeed with us?
Find out more about the Maintenance development and outsourcing services of your industry

Questions?
Provide your information below and we will contact you to discuss more about maintenance development & outsourcing services. You can also send us questions and we will get back to you shortly.