Aug 5, 2020
A regular annual headbox service is the key to the old headbox's good condition at the Navigator Paper Figueira PM1 in Portugal, which was started up in 1991. A long and trusted maintenance relationship ensures that every detail is taken care of systematically.
"Each year, Valmet analyzes the condition and maintenance need of the headbox, and the latest report shows that the nearly 30-year-old headbox is still in good condition and working very well," says Helder Moreira, PM1 Area Manager, Navigator Paper Figueira, S.A.
"Lots of improvement work has been done over the years, but this is still the original Valmet headbox. It's in good shape, even though it's at the end of its lifetime. Just recently, we were able to break the record for running without breaks, achieving 171 hours. We've made very good fixes and some good innovations in the maintenance of the headbox to achieve this. We've kept it in good condition with regular maintenance. The equipment is so sensitive I think the service is best done by Valmet," he continues.
Quality is made by people
PM1 produces top quality Navigator brand paper, copy print, offset and reprint qualities with basis weights between 60 and 120 g/m2. Keeping up the high quality of the end product is essential for the brand.
Mr. Moreira has a clear view of the reasons for the success: "It's achieved by people working on the PM1 on a daily basis, or when we need suppliers to help us. People make the success in every business and service. If you know what to do, if you have a good partnership, if you communicate freely, success will happen. We share the same target for the headbox condition, and we trust both Valmet's and Navigator's people."
Systematic planning for annual shutdown
Kimmo Juuti, Valmet's Global Product Manager for Headbox and Former services, has been a trusted contact and advisor for the PM1 headbox area for more than two decades.
Based on a report by Valmet, I know what to do in the next shutdown, and we start to prepare several months in advance.
"Each year, we go through all the details of the headbox services we need to cover in our annual shutdown with Kimmo. This is crucial for us, because everything starts with the headbox. When everything in the apron profile, new lip and control of the headbox's variables is in order, we're likely to have fewer problems, and the machine's performance improves. The hybrid former is quite sensitive machinery, and the paper's quality is extremely important to us. It's difficult these days to find the right people to do the right job with the equipment you want. Having people like Kimmo is amazing. It's such a reassurance to know that he knows what he's doing. I trust this gentleman 100 percent," says Mr. Moreira of the cooperation with Kimmo Juuti.
"Another important contributor from Valmet is Mill Sales Manager Hugo Pinto. He has been clarifying the scopes and commercial terms in order to agree on the way forward. We have a good relationship and with that it´s easy to find the best solutions to solve the problems that we face time-to-time," he continues.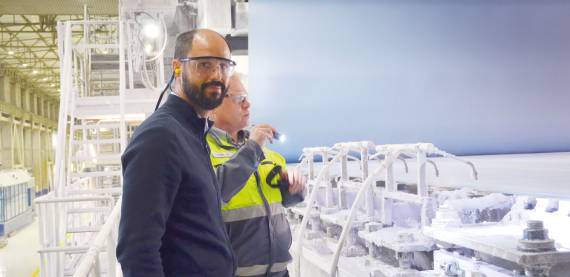 Report is an important part of the maintenance planning
"Usually, Kimmo comes here to discuss what to do in the next shutdown. We don't have a maintenance agreement at the moment, but we know that headbox service work will be needed during each annual shutdown. Based on a report by Valmet, I know what to do in the next shutdown, and we start to prepare several months in advance," Mr. Moreira concludes..
"I know others that are as professional or even better than I am, but I know this headbox and its history. That's why I can assess what's needed in the approaching maintenance shutdowns," says Juuti.
Customers' success drives motivation
Valmet's Global Product Manager for Headbox and Former services, Kimmo Juuti, became a Valmeteer about 25 years ago, doing headbox maintenance work. Today, he is responsible for the product category, including the training of Valmet's technical and sales organizations. "I still visit the mills often to keep up my understanding of our customers' needs. Every day brings a new challenge – it keeps me motivated," he says.
Juuti says trust is the most essential building block in good customer relations. "Trust is based on professionalism and personal relationships, and it can only be built over time. The best part of my work is when we're trusted with a customer's challenge and find a solution that helps them succeed."