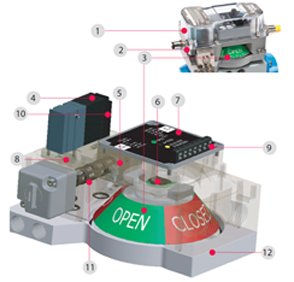 1. The Axiom is corrosion proof, temporarily submersible and suitable for use in hazardous areas. Designed for NEMA 4, 4X & 6; (IP67) Class I & II Div. 2 nonincendive (Ex nA, Zone 2) and Class I & II Div. 1 and 2 (Ex ia, Zones 0,1, & 2) Intrinsically Safe.
2. High strength durable enclosure and pneumatic manifold are constructed of anodized aluminum and epoxy coated. Impact-resistant cover is made of high strength Lexan polycarbonate. All fasteners are stainless steel.
3. High visibility mechanical and electronic indication confirm open and closed position and solenoid status for greater safety and convenience.
4. Universal burn out proof solenoid operates on less than 0.6 watts of power and standard version will accept either 24 VDC or 120 VAC, reducing stocking requirements.
5. Electronic sensing, switching and communication components are sealed and potted inside function module to protect against residual moisture, vibration and corrosives.
6. High accuracy position sensor system is solid state with no moving wear points for highly reliable and precise position feedback.
7. Push button set points for open and closed accurately lock in position settings. Settings remain in place when power is removed and reapplied.
8. Integral pneumatic valve operates on standard plant air and will cycle most actuators in less than two seconds.
9. Wiring and maintenance access is quick and convenient for easy set-up and installation.
10. Internal manual pneumatic valve override is standard enabling local automated valve operation.
11. Standard five-way, two-position valve operates both double and single-acting actuators and features a rebreather to feed instrument air into spring side of actuator to keep out corrosives.
12. Axiom directly attaches to VDI/VDE 3845 (Namur) actuators and many others using a compact mounting manifold system. This mounting manifold is sold separately and is designed to properly fit the Axiom to your actuator while also providing the pneumatic interface ports.